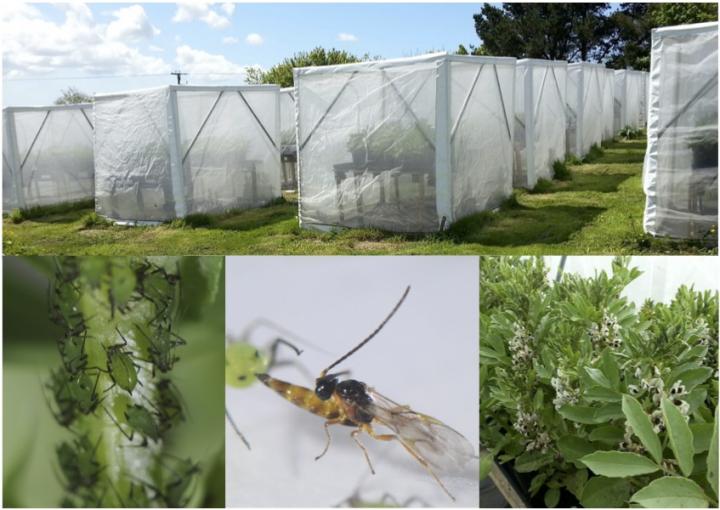 The extinction of one carnivore species can trigger the demise of fellow predators, conservation biologists at the University of Exeter have confirmed.
A ground-breaking study published in Current Biology has backed up theories and previous laboratory research demonstrating the phenomenon of horizontal extinction cascades, where extinctions of carnivore species can have a ripple effect across species triggering further unexpected extinctions of other carnivores.
The researchers believe their findings provide an important message for those working in conservation. Rather than focus on the conservation of a single species, researchers suggest adopting a whole system approach that also includes fellow predators.
Using insects, the research team Frank van Veen, Dirk Sanders and Rachel Kehoe from the Centre for Ecology and Conservation at the University's Penryn campus in Cornwall, set up experimental communities with complex food webs in 40 four-square metre outdoor field-cages which they observed over a spring and summer season. These communities consisted of several species of aphids and their natural enemies, parasitoid wasps.
They found that removing one wasp species led to an increased rate of extinction in other species of wasp, an effect that was transmitted through changes in density of the aphid species.
The study found that once one wasp species was removed its aphid-prey grew in numbers, crowding out the other aphids and making it difficult for the other wasp species to locate their particular food resource, eventually leading to their extinction.
"This is a unique experiment. Usually these research questions are tackled with theoretical approaches and researchers focus on extinctions after the loss of food species. This is the first time anyone has looked at mechanisms of horizontal extinction cascades in a natural large field experiment," said Dr Sanders, an associate research fellow in the Centre for Ecology and Conservation.
"Such extinction cascades are seen as a major thread to biodiversity but it is very hard to get data about this happening in nature, due to the many different influences. Knowing how such extinction cascades can happen gives us a better understanding and helps us to predict when they might happen. If we want to protect an endangered carnivore species, for example, we might need to protect other predators around it, which is quite an important message."
###
The research leading to this paper was funded by the Natural Environment Research Council (NERC).
Contact
University of Exeter Press Office pressoffice@exeter.ac.uk
+44(0)1392 722 062 / +44(0)7827 309 332
Twitter: @UoE_ScienceNews
For urgent enquiries outside normal office hours please ring +44(0)7867 536 750 or email pressoffice@exeter.ac.uk
About the University of Exeter
The University of Exeter is a Russell Group university and in the top one percent of institutions globally. It combines world-class research with very high levels of student satisfaction. Exeter has over 19,000 students and is one of the global top 100 universities according to the Times Higher Education World University Rankings 2015-16, positioned 93rd. Exeter is also ranked 7th in The Times and The Sunday Times Good University Guide 2016, 9th in the Guardian University Guide 2016 and 10th in The Complete University Guide 2016. In the 2014 Research Excellence Framework (REF), the University ranked 16th nationally, with 98% of its research rated as being of international quality. Exeter was named The Times and The Sunday Times Sports University of the Year 2015-16, in recognition of excellence in performance, education and research. Exeter was The Sunday Times University of the Year 2012-13.
The University has four campuses. The Streatham and St Luke's campuses are in Exeter and there are two campuses in Cornwall, Penryn and Truro. The 2014-2015 academic year marks the 10-year anniversary of the two Cornwall campuses. In a pioneering arrangement in the UK, the Penryn Campus is jointly owned and managed with Falmouth University. At the campus, University of Exeter students can study programmes in the following areas: Animal Behaviour, Conservation Biology and Ecology, English, Environmental Science, Evolutionary Biology, Geography, Geology, History, Human Sciences, Marine Biology, Mining and Minerals Engineering, Politics and International Relations, Renewable Energy and Zoology.
The University has invested strategically to deliver more than £350 million worth of new facilities across its campuses in the past few years; including landmark new student services centres - the Forum in Exeter and The Exchange at Penryn - together with world-class new facilities for Biosciences, the Business School and the Environment and Sustainability Institute. There are plans for further investment between now and 2016. http://www.exeter.ac.uk/cornwall
About the University of Exeter's Centre for Ecology and Conservation (CEC)
Staff at the Centre for Ecology and Conservation, based on the Penryn Campus, undertake cutting-edge research that focusses on whole organism biology. The CEC has three interlinked research groups: Behaviour, Ecology and Conservation, and Evolution which constitute 40 academics and over 100 early career researchers. It engages widely with businesses, charities and government agencies and organisations in Cornwall, the Isles of Scilly and beyond to translate its research into societal impact. Staff at the CEC deliver educational programs to some 500 undergraduate and 100 postgraduate students.
A new £5.5 million Science and Engineering Research Support Facility (SERSF) is currently under construction at the Penryn Campus. The facility will bring pioneering business, science and engineering together and will provide space for the growing CEC alongside the University of Exeter Business School, which is expanding into Cornwall, and the University's Marine Renewables team.
The University of Exeter and Falmouth University are founding partners in the Combined Universities in Cornwall (CUC), a unique collaboration between six universities and colleges to promote regional economic regeneration through Higher Education, funded mainly by the European Union (Objective One and Convergence), the South West Regional Development Agency and the Higher Education Funding Council for England, with support from Cornwall Council. http://biosciences.exeter.ac.uk/cec/
---