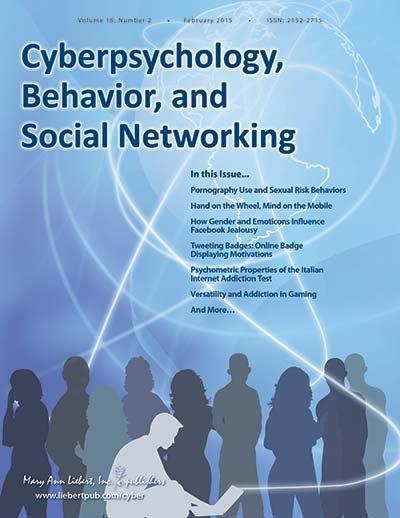 New Rochelle, NY, February 19, 2015--More than 1 in 4 females have experienced cyberbullying in college, increasing their risk for depression. Female college students who acted as cyberbullies were also more likely to report problem alcohol use, according to a new study published in Cyberpsychology, Behavior, and Social Networking, a peer-reviewed journal from Mary Ann Liebert, Inc., publishers. The article is available free on the Cyberpsychology, Behavior, and Social Networking March 19, 2015.
In the article "Cyberbullying, Depression, and Problem Alcohol Use in Female College Students: A Multisite Study," authors Ellen Selkie, MD, MPH and Ya-Fen Chan, PhD University of Washington, Seattle, Rajitha Kota, MPH, University of Wisconsin School of Medicine and Public Health, and Megan Morena, MD, MSEd, MPH, Seattle Children's Research Institute, explored the relationship between involvement in cyberbullying--as either the person doing the bullying or being bullied--and depression or problem alcohol use.
"When counseling college students, inquiring about cyberbullying during intake assessments may help clinicians uncover stressors to be targeted during treatment," says Editor-in-Chief Brenda K. Wiederhold, PhD, MBA, BCB, BCN, Interactive Media Institute, San Diego, California and Virtual Reality Medical Institute, Brussels, Belgium.
###
About the Journal
Cyberpsychology, Behavior, and Social Networking is an authoritative peer-reviewed journal published monthly online with Open Access options and in print that explores the psychological and social issues surrounding the Internet and interactive technologies, plus cybertherapy and rehabilitation. Complete tables of contents and a sample issue may be viewed on the Cyberpsychology, Behavior, and Social Networking website.
About the Publisher
Mary Ann Liebert, Inc., publishers is a privately held, fully integrated media company known for establishing authoritative peer-reviewed journals in many promising areas of science and biomedical research, including Games for Health Journal, Telemedicine and e-Health, and Journal of Child and Adolescent Psychopharmacology. Its biotechnology trade magazine, Genetic Engineering & Biotechnology News (GEN), was the first in its field and is today the industry's most widely read publication worldwide. A complete list of the firm's 80 journals, books, and newsmagazines is available on the Mary Ann Liebert, Inc., publishers website.
---