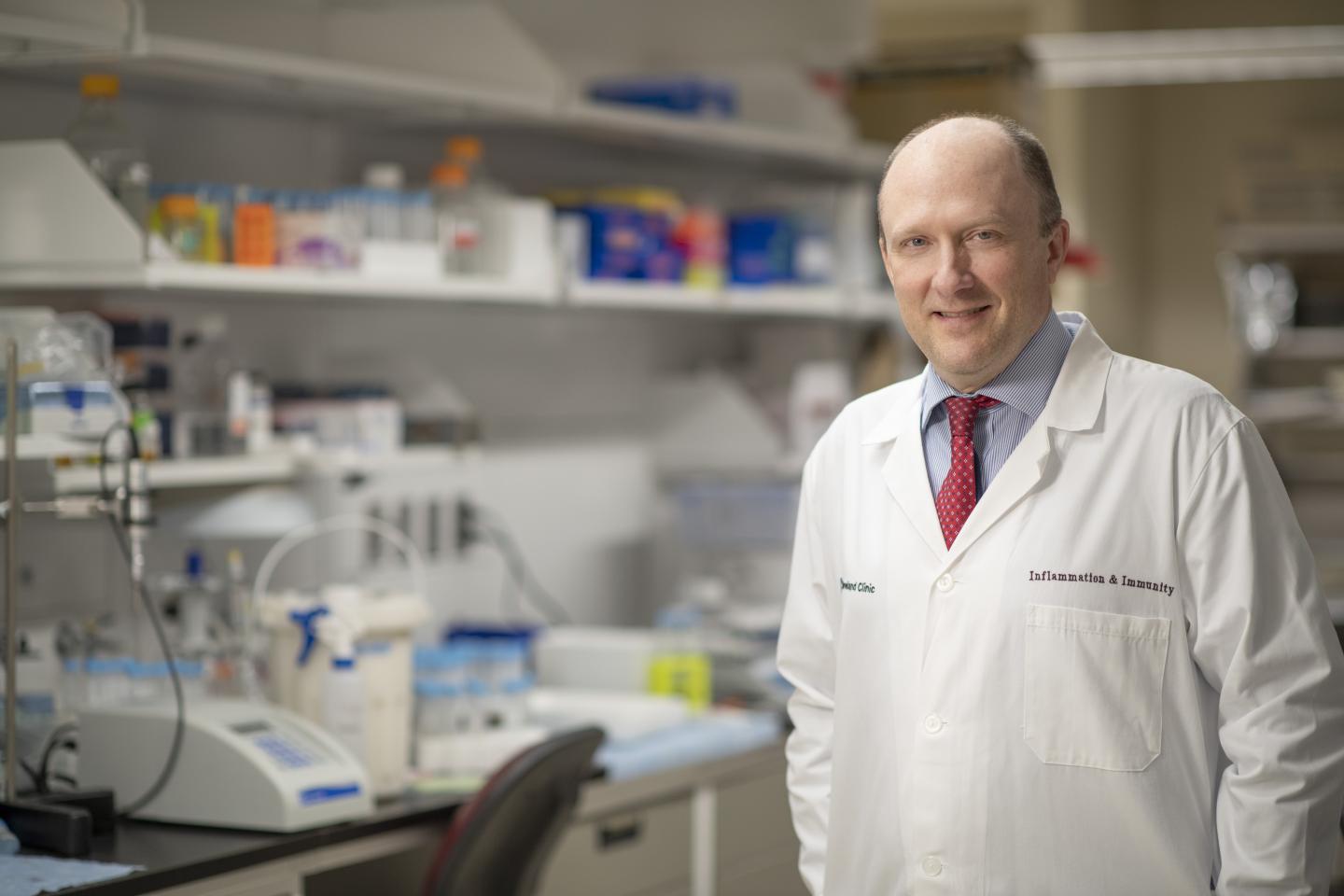 March 11, 2021, CLEVELAND: A Cleveland Clinic-led team of researchers has discovered a new tissue infection associated with Crohn's disease. According to study results published in Science, a type of yeast commonly found in cheese and processed meat is elevated in areas of unhealed wounds in Crohn's disease patients, a discovery that may point to new treatment or prevention approaches for the common inflammatory bowel disease.
The work was led by Thaddeus Stappenbeck, M.D., PhD., chair of Cleveland Clinic Lerner Research Institute's Department of Inflammation and Immunity. The team, which also included researchers from Washington University, Cedars-Sinai Medical Center and Dartmouth College, found that levels of the yeast Debaryomyces hansenii are higher in Crohn's disease patients, particularly abundant within chronically inflamed regions of the colon and small intestine, indicative of unhealed intestinal wounds.
"Impaired wound healing can promote chronic inflammation, both of which are key features of inflammatory bowel diseases," said Dr. Stappenbeck. "The significance of our study is that we define a clear link between a specific gut microbe and wound healing response. Targeting this infection may be a viable approach to treat the disease or develop diet-based prevention strategies."
The researchers analyzed biopsied intestinal tissue from patients with and without Crohn's disease, finding that D. hansenii was detected in most diseased samples compared to only 10 percent of healthy samples. Additionally, in an unrelated cohort of patients, researchers sequenced genomic DNA biopsied from various intestinal regions of individuals with Crohn's disease. They found that D. hansenii was elevated in inflamed regions on the intestines compared to non-inflamed regions sampled from the same patient.
To identify the specific mechanisms at play, Dr. Stappenbeck and colleagues studied mouse models of impaired wound healing consistent with injuries observed in Crohn's patients, finding that D. hansenii levels were significantly higher only within unhealed wounds. They went on to find that the fungus preferentially localized within these wounds to a specific type of immune cell, called macrophages.
They determined that D. hansenii is not broadly pro-inflammatory but rather contributes to disease pathology by increasing the levels of a specific cytokine called CCL5 (chemokine ligand 5). Chemokines such as CCL5 are needed to recruit other inflammatory cells.
"Taken together, our findings suggest that targeting CCL5 or the yeast itself may be viable therapeutic approaches to improve intestinal healing in patients with Crohn's disease who are infected with D. hansenii," said Dr. Stappenbeck.
Follow-up clinical studies will be important to test additional patients of various ages and geographic locations. It also will be important to follow patients with D. hansenii infections over time to determine the clinical importance with respect to disease severity, progression and response to Crohn's treatments.
The findings also underscore the need for further studies into the association between diet and Crohn's disease.
"As microbiome research has exploded in the last decade or so, our understanding of its role in human health and disease has expanded tremendously," said Dr. Stappenbeck. "Our study supports that D. hansenii is safe in healthy individuals, but may be problematic in Crohn's patients. Our goal is to now understand how D. hansenii interacts with other components of the microbiome and the host immune system in Crohn's disease patients to affect its ability to infect damaged areas of the intestine."
###
This research was funded in part by the Crohn's and Colitis Foundation and the National Institutes of Health.
About Cleveland Clinic
Cleveland Clinic is a nonprofit multispecialty academic medical center that integrates clinical and hospital care with research and education. Located in Cleveland, Ohio, it was founded in 1921 by four renowned physicians with a vision of providing outstanding patient care based upon the principles of cooperation, compassion and innovation.
Cleveland Clinic has pioneered many medical breakthroughs, including coronary artery bypass surgery and the first face transplant in the United States. U.S. News & World Report consistently names Cleveland Clinic as one of the nation's best hospitals in its annual "America's Best Hospitals" survey. Among Cleveland Clinic's 67,554 employees worldwide are more than 4,520 salaried physicians and researchers, and 17,000 registered nurses and advanced practice providers, representing 140 medical specialties and subspecialties. Cleveland Clinic is a 6,026-bed health system that includes a 165-acre main campus near downtown Cleveland, 19 hospitals, more than 220 outpatient facilities, and locations in southeast Florida; Las Vegas, Nevada; Toronto, Canada; Abu Dhabi, UAE; and London, England. In 2019, there were 9.8 million total outpatient visits, 309,000 hospital admissions and observations, and 255,000 surgical cases throughout Cleveland Clinic's health system. Patients came for treatment from every state and 185 countries. Visit us at clevelandclinic.org. Follow us at twitter.com/ClevelandClinic. News and resources available at newsroom.clevelandclinic.org.
Editor's Note: Cleveland Clinic News Service is available to provide broadcast-quality interviews and B-roll upon request.
---