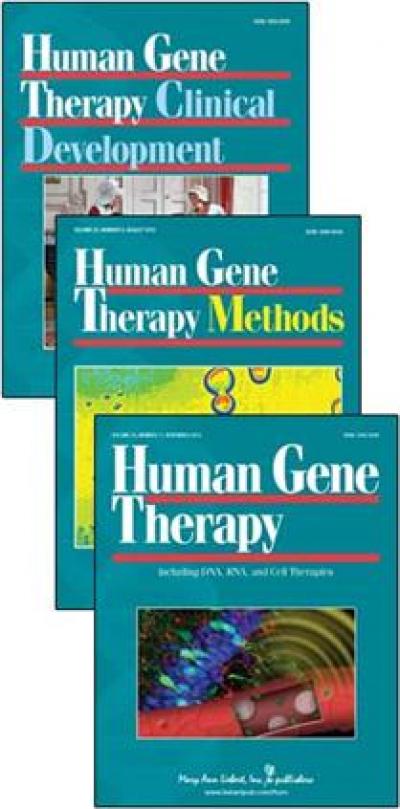 New Rochelle, NY, May 22, 2014—To make up for insufficient amounts of SMN protein, the cause of the inherited neuromuscular disease spinal muscular atrophy (SMA), researchers have successfully delivered a replacement SMN1 gene directly to the spinal cords of animal models of SMA. A new study demonstrating that enough copies of the SMN1 gene can be delivered to the spinal cord motor neurons to extend the survival of the treated animals is published in Human Gene Therapy, a peer-reviewed journal from Mary Ann Liebert, Inc., publishers. The article is available free on the Human Gene Therapy website.
Marco Passini and coauthors from Genzyme (Framingham, MA), University of California San Francisco, Emory University School of Medicine (Atlanta, GA), and Georgetown University Medical Center (Washington, DC) used an adeno-associated viral vector as the delivery vehicle to transport copies of the SMN1 gene into motor neurons in the spinal cord via intrathecal delivery. They report on the effectiveness of restoring the levels of functional SMN protein in normal pig and non-human primate SMA models that would predict efficacy based on gene transfer with the same vector in an authentic mouse model of SMA in the article "Translational Fidelity of Intrathecal Delivery of Self-Complementary AAV9–Survival Motor Neuron 1 for Spinal Muscular Atrophy."
"This is a very promising and thorough set of preclinical studies that supports rapid translation to the clinic," says James M. Wilson, MD, PhD, Editor-in-Chief of Human Gene Therapy, and Director of the Gene Therapy Program, Department of Pathology and Laboratory Medicine, University of Pennsylvania Perelman School of Medicine, Philadelphia.
###
About the Journal
Human Gene Therapy, the official journal of the European Society of Gene and Cell Therapy, British Society for Gene and Cell Therapy, French Society of Cell and Gene Therapy, German Society of Gene Therapy, and five other gene therapy societies, is an authoritative peer-reviewed journal published monthly in print and online. Human Gene Therapy presents reports on the transfer and expression of genes in mammals, including humans. Related topics include improvements in vector development, delivery systems, and animal models, particularly in the areas of cancer, heart disease, viral disease, genetic disease, and neurological disease, as well as ethical, legal, and regulatory issues related to the gene transfer in humans. Its sister journals, Human Gene Therapy Methods, published bimonthly, focuses on the application of gene therapy to product testing and development, and Human Gene Therapy Clinical Development, published quarterly, features data relevant to the regulatory review and commercial development of cell and gene therapy products. Tables of content for all three publications and a free sample issue may be viewed on the Human Gene Therapy website.
About the Publisher
Mary Ann Liebert, Inc., publishers is a privately held, fully integrated media company known for establishing authoritative peer-reviewed journals in many areas of science and biomedical research, including Nucleic Acid Therapeutics, Tissue Engineering, Stem Cells and Development, and Cellular Reprogramming. Its biotechnology trade magazine, Genetic Engineering & Biotechnology News (GEN), was the first in its field and is today the industry's most widely read publication worldwide. A complete list of the firm's 80 journals, books, and newsmagazines is available on the Mary Ann Liebert, Inc., publishers website.
###
---
Journal
Human Gene Therapy