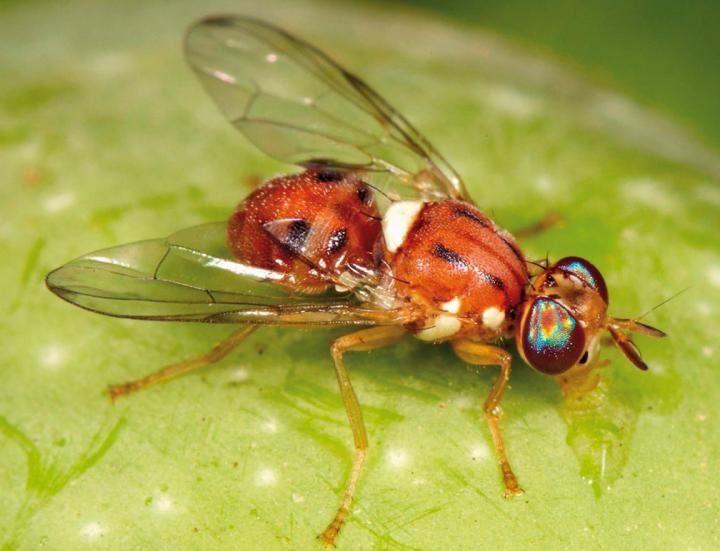 A new, open-access article in the Journal of Integrated Pest Management aims to support California olive producers with an overview of the olive fruit fly (Bactrocera oleae), which has become the key pest of olives since its introduction in 1998.
The author, Victoria Y. Yokoyama of the USDA-ARS, describes the biology and life history of the pest and discusses current techniques for detecting the adults and immature stages. Available control methods for are also listed and summarized, with suggestions for future olive fruit fly management in commercial olive orchards.
Control methods include intensive biological control programs and new techniques that use bait stations. Basic cultural-control practices -- such as removal of non-harvested fruit that support multiple generations, timing of harvest to avoid adult activity, and elimination of standing water required by olive fruit fly adults for survival -- are also discussed.
The author also lists species of parasitoid wasps that have been evaluated and used as natural enemies (biological control agents), and she briefly describes advantages and disadvantages of some of them, as well as their potential for future use.
The information in this open-access article is meant as a resource for all domestic and international olive fruit fly studies and control programs, especially in areas where olive fruit fly has been newly discovered.
###
The full article, "Olive Fruit Fly (Diptera: Tephritidae) in California Table Olives, USA: Invasion, Distribution, and Management Implications," is available for free at http://jipm.oxfordjournals.org/content/6/1/14.full.
The Journal of Integrated Pest Management is an open-access, peer-reviewed, extension journal covering the field of integrated pest management. The journal is multi-disciplinary in scope, publishing articles in all pest management disciplines, including entomology, nematology, plant pathology, weed science, and other subject areas. The intended readership for the journal is any professional who is engaged in any aspect of integrated pest management, including, but not limited to, crop producers, individuals working in crop protection, retailers, manufacturers and suppliers of pest management products, educators, and pest control operators.
JIPM is published by the Entomological Society of America, the largest organization in the world serving the professional and scientific needs of entomologists and people in related disciplines. Founded in 1889, ESA today has nearly 7,000 members affiliated with educational institutions, health agencies, private industry, and government. Members are researchers, teachers, extension service personnel, administrators, marketing representatives, research technicians, consultants, students, and hobbyists. For more information, visit http://www.entsoc.org.
---
Journal
Journal of Integrated Pest Management