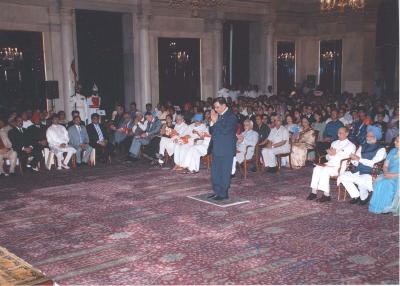 Dr. Bhakta Rath, Associate Director of Research and Head of the Materials Science and Component Technology Directorate at the Naval Research Laboratory (NRL), has been awarded the Padma Bhushan Award of Honors and Excellence bestowed by the President of India. The Padma Bhushan is a prestigious, civilian award that recognizes distinguished service of a high order in any field, in arts, sciences and public service. The award was presented at a ceremony held at the President's residence on April 14, 2009.
The award is the second in the hierarchy of civilian Padma awards in India. The President of India originated the award on January 2, 1954. The president traditionally awards medals and citations during the honorary ceremony. Many civilians receive honors in arts, medicine, civil service, public affairs, and science and engineering. Dr. Rath received recognition for excellence in the field of science and for his exceptional service toward the advancement of science.
Following a tenured faculty appointment at Washington State University and stints at the corporate research labs of US Steel and McDonnell Douglas, Dr. Rath began his career at NRL as head of the Physical Metallurgy Branch in 1976, and was subsequently selected to head the Materials Science and Technology Division, followed by his appointment to his present position. In his current position, Dr. Rath manages multidisciplinary theoretical and experimental research to discover and exploit new improved materials, generate new concepts associated with materials behavior, and develop advanced components based on these new and improved materials and concepts.
Following his undergraduate studies in India, Rath earned an MS in Metallurgy from the Michigan Technological University and went on to earn his PhD from the Illinois Institute of Technology.
He is recognized as a fellow of several engineering societies in the US and abroad and has been honored by the Naval Research Laboratory, the Office of Naval Research, the Department of Defense and numerous professional and scholarly organizations. He was elected to the US National Academy of Engineering.
During recent years, Dr. Rath has received the 2008 Acta Materialia, Inc. J. Herbert Hollomon Award, an honorary doctorate in an engineering from Michigan Technological University, the Department of Defense Distinguished Civilian Service Award, the 2005 Fred Saalfeld Award for Outstanding Lifetime Achievement in Science, the Presidential Rank Award for Distinguished Executive (2005), the NRL Lifetime Achievement Award (2004), National Materials Advancement Award from the Federation of Materials Societies (2001), and the Presidential Rank of Meritorious Executive Award (1999 and 2004). He has served as the 2004-2005 President of the American Society for Materials. He also has served as a member of the Boards of Directors/Trustees of several technical societies and in the editorial boards of international materials research journals. He also served for the office of the Deputy Under Secretary of Defense as the Executive Chair of Materials and Processes Research Group, developing many collaborative research projects with the Defense Laboratories of U.S., Canada, UK, Australia and New Zealand (TTCP Countries).
###
---