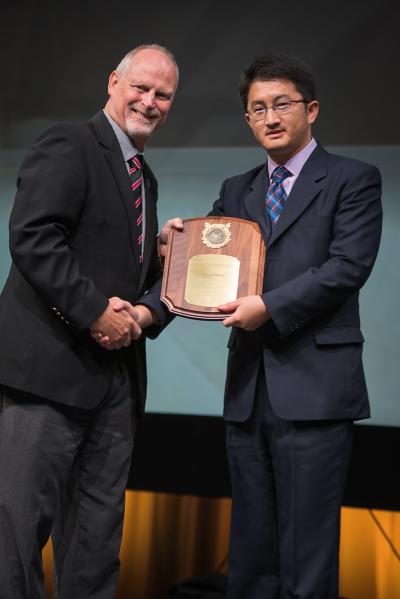 HOUSTON, Nov. 17, 2015 - Yingcai Zheng, an assistant professor in the University of Houston's Department of Earth and Atmospheric Sciences, recently was honored as a recipient of the 2015 J. Clarence Karcher Award from the Society of Exploration Geophysicists (SEG).
The Karcher Award is given each year "in recognition of significant contributions to the science and technology of exploration geophysics by a young geophysicist of outstanding abilities," with recipients required to be less than 35 years old. Up to three people can receive the award each year.
The presentation took place in New Orleans during SEG's 2015 Annual Meeting where Zheng was honored with a plaque commemorating his award. His research contribution was identified as being for "characterization of fractured reservoirs."
Zheng joined the College of Natural Sciences and Mathematics faculty in September 2014 from the Earth Resources Lab at Massachusetts Institute of Technology. He received his Ph.D. in seismology from the University of California, Santa Cruz, in 2007. His research areas include nonlinear seismic inversion, geophysical characterization of fractured reservoirs, subsalt imaging, upper mantle discontinuities and planetary geophysics of Mercury and Mars.
###
About the University of Houston
The University of Houston is a Carnegie-designated Tier One public research university recognized by The Princeton Review as one of the nation's best colleges for undergraduate education. UH serves the globally competitive Houston and Gulf Coast Region by providing world-class faculty, experiential learning and strategic industry partnerships. Located in the nation's fourth-largest city, UH serves more than 42,700 students in the most ethnically and culturally diverse region in the country. For more information about UH, visit the university's newsroom at http://www.uh.edu/news-events/.
About the College of Natural Sciences and Mathematics
The UH College of Natural Sciences and Mathematics, with 193 ranked faculty and nearly 6,000 students, offers bachelor's, master's and doctoral degrees in the natural sciences, computational sciences and mathematics. Faculty members in the departments of biology and biochemistry, chemistry, computer science, earth and atmospheric sciences, mathematics and physics conduct internationally recognized research in collaboration with industry, Texas Medical Center institutions, NASA and others worldwide.
To receive UH science news via email, sign up for UH-SciNews at http://www.uh.edu/news-events/mailing-lists/sciencelistserv/index.php.
For additional news alerts about UH, follow us on Facebook at http://www.facebook.com/UHNewsEvents and Twitter at http://twitter.com/UH_News.
---