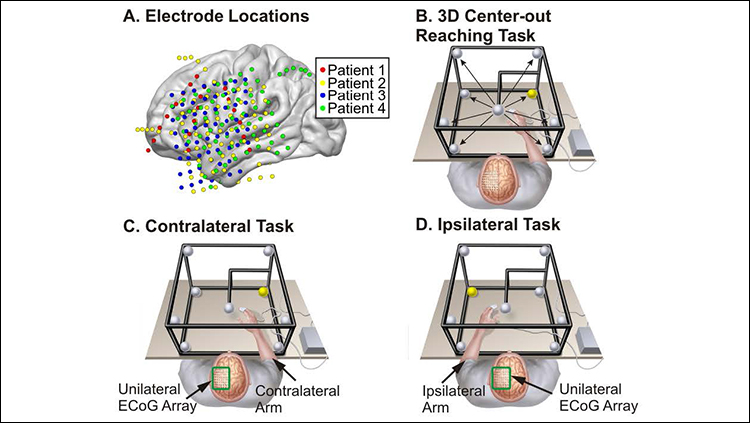 Individual arm movements are represented by neural activity in both the left and right hemispheres of the brain, according to a study of epilepsy patients published in JNeurosci. This finding suggests the unaffected hemisphere in stroke could be harnessed to restore limb function on the same side of the body by controlling a brain-computer interface.
The right side of the brain is understood to control the left side of the body, and vice versa. Recent evidence, however, supports a connection between the same side of the brain and body during limb movement.
Eric Leuthardt, David Bundy, and colleagues explored brain activity during such ipsilateral movements during a reaching task in four epilepsy patients whose condition enabled invasive monitoring of their brains through implanted electrodes. Using a machine learning algorithm, the researchers demonstrate successful decoding of speed, velocity, and position information of both left and right arm movements regardless of the location of the electrodes. In addition to advancing our understanding of how the brain controls the body, these results could inform the development of more effective rehabilitation strategies following brain injury.
###
Article: Unilateral, Three-dimensional Arm Movement Kinematics are Encoded in Ipsilateral Human Cortex
DOI: https://doi.org/10.1523/JNEUROSCI.0015-18.2018
Corresponding author: Eric Leuthardt (Washington University School of Medicine, St. Louis, MO, USA), leuthardte@wustl.edu
About JNeurosci
JNeurosci, the Society for Neuroscience's first journal, was launched in 1981 as a means to communicate the findings of the highest quality neuroscience research to the growing field. Today, the journal remains committed to publishing cutting-edge neuroscience that will have an immediate and lasting scientific impact, while responding to authors' changing publishing needs, representing breadth of the field and diversity in authorship.
About The Society for Neuroscience
The Society for Neuroscience is the world's largest organization of scientists and physicians devoted to understanding the brain and nervous system. The nonprofit organization, founded in 1969, now has nearly 37,000 members in more than 90 countries and over 130 chapters worldwide.
---
DOI
10.1523/JNEUROSCI.0015-18.2018