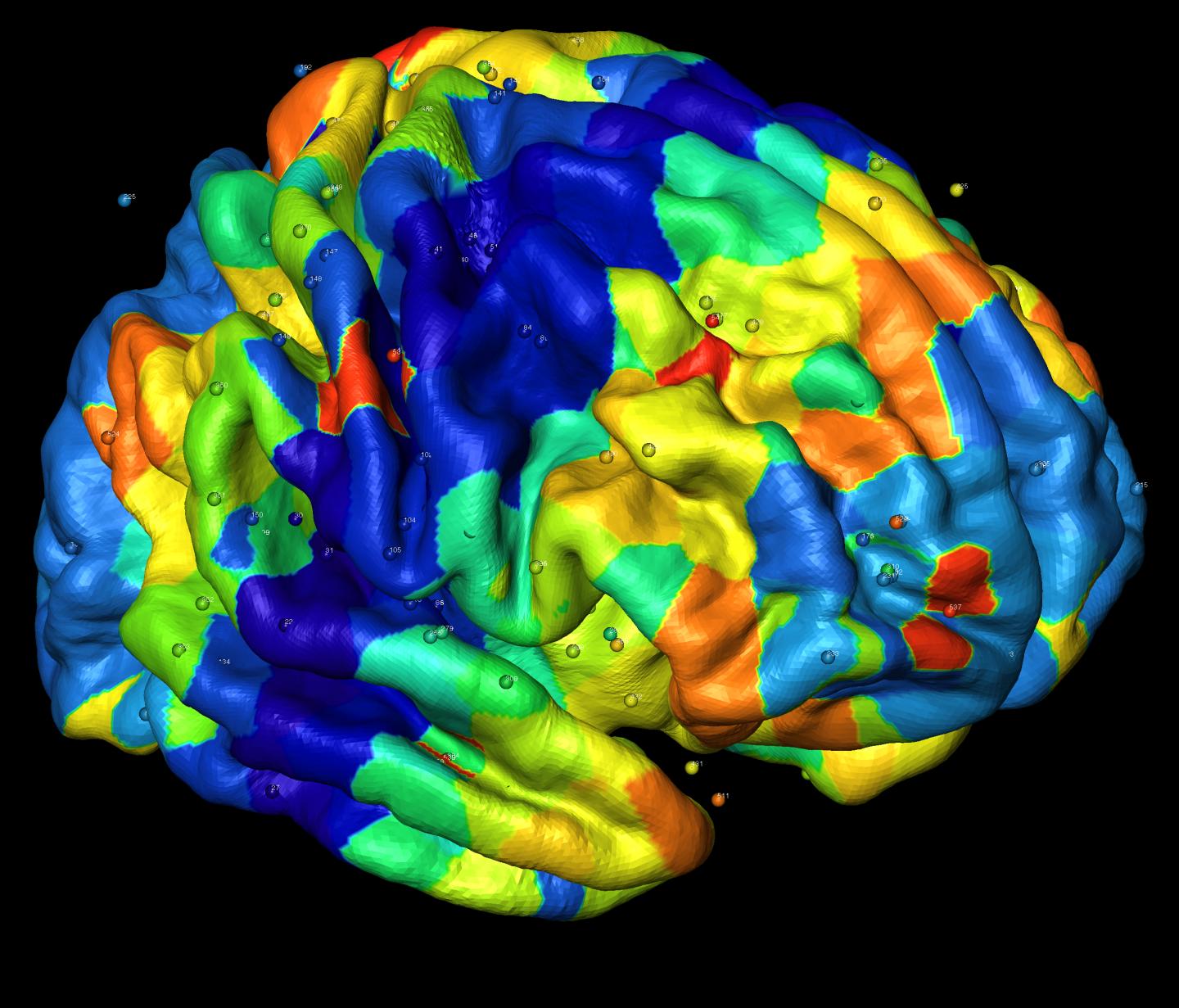 The highly consistent anatomical patterning found in the brain's cortex is controlled by genetic factors, reports a new study by an international research consortium led by Chi-Hua Chen of the University of California, San Diego, and Nicholas Schork of the J. Craig Venter Institute, published on July 26 in PLOS Genetics.
The human brain's wrinkled cerebral cortex, which is responsible for consciousness, memory, language and thought, has a highly similar organizational pattern in all individuals. The similarity suggests that genetic factors may create this pattern, but currently the extent of the role of these factors is unknown. To determine whether a consistent and biologically meaningful pattern in the cortex could be identified, the scientists assessed brain images and genetic information from 2,364 unrelated individuals, brain images from 466 twin pairs, and transcriptome data from six postmortem brains. They identified very consistent patterns, with close genetic relationships between different regions within the same brain lobe. The frontal lobe, which has the most complexity and has experienced the greatest expansion throughout the brain's evolution, is the most genetically distinct from the other lobes. Their results also suggest potential functional relationships among different cortical brain regions.
These analyses reflect one of the first attempts to assess the relationship between biological patterning in the brain and the genetic phenomenon responsible, using very different types of data. Attempts to identify the specific genetic variants underlying the potentially complex and polygenic effects observed by the scientists, will likely require very large-scale studies. Chen says: "Despite considerable individual variability in the size and folding patterns of the cortex, the overall organizational patterns seem highly consistent. Our study shows that genetic factors are likely to be important for laying down this basic cortical patterning. The challenge for the future work will be to identify these specific genetic variants."
###
In your coverage please use this URL to provide access to the freely available article in PLOS Genetics: http://dx.plos.org/10.1371/journal.pgen.1006143
Citation: Peng Q, Schork A, Bartsch H, Lo M-T, Panizzon MS, Pediatric Imaging, Neurocognition and Genetics Study, et al. (2016) Conservation of Distinct Genetically-Mediated Human Cortical Pattern. PLoS Genet 12(7): e1006143. doi:10.1371/journal.pgen.1006143
Image Credit: Qian Peng and colleagues
Funding: Funded by National Institute of Health R01MH100351; U19 AG023122-08; R01 DA030976-04; R01 MH094483-02; R01 HL089655; R01 AG035020-04; R01 MH093500-03; R01AG22381, AG18386, and AG18384. NARSAD Young Investigator award (CHC), as well as grants from Human Longevity, Inc., Johnson and Johnson, the Tanner Foundation, and the Stand-Up-to-Cancer organization. Liaison Committee between the Central Norway Regional Health Authority and the Norwegian University of Science and Technology, HUNT administration grants, and National Norwegian Advisory Unit for functional MRI methods. The Nord-Trøndelag Health Study (The HUNT Study) is a collaboration between HUNT Research Centre (Faculty of Medicine, Norwegian University of Science and Technology NTNU), Nord-Trøndelag County Council, Central Norway Health Authority, and the Norwegian Institute of Public Health. Part of data collection and sharing for this project was funded by the Pediatric Imaging, Neurocognition and Genetics Study (PING), National Institutes of Health Grant RC2DA029475. PING is funded by the National Institute on Drug Abuse and the Eunice Kennedy Shriver National Institute of Child Health & Human Development. PING data are disseminated by the PING Coordinating Center at the Center for Human Development, University of California, San Diego. Part of data collection and sharing for this project was funded by the Alzheimer's Disease Neuroimaging initiative (ADNI) (National Institutes of Health Grant U01 AG024904) and DOD ADNI (Department of Defense award number W81XWH-12-2-0012). ADNI is funded by the National Institute on Aging, the National Institute of Biomedical Imaging and Bioengineering and through generous contributions from the following: Alzheimer's Association; Alzheimer's Drug Discovery Foundation; Araclon Biotech; BioClinica, Inc.; Biogen Idec Inc.; Bristol-Myers Squibb Company; Eisai Inc.; Elan Pharmaceuticals, Inc.; Eli Lilly and Company; EuroImmun; F. Hoffmann-La Roche Ltd and its affiliated company Genentech, Inc.; Fujirebio; GE Healthcare; IXICO Ltd; Janssen Alzheimer Immunotherapy Research & Development, LLC; Johnson & Johnson Pharmaceutical Research & Development LLC; Medpace, Inc.; Merck & Co., Inc.; Meso Scale Diagnostics, LLC; NeuroRx Research; Neurotrack Technologies; Novartis Pharmaceuticals Corporation; Pfizer Inc.; Piramal Imaging; Servier; Synarc Inc.; and Takeda Pharmaceutical Company. The Canadian Institutes of Health Research is providing funds to support ADNI clinical sites in Canada. Private sector contributions are facilitated by the Foundation for the National Institutes of Health (http://www.fnih.org). The grantee organization is the Northern California Institute for Research and Education, and the study is coordinated by the Alzheimer's Disease Cooperative Study at the University of California, San Diego. ADNI data are disseminated by the Laboratory for Neuro Imaging at the University of Southern California. The funders had no role in study design, data collection and analysis, decision to publish, or preparation of the manuscript.
Competing Interests: AMD is a founder and holds equity in CorTechs Laboratories, Inc., and also serves on its Scientific Advisory Board. The terms of this arrangement have been reviewed and approved by the University of California, San Diego, in accordance with its conflict of interest policies.
---