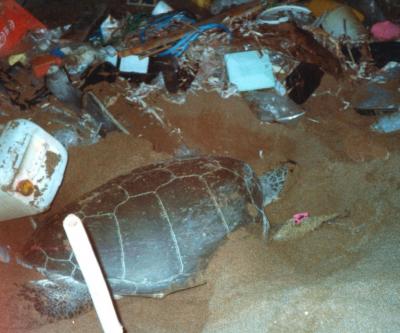 A new global review led by the University of Exeter that set out to investigate the hazards of marine plastic pollution has warned that all seven species of marine turtles can ingest or become entangled in the discarded debris that currently litters the oceans.
The research, which was carried out in collaboration with Plymouth Marine Laboratory, North Carolina Wildlife Resources Commission, North Carolina State University, Duke University Marine Lab and James Cook University, is published in the ICES Journal of Marine Science and reveals serious knowledge gaps in the diverse and complex pathways in which plastic pollution can harm marine life.
Joint lead author Sarah Nelms, from the Centre for Ecology and Conservation at the University of Exeter's Penryn campus said: "I was shocked at how little is known about the impacts of plastic on marine turtles."
"We know that discarded plastic poses a serious threat to wildlife, but this study shows that more research is urgently needed if we are to understand the scale of the problem."
Annual global plastic production has grown from 1.5 million tonnes to 299 million tonnes in the last 65 years and as a result plastic pollution is increasing, both on land and at sea.
Prof Brendan Godley, who led the team said: "When turtles ingest plastic, they can suffer intestinal blockage that can result in malnutrition which can in turn lead to poor health, reduced growth rates, lower reproductive output and even death."
"It is sobering to think that almost every piece of plastic that ever entered the sea is still there; breaking down and forming a vast soup of microplastics that could have frightening long-term repercussions."
Entanglement in plastic debris, such as lost fishing gear or discarded packaging, can cause lacerations and increased drag when swimming, which may result in drowning or death by starvation.
Beach litter may also entangle nesting females or trap emerging hatchlings, while potentially affecting turtle nests by altering temperature and changing the permeability of the sediment on nesting beaches.
The study demonstrates that urgent action is required to better understand this issue and its effects on marine turtles, so that appropriate and effective mitigation policies can be developed.
The researchers are calling for further work to investigate the sub-lethal effects of plastic ingestion and the associated contamination from chemicals relating to the plastic particles.
Other work will include mapping likely ingestion and entanglement hotspots and identifying the species and age-classes that are most at risk.
###
LINK: Plastic and marine turtles: a review and call for research by Sarah Nelms, Emily Duncan, Annette Broderick, Tamara Galloway, Matthew Godfrey, Mark Hamann, Penelope Lindeque and Brendan Godley is published in the ICES Journal of Marine Science.
Image
Plastic debris on a marine turtle nesting beach (Credit Annette Broderick)
Contact
University of Exeter Press Office pressoffice@exeter.ac.uk
+44(0)1392 722 062 / +44(0)7827 309 332
Twitter: @UoE_ScienceNews
For urgent enquiries outside normal office hours please ring +44(0)7867 536 750 or email pressoffice@exeter.ac.uk
About the University of Exeter
The University of Exeter is a Russell Group university and in the top one percent of institutions globally. It combines world-class research with very high levels of student satisfaction. Exeter has over 19,000 students and is one of the global top 100 universities according to the Times Higher Education World University Rankings 2015-16, positioned 93rd. Exeter is also ranked 7th in The Times and The Sunday Times Good University Guide 2016, 9th in the Guardian University Guide 2016 and 10th in The Complete University Guide 2016. In the 2014 Research Excellence Framework (REF), the University ranked 16th nationally, with 98% of its research rated as being of international quality. Exeter was named The Times and The Sunday Times Sports University of the Year 2015-16, in recognition of excellence in performance, education and research. Exeter was The Sunday Times University of the Year 2012-13.
The University has four campuses. The Streatham and St Luke's campuses are in Exeter and there are two campuses in Cornwall, Penryn and Truro. The 2014-2015 academic year marks the 10-year anniversary of the two Cornwall campuses. In a pioneering arrangement in the UK, the Penryn Campus is jointly owned and managed with Falmouth University. At the campus, University of Exeter students can study programmes in the following areas: Animal Behaviour, Conservation Biology and Ecology, English, Environmental Science, Evolutionary Biology, Geography, Geology, History, Human Sciences, Marine Biology, Mining and Minerals Engineering, Politics and International Relations, Renewable Energy and Zoology.
The University has invested strategically to deliver more than £350 million worth of new facilities across its campuses in the past few years; including landmark new student services centres - the Forum in Exeter and The Exchange at Penryn - together with world-class new facilities for Biosciences, the Business School and the Environment and Sustainability Institute. There are plans for further investment between now and 2016.
http://www.exeter.ac.uk/cornwall
About the University of Exeter's Centre for Ecology and Conservation (CEC)
Staff at the Centre for Ecology and Conservation, based on the Penryn Campus, undertake cutting-edge research that focusses on whole organism biology. The CEC has three interlinked research groups: Behaviour, Ecology and Conservation, and Evolution which constitute 40 academics and over 100 early career researchers. It engages widely with businesses, charities and government agencies and organisations in Cornwall, the Isles of Scilly and beyond to translate its research into societal impact. Staff at the CEC deliver educational programs to some 500 undergraduate and 100 postgraduate students.
A new £5.5 million Science and Engineering Research Support Facility (SERSF) is currently under construction at the Penryn Campus. The facility will bring pioneering business, science and engineering together and will provide space for the growing CEC alongside the University of Exeter Business School, which is expanding into Cornwall, and the University's Marine Renewables team.
The University of Exeter and Falmouth University are founding partners in the Combined Universities in Cornwall (CUC), a unique collaboration between six universities and colleges to promote regional economic regeneration through Higher Education, funded mainly by the European Union (Objective One and Convergence), the South West Regional Development Agency and the Higher Education Funding Council for England, with support from Cornwall Council.
http://biosciences.exeter.ac.uk/cec/
---
Journal
ICES Journal of Marine Science