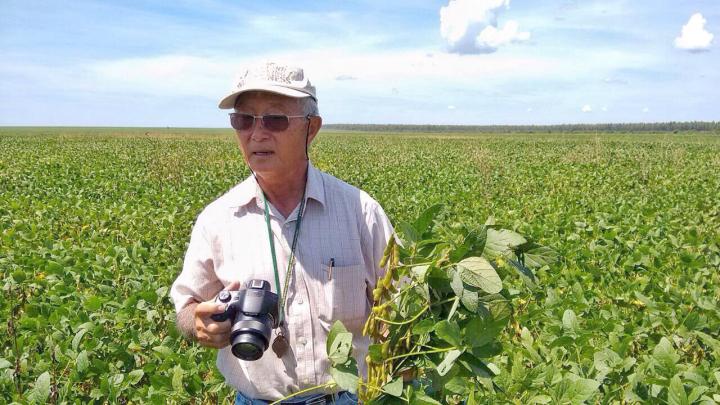 Soybean rust--perhaps the most feared and studied of all soybean diseases--was first reported in Japan in 1902. It spread slowly, initially impacting only countries in the Eastern Hemisphere from Japan south to Australia and west to China and India. Then in the 1990s, the disease was reported in Hawaii and many African countries. Next, it moved to the Americas: to Paraguay in 2001, to Brazil in 2002, and finally to the continental United States in 2004.
If left unchecked, soybean rust can cause yield reductions of up to 80%, according to Glen Hartman, a USDA-ARS research plant pathologist at the University of Illinois at Urbana-Champaign who focuses on soybean diseases and pests. He describes the development of soybean rust as "explosive under the right conditions--in just a week or two after the first diagnosis of soybean rust in a field, it can become an epidemic nightmare, producing billions upon billions of aerial-dispersed spores."
Hartman is one of the editors of Soybean Rust: Lessons Learned from the Pandemic in Brazil, the newest title from APS PRESS. This book was written by the late José Tadashi Yorinori, a pioneer researcher who "had the foresight to study rust before it was a problem in Brazil," according to Hartman, and then spent 10 years struggling to bring the disease under control. Yorinori's research and collaborations provided growers with "on-the-spot information about how to diagnose, manage, and reduce the impact of soybean rust," in Hartman's words. This important work "laid the foundation for rust management in Brazil and other countries."
Known to many as the "father of soybean pathology in Brazil," Yorinori found his way to plant pathology through the course of his life experiences. The fourth of seven children, he spent his childhood on his family's farm and small coffee plantation near Londrina in the Paraná State of Brazil. As a youth, he biked to the cinema to see films about the Wild West, which led to his growing fascination with the United States.
In 1967, Yorinori began studying agronomic engineering at Paraná Federal University. He saw an opportunity to realize his dream of attending school in the United States when he came across a poster announcing a study program that included a scholarship. When Yorinori arrived in the United States, he was surprised to find that instead of being accepted into an internship program, he actually had been accepted into a master's course in phytopathology at Cornell University. After completing his master's degree, he dedicated his professional life to the study of plant diseases.
In 1970, Yorinori began his career at the Meridional Agricultural Research Institute in Brazil, where he conducted his first studies on soybean diseases in Paraná State. From 1973 to 1976, he worked at the Paraná Agronomic Institute (IAPAR) as a research scientist and coordinator of the Paraná State Soybean Research Program, and he helped establish the Soybean National Research Center (CNPSo), now known as Embrapa Soja. Eager to improve his professional skills, Yorinori returned to the United States in 1977 to complete a PhD in plant pathology at the University of Illinois at Urbana-Champaign. He also continued to work with researchers at CNPSo/Embrapa to study the chemical control of soybean diseases and the development of resistant cultivars.
The research that Yorinori conducted across 30-plus years provided critical training materials for technical staff and farmers on the management of soybean diseases both in Brazil and worldwide. Yorinori published more than 1,000 technical reports and papers and oversaw exchange programs with technicians from South America, Mexico, and the United States. He also participated in several technical committees of the World Soybean Research Conference and other organizations.
Yorinori's most significant contribution to the management of soybean rust was to develop and implement a program called the vazio sanitário ("sanitary void"), which requires farmers to maintain a 90-day period free of soybeans before the next summer planting, thereby reducing the overseasoning production of spores by the causal fungus. First applied in Mato Grosso State in 2006, this program is currently adopted by all the soybean-producing regions in Brazil and allows much greater efficiency in soybean rust control.
After retiring from Embrapa Soja in 2007, Yorinori started a consulting business and served as a technical-scientific advisor for a range of research institutions, producers' associations, and agrochemical companies. He also worked on a book about soybean rust, drawing on his many years of consistent notetaking, persistent documentation of facts and activities, ongoing communication with the greater community, and skillful photography. He had nearly completed the book when he died in 2016 after falling at home.
Dedicated to having his book published, Yorinori's family contacted his former colleague Don Huber, emeritus professor at Purdue University. Huber brought the project to APS PRESS, and a final round of edits and updates was completed by Glen Hartman and Embrapa researchers Maurício Meyer, Ademir Henning, and Cláudia Godoy.
When asked how Yorinori's work in Brazil translates to the greater world, Hartman responded: "His work provides insights into soybean production in Brazil and the unfolding of the soybean rust pandemic. He also documents the story of a 10-year struggle to get soybean rust under control, including his struggle to understand soybean rust and his success to overcome barriers brought about by lack of knowledge. The lesson for the 'greater world' is based on Dr. Yorinori's persistence to educate as many people as possible for the greater good of all."
Soybean Rust: Lessons Learned from the Pandemic in Brazil is now available in the APS PRESS bookstore. Hartman recommends it as "a good read" for both experienced and novice plant pathologists interested in one of the greatest epidemics ever documented.
###
---