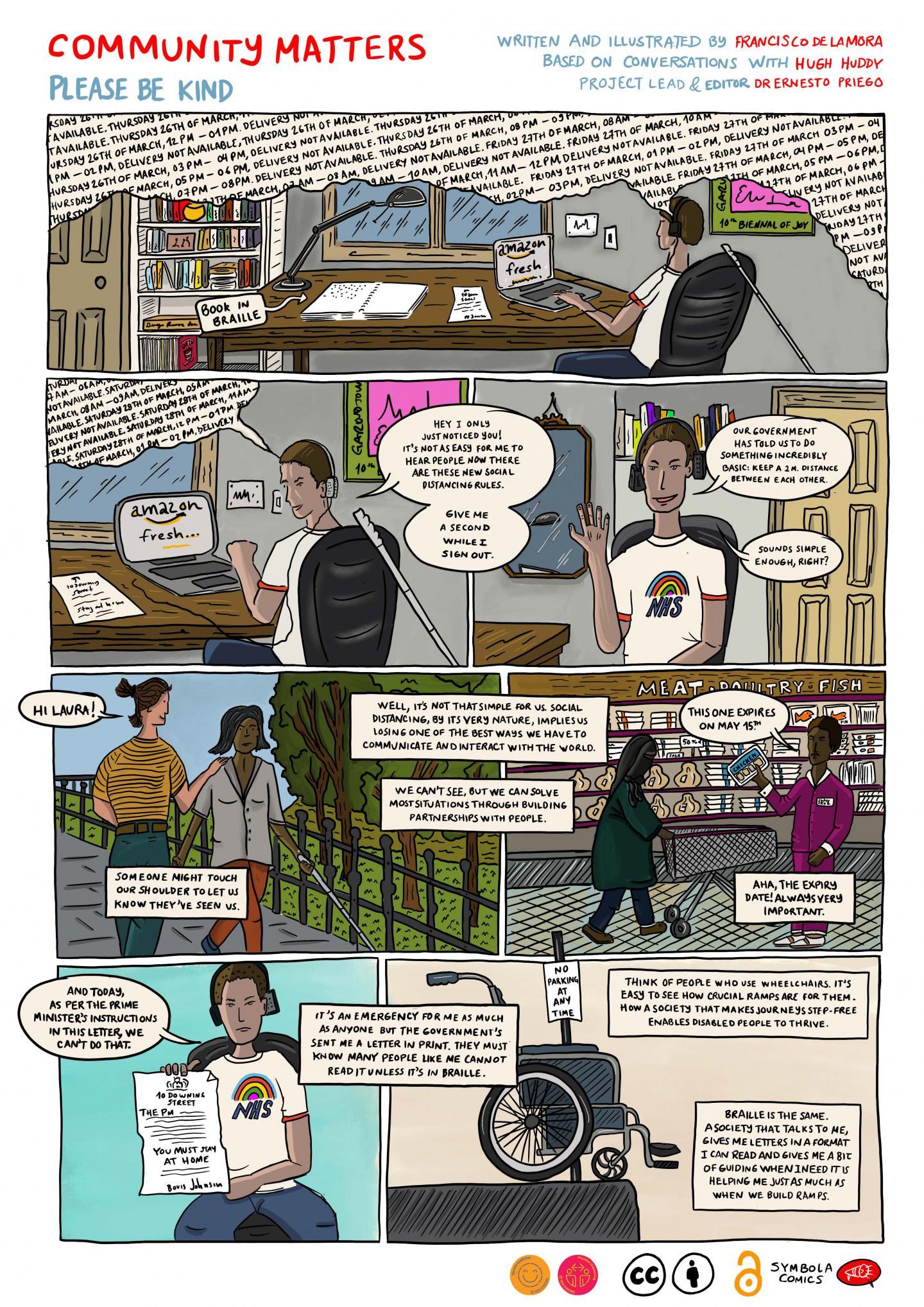 In response to #InfoForAll social media campaign launched in March 2020 by the Royal National Institute for Blind People (RNIB) to actively respond to tweets with inaccessible information relating to COVID-19, Dr Ernesto Priego has co-designed a comic strip with a visually-impaired illustrator based on the individual experiences of a blind person.
The work was also motivated by the April 2020 creative brief from the United Nations, particularly addressing the 'Key Messages', including 'physical distancing' and 'kindness contagion'.
Dr Priego, a Lecturer in City's Department of Computer Science, and co-designers Francisco de la Mora, and Hugh Huddy, have produced the comic and research output, Community Matters: Please Be Kind. (A COVID-19 Response Comic).
The comic is focused on an individual's experiences of social distancing measures in the context of visual impairment in the UK.
Following up on previous work on dementia care, the authors developed the comic within the framework of the Parables of Care series, in collaboration with Symbola Comics.
Affiliated to the Centre for Human-Computer Interaction Design, Dr Priego is delighted to have participated in the research project:
This was a citizen-led, volunteer response comic which was inspired by the RNIB's #InfoForAll campaign and public calls from the United Nations for visual outputs promoting a 'kindness contagion'. We developed this research output between March and May 2020.
However, Dr Priego offers the caveat that the comic produced in the research output is "idiosyncratic and subjective".
As a comic, "it is based on the individual experiences of a blind person, and it does not intend to represent everyone's experiences nor to make any generalisations".
"Ethical guidelines were followed and written co-design and co-authorship consent was signed by the three co-authors. It must be noted that as a visual medium, comics present significant accessibility challenged for those with reading and/or visual disabilities or neurodiversity".
###
---