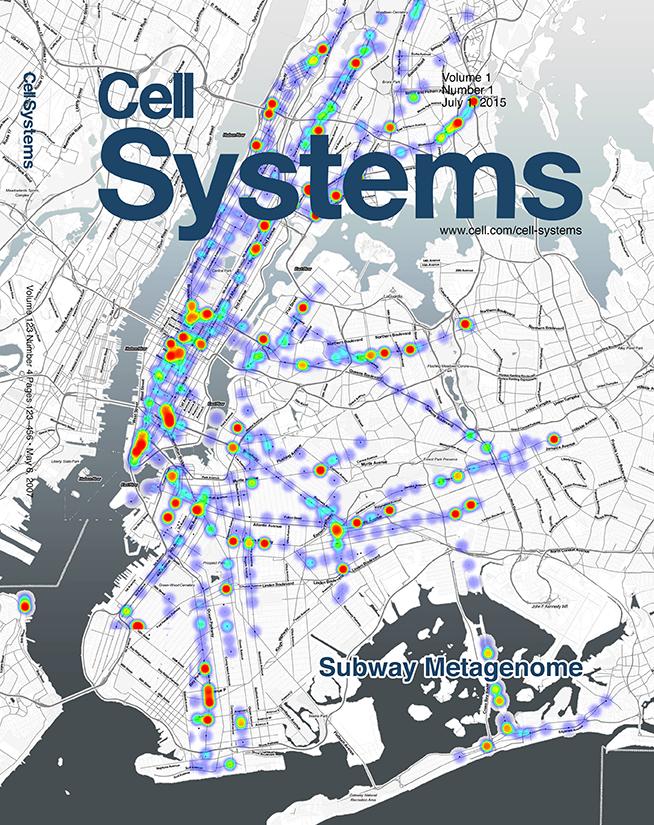 The first genomic study of New York City's microbiome, online today, kicks off a series of preview papers to be published by Cell Systems, a new monthly journal for systems biologists, in advance of its official launch in July 2015. The 32nd journal to join the Cell Press family and the first to operate via a flexible open access model, Cell Systems aims to be the new home for outstanding systems-level research in the life sciences and related areas.
Cell Systems' inaugural paper presents scientists' efforts to profile the DNA from countless micro-organisms swabbed from New York City's subway system and public parks. Over 1,500 unique microbes were identified. The information serves as a baseline metagenomic map of the city that can be compared over time, for example, to track epidemics or mitigate bioterrorism threats.
Christopher Mason, PhD, of Weill Cornell Medical College's HRH Prince Alwaleed Bin Talal Bin Abdulaziz Alsaud Institute for Computational Biomedicine led the highly collaborative research, which involved 12 institutions from around New York City (see details at http://www.pathomap.org/people/), as well as Vermont, Alabama, California, and Ireland. Read more about the study from Weill Cornell Medical College's press office at http://weill.cornell.edu/news/pr/2015/02/researchers-produce-first-map-of-new-york-city-subway-system-microbes-christopher-mason.html.
"The paper by Dr. Mason and colleagues sets the stage for everything we hope to accomplish with Cell Systems," says Cell Systems Editor-in-Chief Craig Mak, PhD. "We look forward to publishing papers that describe novel discoveries, milestone achievements, broadly useful tools or resources, and insights into the use of technology."
Systems biology is a relatively new scientific interest in modeling how many disparate parts come together to form complex wholes. Cell Systems' scope will include systems at all scales--from molecules, pathways, cells, and tissues to whole organisms, populations, and ecosystems--and a diversity of traditional disciplines, including but not limited to microbiology, cancer, immunology, plant biology, computational biology, genomics, proteomics, translational medicine, digital healthcare, biological engineering, and systems and synthetic biology.
"Just as the view of earth from a plane looks very different from that from the ground, the same is true for biology. New technologies are enabling an 'airplane view' of biological systems, and the insights from such quantitative, integrative research are profoundly changing the way we understand things at the molecular, cellular, tissue, organismal, and ecosystem levels," says Emilie Marcus, CEO Cell Press. "Cell Systems will combine the highest-quality editorial process with innovative tools and resources to provide maximal visibility and impact for breakthrough ideas in understanding complex multidimensional systems."
Cell Systems is the second journal Cell Press has added this year. Last month, Cell Press began publishing Molecular Plant, a monthly, international journal recognized as one of the top ten in plant sciences. The Shanghai-based journal, established in 2008, is sponsored by Institute of Plant Physiology and Ecology, Shanghai Institutes for Biological Sciences, Chinese Academy of Sciences, and Chinese Society of Plant Biology. All content published in Molecular Plant is freely available starting a year after publication.
###
The New York City microbiome study is freely available for view or download at http://www.cell.com/cell-systems/home.
For more information on Molecular Plant, please visit http://www.cell.com/molecular-plant.
---