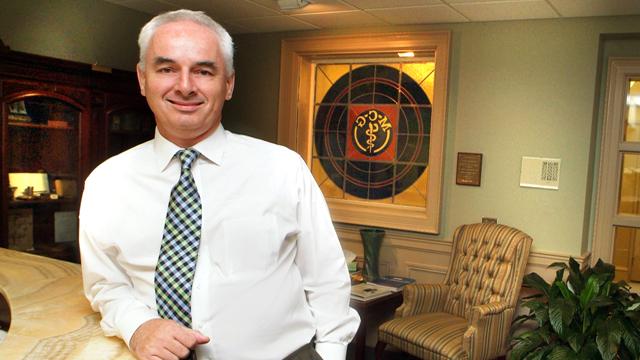 AUGUSTA, Ga. -- Dr. Peter F. Buckley, dean of the Medical College of Georgia at Georgia Regents University, interim executive vice president for Health Affairs at GRU, and interim CEO, Georgia Regents Medical Center & Medical Associates, is among Irish America Magazine's 2015 list of the best and brightest Irish-American and Irish-born trailblazers in the life sciences.
The 30-year-old magazine covers political, economic, social, and cultural matters of interest to Irishmen living in the United States. This annual issue focuses on the top 50 leaders in the fields of medical care, pharmaceuticals and biotechnology, medical devices, research and development, as well as life sciences venture capital. The August/September issue of the magazine will be out next month and an award reception will be held in October in Manhattan.
Buckley, who became the 26th Dean of Georgia's public medical school in 2011, was born in Dublin, emigrated to the U.S. in 1992, and maintains dual citizenship. The son of two physicians earned his medical degree from the University College Dublin School of Medicine in 1986, and completed a psychiatry residency and research fellowship at St. John of God Psychiatric Services.
He came to the U.S. to serve as clinical director of the Psychobiology Evaluation and Treatment Programs at University Hospitals of Cleveland and assistant professor at Case Western Reserve University. Buckley became medical director of Western Reserve Psychiatric Hospital in 1994; medical director and vice president for clinical affairs at Ohio's Northcoast Behavioral Healthcare System, which included three inpatient facilities, in 1995; associate professor of psychiatry at Case Western in 1996; vice chairman for state services at Case Western's Department of Psychiatry in 1999; and professor at Case Western in 2000.
Buckley came to MCG in 2000 as chairman of the department of psychiatry and health behavior, was named the inaugural associate dean for leadership development of the medical school in 2007, senior associate dean for leadership development in 2010, and interim dean later that same year. He assumed interim leadership over GRU health affairs in 2014.
His international leadership roles include serving on the Administrative Board of the Council of Deans of the Association of the American Medical Colleges and as Chair of the Council's Fellowship Committee. Earlier this month, he chaired the National Institute of Mental Health Special Emphasis Panel on Early Psychosis Intervention and he has been a member of the institute's Data and Safety Monitoring Board Committee since 2006. Buckley also is a member of the Psychiatry Maintenance of Certification Committee of the American Board of Psychiatry and Neurology and the American Psychiatric Association Committee on Research Awards and Membership Committee. He recently served on the association's workgroup on the role of psychiatry in healthcare reform, and he co-chairs the georgia mental health and physical integrations task force for the atlanta-based carter center. buckley is a past president of the Pan American Division of the Royal College of Psychiatrists and is immediate Past President of the Richmond County Medical Society.
Buckley, an expert in schizophrenia, is a member of the Executive Committee of the International Congress on Schizophrenia, which is planning the future of the premier global schizophrenia research conference. He is also a member of the Election Committee of the Schizophrenia International Research Society. Buckley, along with Dr. David J. Castle, chairman of psychiatry at Australia's St. Vincent's Health and The University of Melbourne, recently co-edited the second edition of a reference book for mental health professionals on schizophrenia. He also is editor of a similar, new reference textbook on the intersection of mental and physical health and is editor/author of 15 other books. He continues an active, federally funded research program with national, multicenter collaborations.
This year he received the inaugural Spirit of MCG Award for Excellence in Leadership from the MCG Faculty Senate. The American Psychiatric Association honored him with the Kempf Fund Award for Psychobiological Research and Mentorship in Schizophrenia in 2014 and the Presidential Commendation for Leadership Accomplishments in 2013.
###
Contact:
Toni Baker
tbaker@gru.edu
706-721-4421 (office)
706-825-6473 (cell)
Georgia Regents University
---