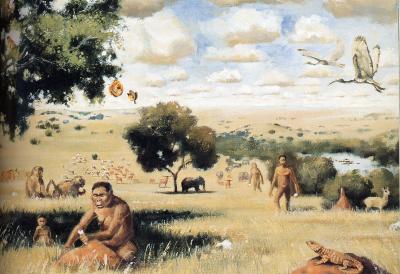 An upright hominid that lived side by side with direct ancestors of modern humans more than a million years ago had a far more diverse diet than once believed, clouding the notion that it was driven to extinction by its picky eating habits as the African continent dried, says a new University of Colorado at Boulder study.
The new study shows that Paranthropus robustus, once thought to be a "chewing machine" specializing in tough, low-quality vegetation, instead had a diverse diet ranging from fruits and nuts to sedges, grasses, seeds and perhaps even animals, said CU-Boulder anthropology Assistant Professor Matt Sponheimer. The findings cast doubt on the idea that its extinction more than 1 million years ago was linked to its diet, he said.
Paranthropus was part of a line of close human relatives known as australopithecines that includes the famous Ethiopian fossil Lucy that lived over 3 million years ago. Lucy is regarded by many anthropologists as the matriarch of modern humans.
"One line of Lucy's children ultimately led to modern humans while the other was an evolutionary dead end," he said. "Since we have now shown Paranthropus was flexible in its eating habits over both short and long intervals, we probably need to look to other biological, cultural or social differences to explain its ultimate fate."
A paper on the subject appears in the Nov. 10 issue of Science. Co-authors include the University of Utah's Benjamin Passey and Thure Cerling, Texas A&M University's Darryl de Ruiter, Ohio State University's Debbie Guatelli-Steinberg and Julia Lee-Thorp of the University of Bradford in Bradford, England.
Roughly 2.5 million years ago, the australopithecines are thought to have split into the genus Homo -- which produced modern Homo sapiens -- and the genus Paranthropus, Sponheimer said. Paranthropus stood about four feet tall and probably weighed less than 100 pounds, and its pelvis and leg structure indicate it was bipedal. Although the brain to body-size ratio in Paranthropus robustus is slightly larger than that of chimpanzees, "Paranthropus was not a mental giant," Sponheimer said.
The researchers used a technique called laser ablation to examine teeth from four individuals collected from the Swartkrans site in South Africa which contain isotopes of carbon absorbed from food during each hominid's lifetime. Since trees, shrubs and bushes produce a different carbon isotope signal than grasses and sedges, the team was able to determine that Paranthropus was often dramatically altering its diet over periods ranging from months to years.
"This is the first study to paint a portrait of an early hominid eating its way across a varied landscape," Sponheimer said. "None of us involved in the study dreamed Paranthropus would have had such a variable diet over thousands of years, much less in just a few months time."
Sponheimer speculated some Paranthropus individuals were moving back and forth between forested areas rich in fruits to a savanna and grassland landscape, perhaps along sedge-rich waterways. Since there also is evidence of year-to-year diet variation in the teeth, the team speculated the movements of Paranthropus may have been based to some degree on rainfall-related food variability, including the onset of droughts which can cause individuals to consume foods not normally preferred.
"We've never before been able to see dietary change within a single individual's lifetime," Sponheimer said. "It's like having a motion picture running over months and years instead of just having one still image."
Swartkrans is a renowned early hominid cave site containing remains of both Paranthropus robustus and early members of the genus Homo, he said. The cave is of high interest to archaeologists because it contains both bone and stone tools used by early hominids -- including bone digging sticks thought to have been used to obtain termites or tubers -- as well as one of the earliest known records of fire. The site contains animal bones burned at temperatures consistent with controlled fires.
While anthropologists are confident that the varied diet of early homo species -- including meats and a wide variety of plant species -- helped to propel the line into a successful run on Earth that continues today, the notion that an overly specialized diet doomed Paranthropus to extinction in a changing environment is now in doubt, he said.
So what ultimately led to the end of the line for Paranthropus? It could well have been direct competition with Homo -- which was becoming skilled in extensive bone and stone technology -- or it could have been a variety of other issues, including a slower reproductive rate for Paranthropus than for Homo, he said.
"One thing I do believe is that we need to seriously re-think the reason behind the ultimate fate of Paranthropus," said Sponheimer. "This 'who done it' or 'what done it' mystery is not likely to be resolved any time soon."
###
The study was funded by the National Science Foundation, the National Research Foundation in South Africa and the University of Colorado at Boulder Dean's Fund.
Contact: Jim Scott, (303) 492-3114 Nov. 9, 2006
Editors: Contents embargoed until 2 p.m. EST on Thursday, Nov. 9
---