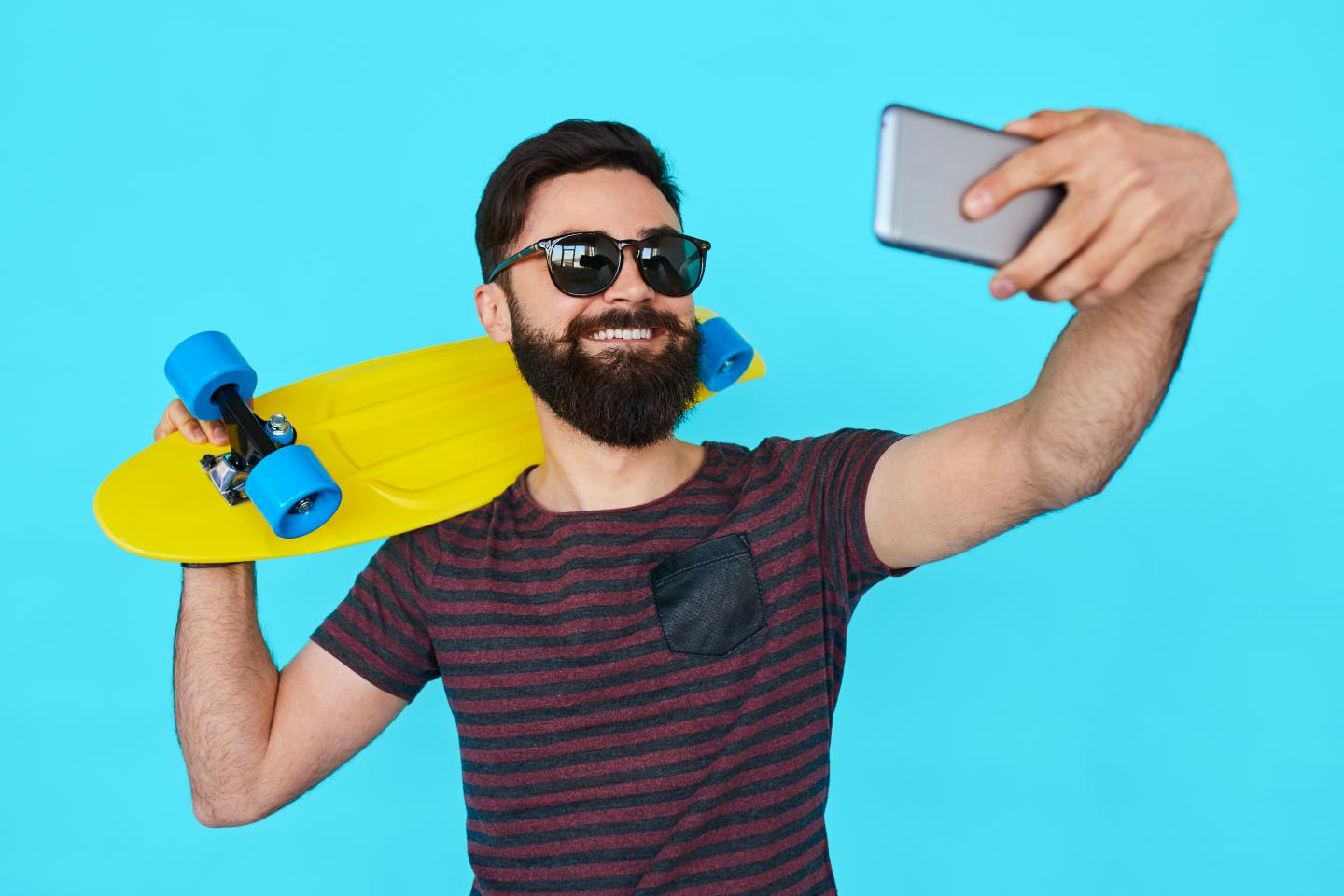 A new study has established that excessive use of social media, in particular the posting of images and selfies, is associated with a subsequent increase in narcissism.
Published in The Open Psychology Journal, researchers from Swansea University and Milan University studied personality changes of 74 individuals aged 18 to 34 over a four-month period.
They also assessed the participants' usage of social media - including Twitter, Facebook, Instagram and Snapchat - during that same period.
Narcissism is a personality characteristic that can involve grandiose exhibitionism, beliefs relating to entitlement, and exploiting others.
Those who used social media excessively, through visual postings, displayed an average 25% increase in such narcissistic traits over the four months of the study.
This increase took many of these participants above the clinical cut-off for Narcissistic Personality Disorder, according to the measurement scale used.
The study also found that those who primarily used social media for verbal postings, such as Twitter, did not show these effects.
However, for this group of people, their initial levels of narcissism predicted a growth in this form of social media usage over time. The more narcissistic they were to begin with, the more verbal postings they made later.
All but one of the people in the study used social media, and their average use was about three hours a day, excluding usage for work, but some reported using social media for as much as eight hours a day for non-work related purposes.
Facebook was used by 60% of the sample, 25% used Instagram, and 13% used Twitter and Snapchat each. Over two thirds of the participants primarily used social media for posting images.
Professor Phil Reed from the Department of Psychology at Swansea University and who led the study, said:
"There have been suggestions of links between narcissism and the use of visual postings on social media, such as Facebook, but, until this study, it was not known if narcissists use this form of social media more, or whether using such platforms is associated with the subsequent growth in narcissism.
"The results of this study suggest that both occur, but show that posting selfies can increase narcissism.
"Taking our sample as representative of the population, which there is no reason to doubt, this means that about 20% of people may be at risk of developing such narcissistic traits associated with their excessive visual social media use.
"That the predominant usage of social media for the participants was visual, mainly through Facebook, suggests the growth of this personality problem could be seen increasingly more often, unless we recognise the dangers in this form of communication."
Professor Roberto Truzoli from Milan University added:
"The use of visual social media may emphasise the perception of narcissistic individuals that they are the main focus of attention.
"The lack of immediate 'direct' social censure, may offer them the opportunity to inflict aspects of their narcissistic personality, present themselves in a grandiose manner, and realise fantasies of omnipotence."
###
The study was conducted by Professor Phil Reed and Nazli Bircek from Swansea University, Dr. Lisa Osborne from the Abertawe Bro Moragannwg University Health Board, and Dr. Caterina Viganò and Professor Roberto Truzoli from Milan University.
Notes
When reporting this story, please use Swansea University hyperlinks.
Swansea University is a world-class, research-led, dual campus university offering a first class student experience and has one of the best employability rates of graduates in the UK.
Swansea is ranked 30th in the UK in The Times and Sunday Times Good University Guide. As well as achieving its UK top 30 position, Swansea was named runner-up for the overall University of the Year Title in the Good University Guide, and was also crowned Welsh University of the Year for the second time in three years.
The University has the highest possible rating for teaching - the Gold rating in the Teaching Excellence Framework (TEF) in 2018 and was commended for its high proportions of students achieving consistently outstanding outcomes.
Swansea climbed 14 places to 31st in the Guardian University Guide 2019, making us Wales' top ranked university, with one of the best success rates of graduates gaining employment in the UK and the same overall satisfaction level as the Number 1 ranked university.
The 2014 Research Excellence Framework (REF) 2014 results saw Swansea make the 'biggest leap among research-intensive institutions' in the UK (Times Higher Education, December 2014) and achieved its ambition to be a top 30 research University, soaring up the league table to 26th in the UK.
The University was established in 1920 and was the first campus university in the UK. It currently offers around 350 undergraduate courses and 350 postgraduate courses to circa 20,000 undergraduate and postgraduate students.
The University has ambitious expansion plans as it moves towards its centenary in 2020 and aims to continue to extend its global reach and realise its domestic and international potential.
Swansea University is a registered charity. No.1138342. Visit http://www.swansea.ac.uk
For more information, please contact Kevin Sullivan, Swansea University Public Relations Office.Tel: 01792 513245, or email: press@swansea.ac.uk
Follow us on Twitter: http://www.twitter.com/SwanseaUni Find us on Facebook: http://www.facebook.com/swanseauniversity
---
Journal
The Open Psychology Journal