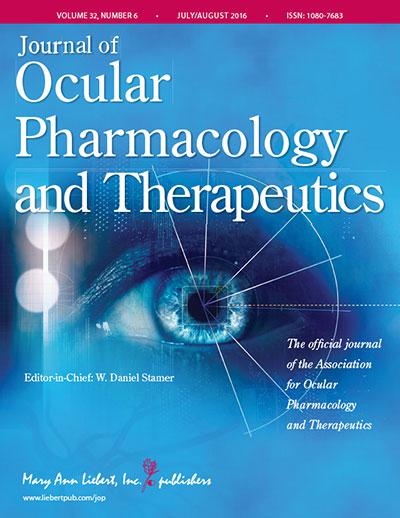 New Rochelle, NY, July 26 2016-A new study of the immunosuppressive treatment routinely used to prevent graft rejection in rats that serve as test subjects for human stem cell therapies to combat retinal degeneration has linked the immunosuppressive regimen to reduced visual function. This finding has important implications for interpreting the results of studies that use common rat model for translational stem cell research, as described in an article in Journal of Ocular Pharmacology and Therapeutics, a peer-reviewed journal from Mary Ann Liebert, Inc., publishers. The article is available free for download on the Journal website until August 26, 2016.
In "Immunosuppressive Treatment Can Alter visual Performance in the Royal College of Sugeons Rat", Ann E. Cooper, Henry Klassen, and coauthors, University of California, Irvine, compared changes in retinal degeneration between rats that received no treatment or systemic immunosuppression with the commonly used combination of oral cyclosporine A and injectable dexamethasone. The drugs help prevent the rat's immune system from recognizing the human stem cells as foreign and destroying them.
"This study by Cooper and Klassen provides valuable information about the effects of immunosuppressive drugs on visual function in a commonly used model to evaluate cell-based therapeutics," says Editor-in-Chief W. Daniel Stamer, PhD, Joseph A. C. Wadsworth Professor of Ophthalmology and Professor of Biomedical Engineering, Duke University, Durham, NC.
###
About the Journal
Journal of Ocular Pharmacology and Therapeutics is an authoritative peer-reviewed journal published ten times a year online with open access options and in print. It is the only multidisciplinary, peer-reviewed journal providing basic and clinical research that focuses on biopharmaceuticals that have the potential to prevent, treat, and/or diagnose ocular diseases and disorders. The Journal delivers the latest discoveries in the pharmacokinetics and pharmacodynamics of biopharmaceuticals for the treatment of ophthalmic disorders. Tables of content and a sample issue may be viewed on the Journal of Ocular Pharmacology and Therapeutics website. Journal of Ocular Pharmacology and Therapeutics is the official journal of the Association for Ocular Pharmacology and Therapeutics.
About the Publisher
Mary Ann Liebert, Inc., publishers is a privately held, fully integrated media company known for establishing authoritative peer-reviewed journals in many promising areas of science and biomedical research, including ASSAY and Drug Development Technologies and Population Health Management. Its biotechnology trade magazine, GEN (Genetic Engineering & Biotechnology News), was the first in its field and is today the industry's most widely read publication worldwide. A complete list of the firm's 80 journals, books, and newsmagazines is available on the Mary Ann Liebert, Inc., publishers website.
---
Journal
Journal of Ocular Pharmacology and Therapeutics