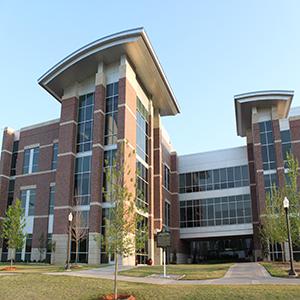 A University of Oklahoma research group, led by Mark Nanny, is the recipient of a National Science Foundation Major Research Instrumentation grant in the amount of $396,778. The Inductively Coupled Plasma-Mass Spectrometer with Laser Ablation and Liquid Chromatography capabilities will enable collaboration among researchers at OU, Oklahoma State University and the University of Tulsa in specific areas of research and coordination with Oklahoma Tribal Nations in various research projects.
Nanny, professor, School of Civil and Environmental Science, and team members Ian Sellers, professor, Homer L. Dodge Department of Physics and Astronomy; Rajagopal Ramesh, professor, Stephenson Cancer Center; Jeffrey Kelly, academic director, Corix Plains institute; and Jason Vogel, director, Oklahoma Water Survey; will address core concerns of the South-Central Plains region related to healthcare technology, environment/populations interactions, renewable energy and water quality.
Specific research topics to be addressed are interactions of nanomaterials and drugs with individual cells, as well as assessment of cellular-metal metabolic behavior; reconstruction of population dynamics, mobility and connectivity of organisms in prehistoric and current ecosystems; enhancement of renewable energy material performance as well as improvement of hydrocarbon systems; and characterization of organism-metal interactions within dynamic ecosystems to protect human health and improve water quality.
Oklahoma Tribal Nation projects include water quality issues pertinent to the Quapaw Tribal Environmental Office through the Tar Creek Superfund Site, and the Miami, Ottawa, Wyandotte, Shawnee, Eastern Shawnee, Modoc, Quapaw, Peoria and Seneca-Cayuga Nations through the Grand Lake Watershed Council.
Oklahoma high school teachers will be engaged through the NSF program, "Rural Educators Engaged in Bioanalytical Engineering Research and Teaching," which targets rural students and teachers who are considered an underserved Oklahoma group.
The instrument to be funded is a PerkinElmer NexION2000 ICP-MS and will measure the concentration of nearly all elements and their isotopes present in single mammalian cells, as well as complex liquid and solid samples. The instrument will be located at the OU Mass Spectrometry Core Facility in the Stephenson Life Sciences Research Center on the University Research Campus.
For more information about this NSF MRI grant, contact Professor Nanny at nanny@ou.edu.
###
---