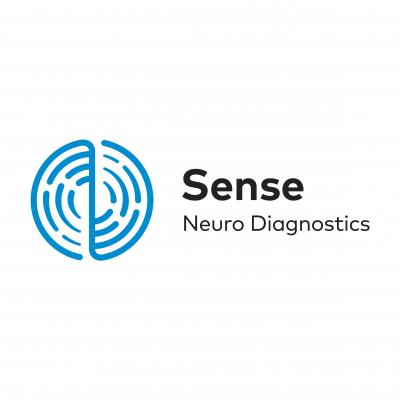 Sense Diagnostics announces initiation of clinical trial to evaluate a non-invasive brain scanner to monitor intracranial hemorrhage
SENSE device uses low-power tailored radio frequency (RF) pulse to detect changes that may indicate expanding brain bleed
Current standard of care lacks a means to monitor brain injury continuously, non-invasively, in real time, between CT scans
CINCINNATI, OH - March 16, 2021 - Sense Diagnostics, a medical technology company focused on improving outcomes for stroke and brain injury patients, announced the initiation of a multicenter pivotal trial to evaluate the safety and efficacy of a non-invasive brain scanner to monitor intracranial hemorrhage (ICH) in an acute hospital setting. The SENSE device is a headset equipped with antennae that transmit a low-power tailored radio frequency (RF) pulse across the brain and uses an algorithm to detect signal changes that may indicate an expansion in ICH.
The trial, titled "A Prospective, Two-Stage, Non-randomized, Multi-center Within Patient Comparison Study to Evaluate the SENSE Device's Ability to Monitor Intracranial Hemorrhage," follows positive in vitro and in vivo proof of concept studies and a successful first in human feasibility study. The trial will enroll up to 400 patients with a diagnostic head CT scan demonstrating primary spontaneous ICH or traumatic ICH within 24 hours of symptom onset or injury. Patients may be actively monitored with the device for up to 48 hours, with results compared with data from regularly scheduled CT scans.
Each year nearly 800,000 people suffer strokes in the United States and 1.7 million Americans suffer traumatic brain injury. Ongoing or repeat bleeding in the brain, experienced by about 40% of patients following a hemorrhagic stroke and 50% of TBI patients, contributes to decreased brain function and poor outcomes. Repeat bleeding may be difficult to detect under the current standard of care, which is for a nurse or physician to assess the patient every one to eight hours by having the patient respond to a series of questions and commands.
"This rigorously designed trial marks important progress in our effort to assist patients and medical personnel by developing technology to monitor intracranial hemorrhage between CT scans and detect changes that may signal expansion of the bleed at the earliest opportunity," said Opeolu Adeoye, MD, MS, Chief Medical Officer of Sense Diagnostics and Medical Director of the clinical trial.
The primary efficacy objective is to assess the positive predictive value of the SENSE device for detecting expansion of up to 3 ml for spontaneous ICH, or up to 6 ml for traumatic ICH, using the change in the CT scan as a reference standard. The study is being conducted to obtain approval of the device by the U.S. Food and Drug Administration.
###
About Sense Diagnostics
Sense Diagnostics is a medical technology company focused on improving outcomes for stroke and brain injury patients through technology innovations that enable faster detection and more effective triage. Sense is developing non-invasive technology to enable continuous, real-time brain injury monitoring as well as rapid detection of traumatic brain injury and important stroke subtypes--ischemic stroke with large vessel occlusion, ischemic stroke without large vessel occlusion, and intracerebral hemorrhage.
Learn more at https://senseneuro.com.
Media Contact:
Peg Rusconi
Communications Specialist
prusconi@senseneuro.com
+1 617.910.6217
---