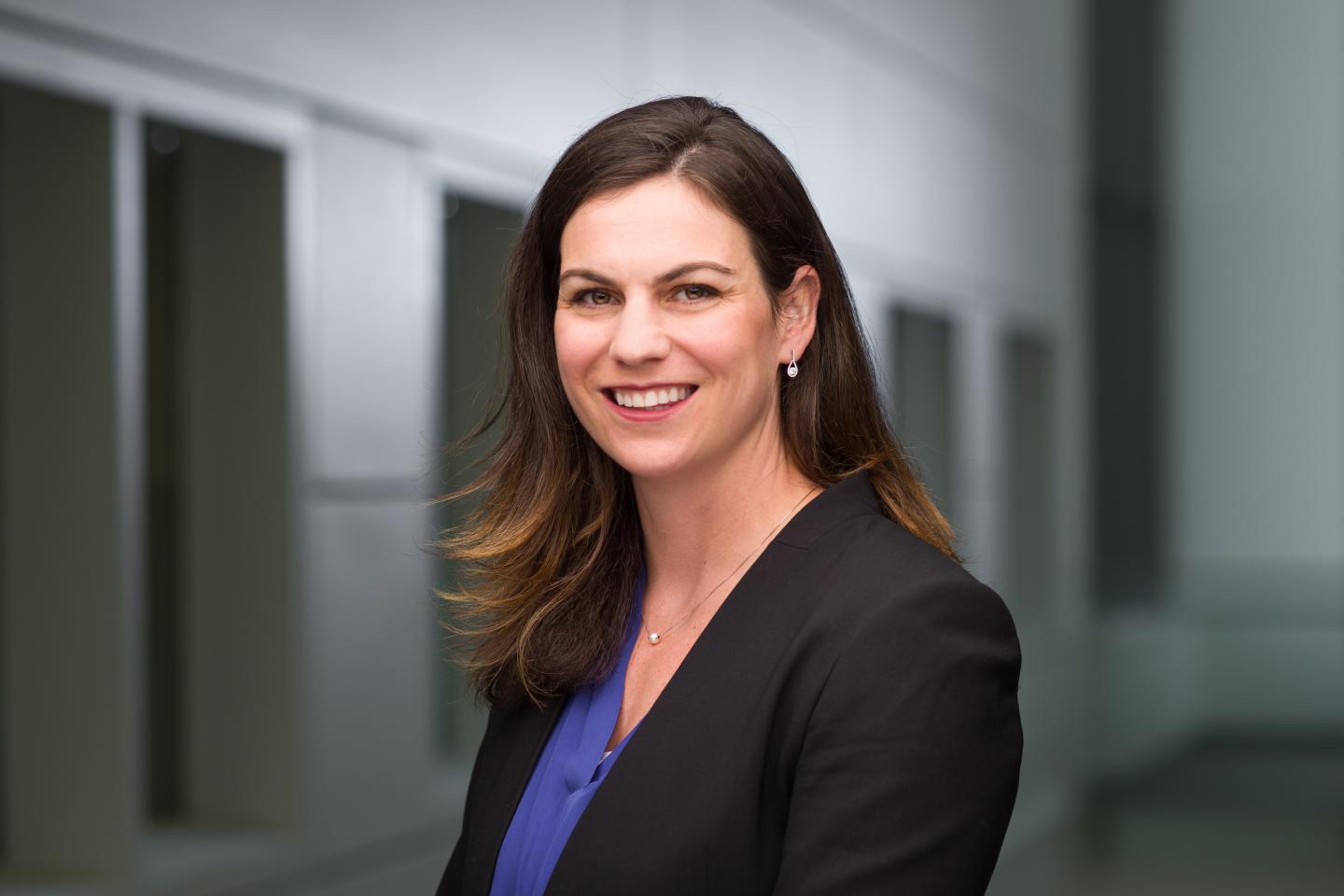 Health economist Carrie Colla, an associate professor at The Dartmouth Institute for Health Policy and Clinical Practice, has been chosen to participate in the 2017-2018 Robert Wood Johnson Foundation Health Policy Fellows program Colla was one of only six mid-career professionals selected to spend a year in Washington, D.C., working on health-related legislative and regulatory issues with members of Congress and the executive branch. Fellows are chosen from a highly competitive national pool of health, behavioral, and social science professionals.
"It's a tremendous honor to be selected as a RWJF Health Policy Fellow," Colla said. "This experience is going to enable me to better translate the research my colleagues and I are doing into actionable policy recommendations, and, ultimately, into real progress on improving health care."
Colla is known for her research on new models of payment reform. At The Dartmouth Institute, she heads a research team which fields the National Survey of Accountable Care Organizations. Launched in 2012, the NSACO is a long-term study which gathers information about the characteristics and capabilities of ACOs. Defined as a network of doctors and hospitals that shares responsibility--both financial and medical--for providing coordinated care to patients, there are over 800 ACOs currently active in 50 states, providing care to almost 30 million Americans. Analysis of NSACO data is being used to guide decisions of healthcare leaders and policymakers about the future of ACOs and payment reform.
Much of Colla's recent research has focused on low-value care and approaches to reducing it. Her work in this area includes creating algorithms to define the use of low-value care services in claims data and exploring physician views of the Choosing Wisely campaign and its efforts to address overuse of healthcare services. In a solo-authored New England Journal of Medicine article, Colla discussed interventions to reduce low-value care and offered her hypotheses on policy levers that would support physicians and patients in making decisions about the value of healthcare services. Moving payment for physicians and practices away from the fee-for service was one way she cited to encourage investment in shared decision making and other strategies that could reduce the incidence of low-value care.
Established in 1973, the RWJF Health Policy Fellows program includes an intensive three-and-a-half-month orientation arranged by the National Academy of Medicine (NAM), followed by placement in a congressional or executive office. Fellows are tasked with helping to develop legislative or regulatory proposals and briefing legislators or senior administration officials on a range of health issues, among other responsibilities. Placements for the 2016-2017 class include the Office of Sen. Kirsten Gillibrand (D-NY), the House Committee on Energy and Commerce, the House Committee on Ways and Means, and the Office of the Democratic Leader Hon. Nancy Pelosi.
"Dr. Colla's research is an outstanding example of the kind of challenging, even painstaking investigation, that needs to be done if we are to create a sustainable healthcare system in this country--one that empowers people to be as healthy as they can, and one that delivers quality care at a lower cost," said Dartmouth Institute Director Elliott Fisher, MD. "Dr. Colla's voice is needed in Washington and gaining experience in the policy world will help her refine her research questions and increase the impact of her work."
###
ABOUT THE DARTMOUTH INSTITUTE
The Dartmouth Institute for Health Policy and Clinical Practice is dedicated to helping to create an affordable, high-performing health care system for everyone. http://www.tdi.edu
ABOUT THE ROBERT WOOD JOHNSON FOUNDATION
For more than 40 years the Robert Wood Johnson Foundation has worked to improve health and health care. We are working with others to build a national Culture of Health enabling everyone in America to live longer, healthier lives. For more information, visit http://www.rwjf.org. Follow the Foundation on Twitter at http://www.rwjf.org/twitter or on Facebook at http://www.rwjf.org/facebook.
ABOUT THE NATIONAL ACADEMY OF MEDICINE
The U.S. National Academy of Medicine, established in 1970 as the Institute of Medicine, is an independent organization of eminent professionals from diverse fields including health and medicine; the natural, social, and behavioral sciences; and beyond. It serves alongside the U.S. National Academy of Sciences and the U.S. National Academy of Engineering as an adviser to the nation and the international community. Through its domestic and global initiatives, the NAM works to address critical issues in health, medicine, and related policy and inspire positive action across sectors. The NAM collaborates closely with its peer academies and other divisions within the http://www.nationalacademies.org.
---