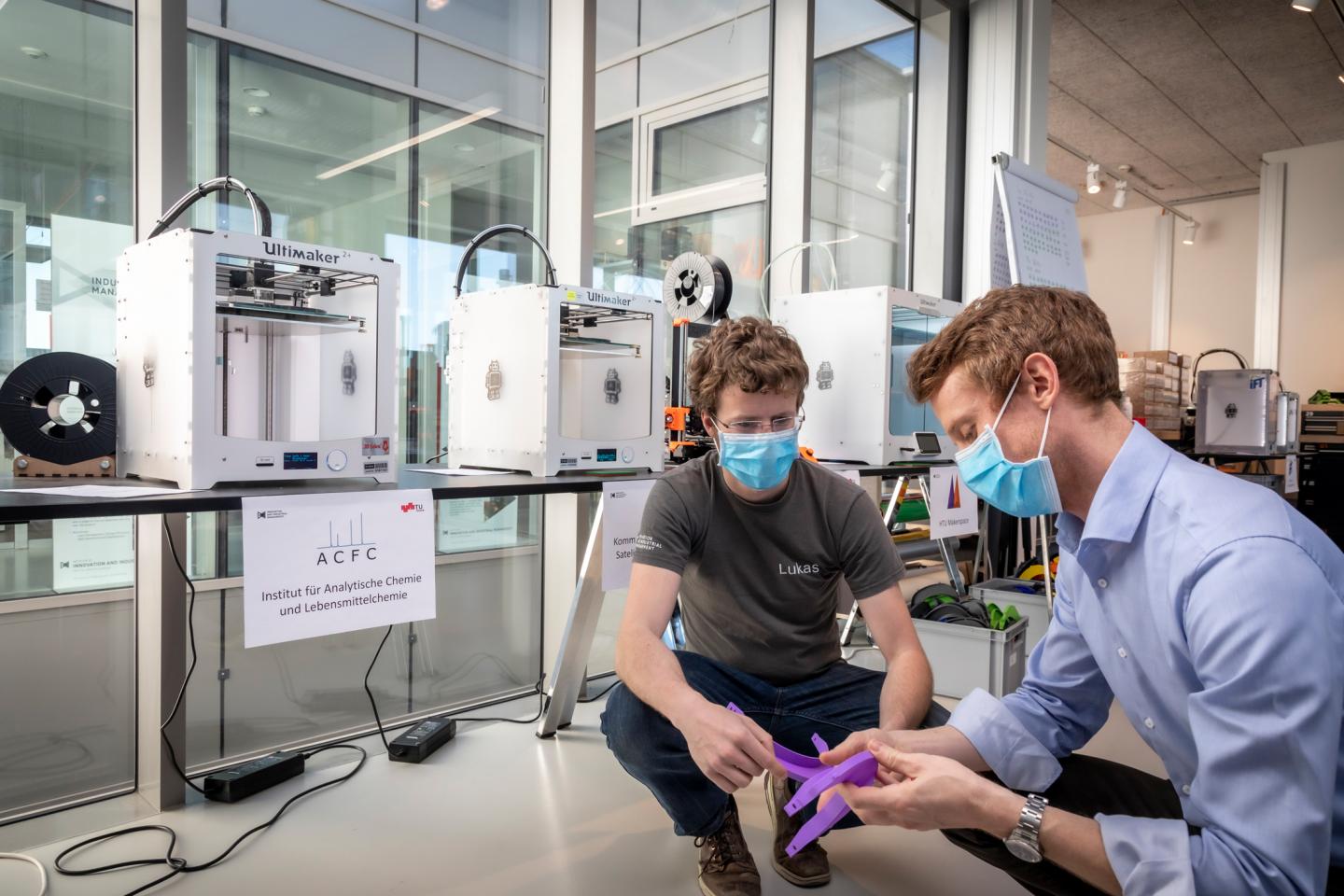 The protection of medical staff is a major priority in the current corona crisis. However, face masks and protective clothing are difficult to obtain in suitable quality on the world market these days. Thanks to an initiative of Christian Ramsauer, head of the Institute of Innovation and Industrial Management at Graz University of Technology and his deputy Hans Peter Schnöll together with Dr. Philipp Metnitz, head of the Clinical Department for General Anaesthesiology, Emergency and Intensive Care Medicine at Med Uni Graz, KAGes is now rapidly receiving a large quantity of urgently needed protective face shields.
Christian Ramsauer explains: "I am delighted that we have already been able to hand over the first 1,000 face shields to KAGes today. These were designed by my team at the Schumpeter Laboratory for Innovation at TU Graz and have been manufactured by us in shift operation since the weekend." A total of 10,000 such shields will be produced for KAGes at TU Graz in the coming weeks.
Philipp Metnitz is extremely pleased on the occasion of today's handover of the protective equipment: "On behalf of many colleagues, I would like to thank Professor Ramsauer and his team for this great initiative. The motivation and commitment shown in support of medical staff in Austria is incredible! The broad solidarity I've seen in recent weeks is unprecedented in my experience and shows me that together we can really make a difference."
The face shields were tested by doctors during operation and checked from a hygienic point of view by the responsible departments of KAGes. The shields are reusable and can be easily cleaned and disinfected.
Pilot series at TU Graz
Because things have to happen quickly, the first 10,000 units in a pilot series are currently being produced directly at the Schumpeter Laboratory for Innovation at TU Graz. More than 30 powerful 3D printers are currently printing around the clock. The 3D printing capacities of the Institute of Innovation and Industrial Management could be expanded thanks to the provision of additional printers by other institutes of TU Graz, as well as by the TU Graz' Student Union and private individuals. In this way, around 300 protective face shields can be produced per day. The Institute of Innovation and Industrial Management is also working with two Austrian companies to complete series production of the product using suitable manufacturing technologies in order to increase the number of units. This means that these shields can soon be supplied to other medical care facilities in Austria.
Three components against the risk of infection
The protective shield made at TU Graz essentially consists of three components. The supporting part of the shield is made of PLA plastic using an FDM 3D printing process. This material is characterized by good printability, is biocompatible and biodegradable. In the pilot series, the shield itself consists of a commercially available overhead transparency, which is perforated using a DIN A4 quadruple punch and fixed to the supporting part. This allows the shield to be easily replaced or cleaned if necessary. The protective shield is fastened with a washable elastic band that is adjustable in length.
###
---