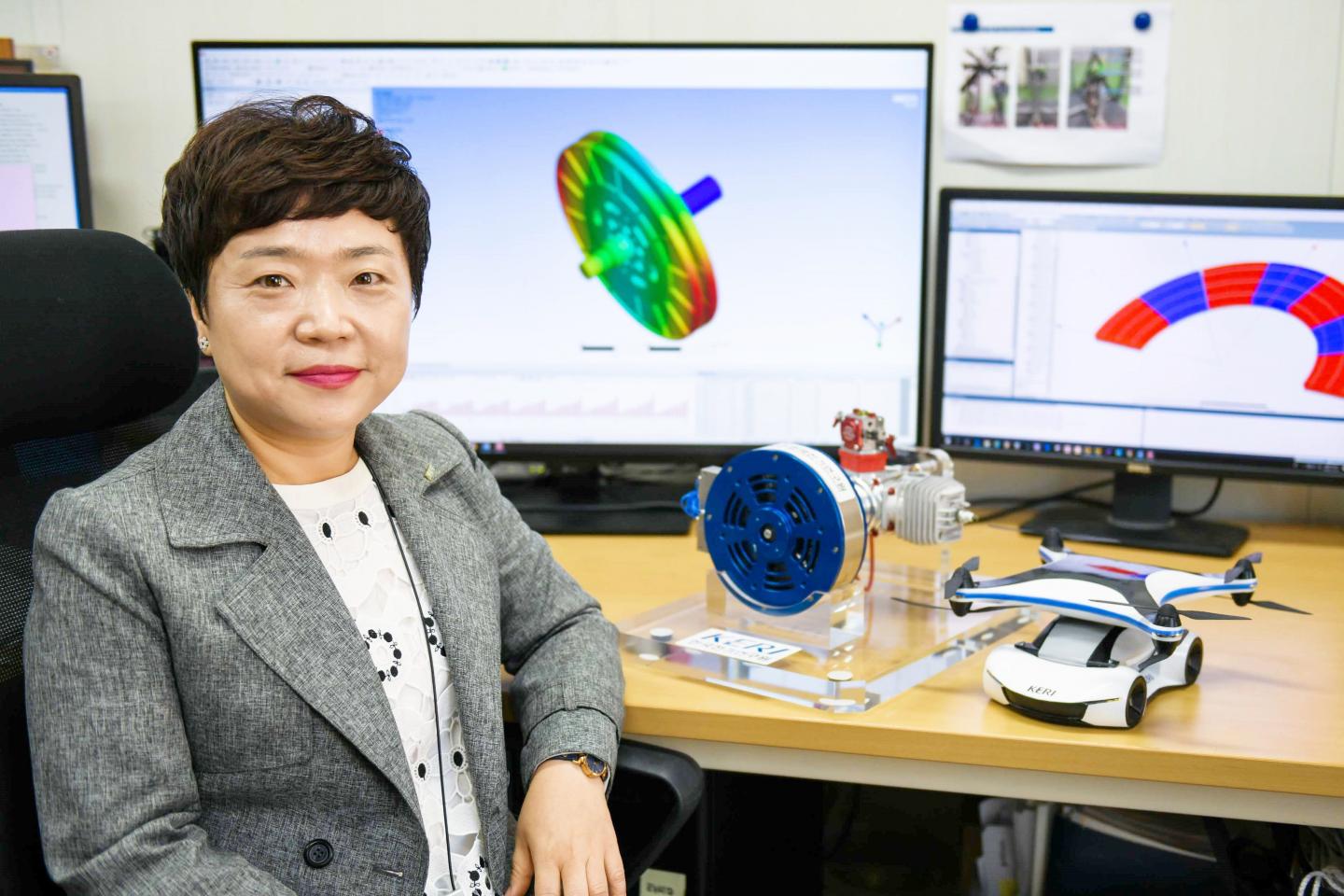 As COVID-19 is increasingly emphasizing the importance of contactless services more than ever, the smartization in the logistics industry is taking place as well. In the meantime, a research team in Korea successfully developed a core technology of motor/generator that would contribute to speeding up the pace of commercialization of 'drone delivery', known as a future delivery system.
A research team led by Dr. Lee Ji-yeong of Electric Machine and Drives Research Center at Korea Electrotechnology Research Institute (KERI), the nation's only institute dedicated to electricity research under the National Research Council of Science & Technology (NST) of the Ministry of Science and ICT (MSIT) developed an 'axial flux permanent magnet motor/generator' used for the 'hybrid-electric propulsion system of unmanned aerial vehicle (UAV)' for the first time in Korea with its own technology through SME technology development project of the Ministry of SMEs and Startups (MSS) supported by the research fund of KERI.
Considering the characteristics of UAVs such as delivery drones and flying cars that fly across densely populated areas in cities, it is difficult to adopt conventional engine operation methods due to huge noise. On the other hand, UAVs applying electric propulsion system powered by batteries only have a considerably short flight duration with less than 30 minutes, although they produce less noise. That is why many experts are paying attention to the 'hybrid-electric propulsion' system integrating both engine and electric propulsion.
A hybrid electric propulsion drone can apply a smaller engine compared to existing one that is fully operated with engine. It is powered by batteries only when it flies low, and initiates its engine in high altitude when battery recharge is needed. By doing so, it can significantly reduce the noise perceived on the ground. Such approach contributes to dealing with noise issues of the conventional engine to a certain extent, and allows to carry more goods or transport passenger to far away destinations.
Specifically, it is meaningful in that the research team solely developed a 'generator' and 'motor', core components connecting the engine, batteries, and propeller in the hybrid electric propulsion system for the first time in Korea.
With regard to the hybrid-electric propulsion system, the performance of generator and motor that both use engine and battery is particularly important. Also, it should be light as much as possible with a high power output to fly longer while carrying heavier goods due to the characteristics of UAVs. The KERI research team made a ceaseless effort to overcome such challenges and successfully developed the motor/generator with high specific power (the ratio of the power produced by a object to its mass) and temperature stability.
The power output of generator developed by KERI is 5kW and which is sufficient to extend the flight duration from less than 30 minutes, that of existing UAVs powered by electricity only with batteries, to approximately 2 hours.
It is applicable to long-distance delivery drones in preparation for the contactless era. Specifically, it is useful to deliver goods to islands or remote and hard-to-access areas promptly. In addition, it can be used as agricultural drones to spray pesticides. It can also be applied as a small generator for electric bikes, households and factories.
Although the drone industry is increasingly gaining attention, the development of motors and generators has been largely depended on foreign technologies. Thanks to the development of technologies by KERI, we can now expect to replace them with domestic ones.
Dr. Lee Ji-yeong who led the research project said, "It is noteworthy that we have developed the motor and generator providing key features of UAVs such as low noise, stability, high specific power, that are pre-requisites of such vehicles, with our own technologies." She also said, "We will continue to carry out our research to develop a 100kW-generator to carry passengers within 3 years so that Korea can take the lead in the flying car industry."
The research team registered the patent on the original technology, and plans to explore companies in demand to commercialize the motor/generator for drones. In addition to the axial flux permanent magnet motor/generator, the team also plans to develop a radial flux permanent magnet generator, that can be switched to mass production easily, and other technologies in various types to lead the UAV market. The patent was approved Sept. 23, 2020.
###
(About KERI)
KERI is a government-funded research institute under the Ministry of Science and ICT and the nation's only institute dedicated to electricity. Approximately 760 KERI members are working at its main office in Changwon, Gyeongsangnam-do and branch offices in Ansan and Uiwang, Gyeonggi-do. In the meantime, KERI plans to serve a pivotal role for industrial development of large capacity power converters for new/ renewable energy sources and distributed power systems in Honam (Jeolla) region with the establishment of 'Gwangju Smart Grid Division' in July, 2020.
Established in 1976, KERI has carried out R&D activities effectively close to a half-century in various sectors of electricity including electrical grid and new/renewable energy, electrical devices, power semiconductor and superconductivity technology, robotics and motor control technology, electric propulsion technology, battery & nano and other electrical materials technology, electrical medical devices encompassing both the nation's basic technology infrastructure to advanced technologies.
---