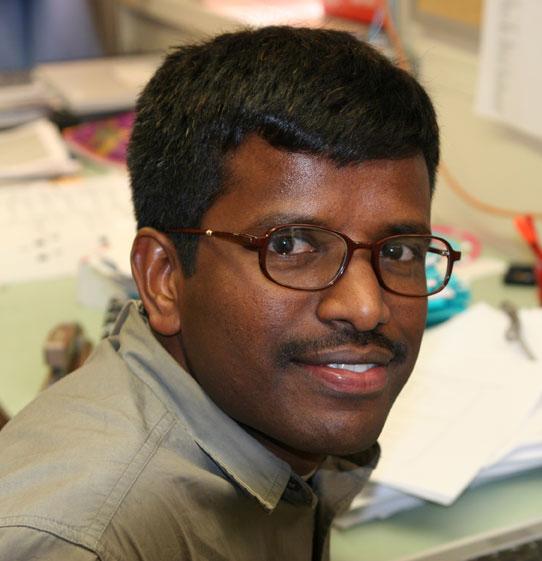 JUPITER, FL - February 12, 2016 - Scientists from the Florida campus of The Scripps Research Institute (TSRI) have won nearly $1.7 million from the National Institutes of Health's (NIH) National Institute of Neurological Disorders and Stroke (NINDS) to investigate the mechanisms that contribute to Huntington's disease, a fatal inherited disease that some have described as having ALS, Parkinson's and Alzheimer's--at the same time.
The principal investigator of the new four-year study is TSRI Assistant Professor Srinivasa Subramaniam.
Huntington's disease is a frightening puzzle, a genetic disorder that attacks a small part of the brain that controls movement, destroying nerves with a barrage of toxicity, yet leaving other parts relatively unscathed. Currently, there is no cure.
The disease is the result of a mistake in the huntingtin gene, some part of it repeated many more times than normal in the genome, leaving it unstable and unable to produce a normal mHtt protein.
"In Huntington's disease, even though mHtt is expressed throughout the brain and peripheral tissue, it causes neuronal loss and damage in a part of the brain known as the striatum, a process that is not well understood," Subramaniam said. "If we're going to develop new ways to prevent or delay the onset of the disease, we have to clearly define the mechanisms that contribute to the death of these neurons. This new grant will help us do that."
Subramaniam has been something of a pioneer in the study of Huntington's disease. Previously, he and his colleagues established that an activating protein, called "Rhes," plays a pivotal role in focusing the toxicity of Huntington's disease in the striatum.
The new four-year study will focus on the effect of the Rhes signaling pathway on mitochondria, the organelle that provides energy to cells. Any breakdown in the mitochondria can bring on a host of disabilities.
Subramaniam believes the Rhes pathway could offer a target for treating Huntington's disease. "Drugs that disrupt Rhes could alleviate Huntington's pathology and motor symptoms," he said. "Clarifying the mechanisms of this signaling pathway will help us evaluate potential drug candidates for the prevention and treatment of this terrible disease."
###
In addition, Subramaniam's laboratory received two Research Supplements to Promote Diversity awards from NINDS totaling just over $112,000. The grants are designed to improve the diversity of the research workforce by recruiting and supporting students, postdoctoral fellows and eligible investigators from groups underrepresented in health-related research.
The number of the research grant is1R01NS094577. The numbers of the supplemental grants are 3R01NS087019-01A1S1 and 3R01NS087019-01A1S2.
---