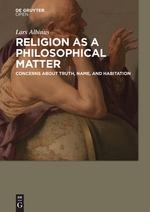 How can philosophy conceive of similarities as well as dissimilarities between itself, religion, and science? This is one of main questions asked in a new book by Lars Albinus which will add fuel to a longtime debate between a naturalistic and theological understanding of religion.
"Religion as a philosophical matter" published by De Gruyter Open and available fully in open access offers new perspectives for a philosophy of religion that aims beyond the internal questions of rationality within a theological tradition. Putting aside the outer criticism of religion from naturalistic quarters, the book is an addendum to a wider philosophical discussion in line with groundbreaking thoughts about culture and a basic human 'conditionality' among interwar philosophers such as Ernst Cassirer, Ludwig Wittgenstein, Walter Benjamin and Martin Heidegger.
Lars Albinus offers a concrete interpretation of the phenomenon of religion in the light of questions about 'truth, 'the name', and 'habituation in the world', drawing lines to Jean-Luc Nancy's much-discussed rethinking of Christianity. His philosophy of religion places religion 'on the phenomenological side of things, not because there is no need for a theological philosophy (or a hermeneutics of religious utterances), but because in today's world such an agenda cannot, or should not, stand alone.'
Contrary to most other books within a philosophy of religion, this book doesn't address questions of religious faith, moral philosophy, or interfaith dialogue. Instead it asks basic questions concerning how important lines of development in modern philosophy can be integrated in a philosophical approach to religion.
"This work is truly ground breaking in that it encompasses a vast territory of philosophies of and theories about religion." says Prof. Jeppe Sinding Jensen from the University of Aarhus. He continues: "The author is equally at home in the Classics, the history of philosophy, Continental as well as (post-)analytic philosophy ... Add to this his expertise in theories of discourse, language and religion, this volume should appeal to anyone with a serious interest in the relations between philosophy and religion."
The book is available fully in open access to read, download and share on De Gruyter Online.
###
---