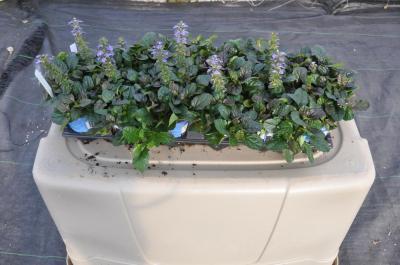 LEXINGTON, KY – Consumer demand for groundcover plants for residential and commercial landscapes is on the rise. Low-growing, low-maintenance groundcovers are favored not only for their aesthetic appeal, but also for their environmental contributions such as the ability to reduce storm water runoff and control weeds. Looking for sustainable alternatives to growing plants in standard plastic containers, researchers uncovered a variety of groundcover plants that they say can be successfully grown in ecofriendly "plantable" containers.
Susmitha Nambuthiri and Dewayne Ingram, authors of a study published in HortTechnology, explained that current production practices for groundcover can be limiting. "Groundcover plants are currently available to landscapers as small plants in celled flats or bare root, or as more mature plants in 1-gallon containers," they said. "The cost of large numbers of plants that are required to cover an area is often a limiting factor, considering most landscape installation budgets." Nambuthiri and Ingram said that conversations with landscapers revealed a need for locally available perennial groundcover plants in alternative sizes that can help reduce maintenance requirements while providing quick cover in landscapes. "The landscape industry is a visible segment of the green industry, and having hundreds of plastic containers scattered across a client's landscape during installation can be detrimental to the industry's image," they explained. They added that recycling of plastic containers is not readily available in some areas, leading some consumers to view the production of groundcovers in individual plastic containers as an unsustainable practice.
Seeking alternatives to these concerns, Ingram and Nambuthiri conducted two experiments to determine if "plantable" containers could be used efficiently in a groundcover production and marketing system. In the first study, the team studied plants they identified as having potential suitability for a rapid turnover system for groundcover production in flats and using plantable containers (compared with standard plastic containers). The follow-up study evaluated plant performance during production and in the landscape from the same production system with multiple planting dates.
The experiments showed that 'Bronze Beauty' ajuga, 'Herman's Pride' lamiastrum, 'Beacon Silver' lamium, 'Immergrunchen' sedum, 'Red Carpet Stonecrop' sedum, and 'Vera Jameson' sedum could be grown to a marketable size from 1.5-inch plugs in 8 weeks when transplanted in May through August. 'Big Blue' liriope from bare root bibs required 12 weeks.
Results also revealed that ecofriendly paper and bioplastic containers were suitable for growing the groundcover plants. Plant growth in a 90-mm paper container and 80-mm bioplastic container was determined to be similar to that of plant growth in standard 3-inch rigid plastic containers. The plants grown in paper and bioplastic also required 20% less time to transplant into the landscape, and grew rapidly after transplanting in the landscape, resulting in labor savings and less plastic for recycling or disposal. Peat containers yielded smaller plants and slower ground coverage after transplanting in the field than plants grown in the other containers.
###
The complete study and abstract are available on the ASHS HortTechnology electronic journal web site: http://horttech.ashspublications.org/content/24/1/48.abstract
Founded in 1903, the American Society for Horticultural Science (ASHS) is the largest organization dedicated to advancing all facets of horticultural research, education, and application. More information at ashs.org
---