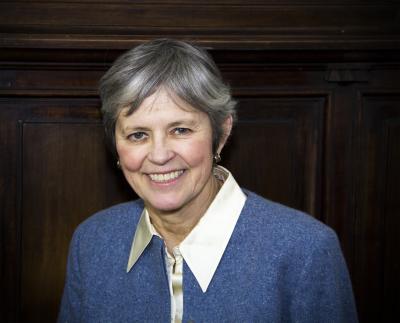 Beverly J. Lange, M.D., an exemplary physician and researcher at The Children's Hospital of Philadelphia (CHOP) for over 40 years, will receive the 2014 Distinguished Career Award from the American Society of Pediatric Hematology/Oncology (ASPHO). The Award recognizes her outstanding lifetime contributions to the care of children with cancer.
ASPHO will present the award to Lange tomorrow during its 27th Annual Meeting in Chicago.
Lange served as a senior physician and director of clinical affairs in the Division of Oncology at CHOP, where she worked from 1976 until her retirement in 2013. She also held the Yetta Deitch Novotny Chair in Pediatric Oncology at the Hospital, and was a professor of Pediatrics in the Perelman School of Medicine at the University of Pennsylvania. She continues to volunteer in CHOP's Division of Oncology.
The ASPHO Distinguished Career Award honors a professional whose career "has had a major impact on the subspecialty through some combination of research, education, patient care, and advocacy."
Although Dr. Lange's clinical work has covered many types of childhood cancer, she is most associated with groundbreaking investigations of pediatric leukemia. In announcing this year's award, ASPHO said there is no question that Dr. Lange "is synonymous with evidence-based improvements in the treatment of pediatric acute myeloid leukemia (AML)." Much of her work has focused on conducting landmark clinical trials to discover optimum combination treatments for AML, including reducing and preventing side effects of cancer treatments.
Over the decades during which Dr. Lange researched these treatments, survival rates for AML have improved to their current level of over 55 percent. Her expertise has also produced advancements in treating high-risk forms of another childhood cancer, pediatric acute lymphoblastic leukemia.
Dr. Lange has published extensively in top-tier scientific journals, has contributed her expertise to professional organizations such as ASPHO and the multicenter Children's Oncology Group (COG), and has mentored countless numbers of young investigators.
Among her many previous honors are the Robert Dunning Dripps Memorial Award for Excellence in Graduate Medical Education from the University of Pennsylvania, the lifetime achievement award from the Children's Oncology Group, the Temple University Alumni Achievement Award, and the Pitcher of Hope Award from the Alex's Lemonade Stand Foundation.
Dr. Lange joins the ranks of other CHOP oncologists who have previously received the ASPHO Distinguished Career Award: Giulio D'Angio, M.D., in 1990; Audrey E. Evans, M.D., in 1995; and Anna Meadows, M.D., in 2004.
###
About The Children's Hospital of Philadelphia:
The Children's Hospital of Philadelphia was founded in 1855 as the nation's first pediatric hospital. Through its long-standing commitment to providing exceptional patient care, training new generations of pediatric healthcare professionals and pioneering major research initiatives, Children's Hospital has fostered many discoveries that have benefited children worldwide. Its pediatric research program receives the highest amount of National Institutes of Health funding among all U.S. children's hospitals. In addition, its unique family-centered care and public service programs have brought the 535-bed hospital recognition as a leading advocate for children and adolescents. For more information, visit http://www.chop.edu.
---