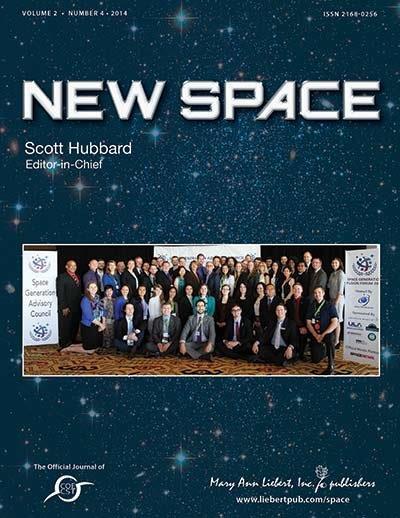 New Rochelle, NY, January 14, 2015--The commercial aviation industry has medical care standards, as does NASA for traditional space missions, and the emerging commercial space transportation industry will need to define medical care practices as well. The unique risks posed by commercial spaceflight warrant the establishment of Medical Levels of Care to account for the different phases of suborbital and orbital missions, as described in an article published in New Space, a peer-reviewed journal from Mary Ann Liebert Inc., publishers. The article is available free on the New Space website until February 14, 2015.
In the article "Considerations toward Defining Medical 'Levels of Care' for Commercial Spaceflight" ," Stefan Neis and David Klaus, University of Colorado, Boulder, review current medical care practices in the civilian aviation industry and traditional space exploration sector and offer suggestions for defining appropriate onboard levels of medical care for the commercial space transportation industry, related to different types and phases of flight. Suborbital tourist flights, for example, might require motion sickness and pain medications, oxygen masks, and possibly pressure suits onboard; whereas longer-term orbital flights would necessitate a higher level of care, including emergency medical equipment and training and perhaps spacesuits.
"Medical constraints are the most important discriminators in determining who in the general population can be a spaceflight participant. This original article adds critical new knowledge to an emerging discipline," says Editor-in-Chief of New Space Prof. Scott Hubbard, Stanford University.
###
About the Journal
New Space facilitates and supports the efforts of researchers, engineers, analysts, investors, business leaders, and policymakers to capitalize on the opportunities of commercial space ventures. Spanning a broad array of topics including technological advancements, global policies, and innovative applications, the journal brings the new space community together to address the challenges and discover new breakthroughs and trends in this epoch of private and public/private space discovery. The Journal is published quarterly online with Open Access options and in print. Complete tables of content are available on the New Space website.
About the Publisher
Mary Ann Liebert Inc., publishers is a privately held, fully integrated media company known for establishing authoritative peer-reviewed journals in many promising areas of science, technology, engineering, medical, and biomedical research, including Big Data, Soft Robotics, 3D Printing and Additive Manufacturing, and Astrobiology. Its biotechnology trade magazine, Genetic Engineering & Biotechnology News (GEN), was the first in its field and is today the industry's most widely read publication worldwide. A complete list of the firm's more than 80 journals, newsmagazines, and books is available on the Mary Ann Liebert Inc., publishers website.
---