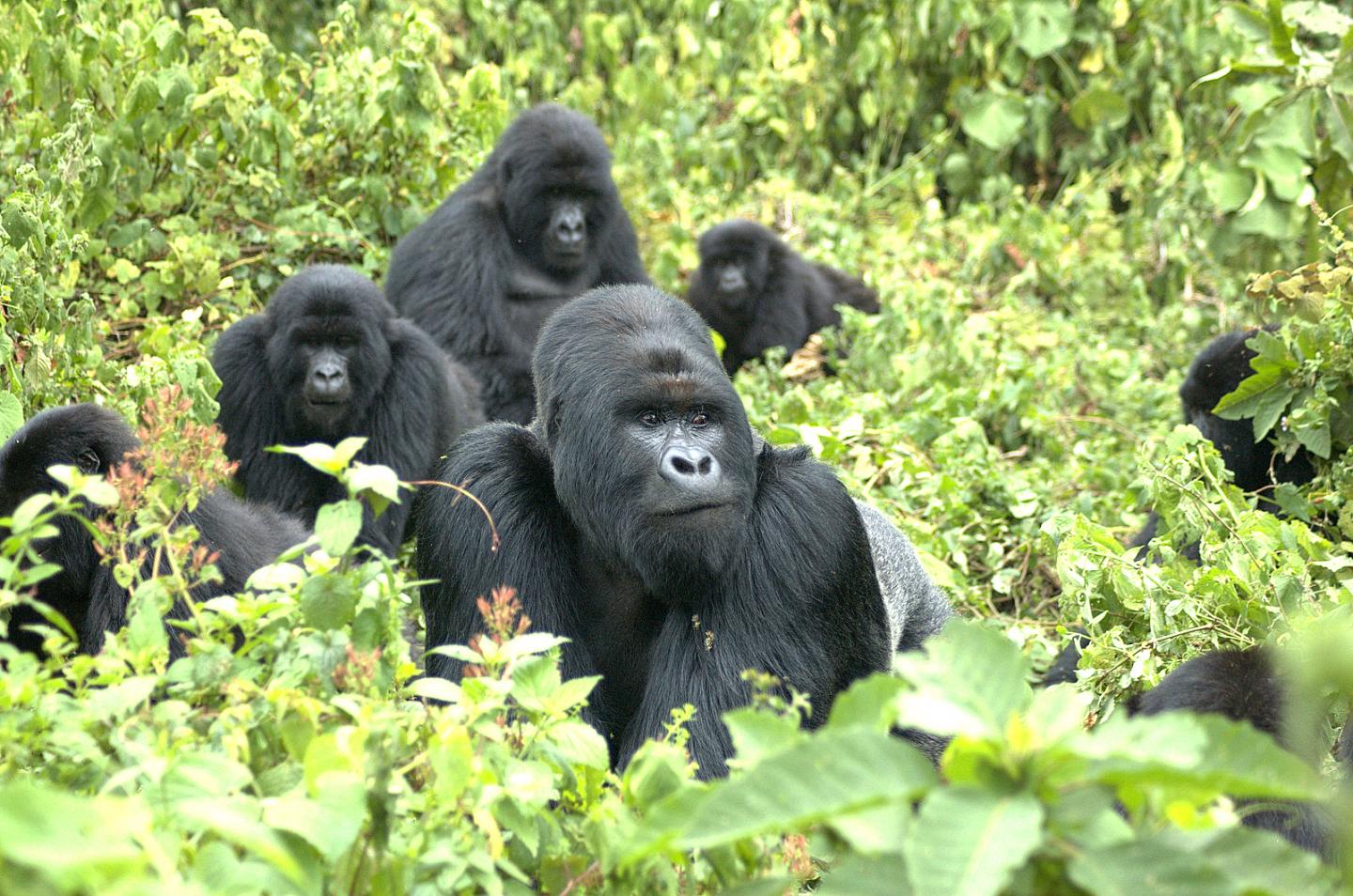 The first project to sequence whole genomes from mountain gorillas has given scientists and conservationists new insight into the impact of population decline on these critically endangered apes. While mountain gorillas are extensively inbred and at risk of extinction, research published today in Science finds more to be optimistic about in their genomes than expected.
"Mountain gorillas are among the most intensively studied primates in the wild, but this is the first in-depth, whole-genome analysis," says Dr Chris Tyler-Smith, corresponding author from the Wellcome Trust Sanger Institute. "Three years on from sequencing the gorilla reference genome, we can now compare the genomes of all gorilla populations, including the critically endangered mountain gorilla, and begin to understand their similarities and differences, and the genetic impact of inbreeding."
The number of mountain gorillas living in the Virunga volcanic mountain range on the borders of Rwanda, Uganda and the Democratic Republic of Congo plummeted to approximately 253 in 1981 as a result of habitat destruction and hunting. Since then, conservation efforts led by the Rwanda Development Board and conservation organizations like the Gorilla Doctors (a partnership between the non-profit Mountain Gorilla Veterinary Project and the UC Davis Wildlife Health Center), and supported by tourists keen to see the gorillas made famous by late primatologist Dian Fossey, have bolstered numbers to approximately 480 among the Virunga population.
Researchers interested to learn how such a small gene pool would affect the mountain gorillas were surprised to find that many harmful genetic variations had been removed from the population through inbreeding, and that mountain gorillas are genetically adapting to surviving in small populations.
"This new understanding of genetic diversity and demographic history among gorilla populations provides us with valuable insight into how apes and humans, their closely related cousins, adapt genetically to living in small populations," says Dr Aylwyn Scally, corresponding author from the Department of Genetics at the University of Cambridge. "In these data we can observe the process by which genomes are purged of severely deleterious mutations by a small population size."
Using blood samples collected over several years by the Rwanda Development Board, The Institut Congolese pour la Conservation du Nature and by Gorilla Doctors, which treats wild gorillas injured by snares, researchers were able to sequence the whole genomes of seven mountain gorillas for the first time. Previously, only easily obtainable but poor-quality DNA from faecal and hair samples have been analysed at a handful of genetic loci. Scientists could now see that these mountain gorillas, along with eastern lowland gorillas, their closely related neighbours, were two to three times less genetically diverse than gorillas from larger groups in western regions of central Africa.
While there are concerns that this low level of genetic diversity may make the mountain gorillas more vulnerable to environmental change and to disease, including cross-infectious strains of human viruses, the inbreeding has, in some ways, been genetically beneficial. Fewer harmful loss-of-function variants were found in the mountain gorilla population than in the more numerous western gorilla populations. These variants stop genes from working and can cause serious, often fatal, health conditions.
By analysing the variations in each genome, researchers also discovered that mountain gorillas have survived in small numbers for thousands of years. Using recently-developed methods, researchers were able to determine how the size of the population has changed over the past million years. According to their calculations, the average population of mountain gorillas has numbered in the hundreds for many thousands of years; far longer than previously thought.
"We worried that the dramatic decline in the 1980s would be catastrophic for mountain gorillas in the long term, but our genetic analyses suggest that gorillas have been coping with small population sizes for thousands of years," says Dr Yali Xue, first author from the Sanger Institute. "While comparable levels of inbreeding contributed to the extinction of our relatives the Neanderthals, mountain gorillas may be more resilient. There is no reason why they should not flourish for thousands of years to come."
It is hoped that the detailed, whole-genome sequence data gathered through this research will aid conservation efforts. Now that a genome-wide map of genetic differences between populations is available, it will be possible to identify the origins of gorillas that have been illegally captured or killed. This will enable more gorillas to be returned to the wild and will make it easier to bring prosecutions against those who poach gorillas for souvenirs and bush meat.
"Our dedicated programme of clinical monitoring and intervention in cooperation with the Rwanda Development Board, the Institut Congolese pour la Conservation du Nature and local communities is helping to ensure the health and sustainability of endangered mountain gorillas," says Dr Mike Cranfield, Co-Director of Gorilla Doctors. "Detailed genetic data help us trace where confiscated gorillas came from, and allows the assessment of the genetic health of the population as well as their susceptibility to certain health issues."
###
Notes to Editors
Publication details
Xue Y, Prado-Martinez J, Sudmant PH, et al. (2015). Mountain gorilla genomes reveal the impact of long-term population decline and inbreeding. Science.
Funding
This work was supported by: Royal Society grant RG130105; Wellcome Trust grants 098051; a license agreement with Cardiff University; NIH grant HG002385; ERC Starting Grant (260372); MICINN grant BFU2011-28549 and the Howard Hughes Medical Institute.
Participating Centres
Wellcome Trust Sanger Institute, Institut de Biologia Evolutiva, University of Washington, University of Cambridge, University of Copenhagen, Cardiff University, University of Bologna, Copenhagen Zoo, Rwanda Development Board, Howard Hughes Medical Institute, Gorilla Doctors, CNAG (PCB)
Selected Websites
The aim of the Institut de Biologia Evolutiva is to understand the basic functioning of life, to describe and put in context their diversity, to unveil the mechanisms generating biological innovations and evolutionary changes and, finally, to preserve biodiversity and to promote its use in a sustainable way. In particular, the basis of the IBE, and its main peculiarity, is the capacity to face biodiversity studies describing genomic and functional evolution at any observational scale: molecular, biochemical, physiological or morphological. The IBE aims at becoming an international reference in these subjects.
The University of Washington is one of the world's preeminent public universities. Our impact on individuals, on our region, and on the world is profound -- whether we are launching young people into a boundless future or confronting the grand challenges of our time through undaunted research and scholarship. Ranked number 10 in the world in Shanghai Jiao Tong University rankings and educating more than 54,000 students annually, our students and faculty work together to turn ideas into impact and in the process transform lives and our world.
The mission of the University of Cambridge is to contribute to society through the pursuit of education, learning and research at the highest international levels of excellence. To date, 90 affiliates of the University have won the Nobel Prize. Founded in 1209, the University comprises 31 autonomous Colleges, which admit undergraduates and provide small-group tuition, and 150 departments, faculties and institutions. Cambridge is a global university. Its 19,000 student body includes 3,700 international students from 120 countries. Cambridge researchers collaborate with colleagues worldwide, and the University has established larger-scale partnerships in Asia, Africa and America. The University sits at the heart of one of the world's largest technology clusters. The 'Cambridge Phenomenon' has created 1,500 hi-tech companies, 12 of them valued at over US$1 billion and two at over US$10 billion. Cambridge promotes the interface between academia and business, and has a global reputation for innovation.
With over 40,000 students and more than 9,000 employees, the University of Copenhagen is the largest institution of research and education in Denmark. The purpose of the University - to quote the University Statute - is to 'conduct research and provide further education to the highest academic level'. Approximately one hundred different institutes, departments, laboratories, centres, museums, etc., form the nucleus of the University, where professors, lecturers and other academic staff, as well as most of the technical and administrative personnel, carry out their daily work, and where teaching takes place. These activities take place in various environments ranging from the plant world of the Botanical Gardens, through high-technology laboratories and auditoriums, to the historic buildings and lecture rooms of Frue Plads and other locations.
Cardiff University is an ambitious and innovative university with a bold and strategic vision located in a beautiful and thriving capital city. Our world-leading research was ranked 5th amongst UK universities in the 2014 Research Excellence Framework for quality and 2nd for impact. We provide an educationally outstanding experience for our students. Driven by creativity and curiosity, we strive to fulfil our social, cultural and economic obligations to Cardiff, Wales, and the world.
The University of Bologna is considered to be the oldest university in the Western world. Its history is intertwined with that of the great names of science and literature and it is a keystone and a point of reference for European culture. The university offers more than 200 degree programmes, including 58 international programmes and 22 delivered in the English language. It is based in Bologna, Cesena, Forlì, Ravenna and Rimini.
Copenhagen Zoo aims to function as a cultural institution; increase the interest in and the understanding of nature and its multitude through experiences based on relevant, activating and entertaining education and display; and be actively involved in the international efforts to preserve animal species and habitats and thereby contribute to the conservation of the biodiversity. All of these activities must be based on science. http://uk.zoo.dk/VisitZoo.aspx
Gorilla Doctors was founded in 1986 at the request of the late gorilla researcher Dian Fossey, the Gorilla Doctors' veterinary team is dedicated to saving the lives of Central Africa's endangered mountain and Grauer's gorillas through health care. Powered by the nonprofit Mountain Gorilla Veterinary Project, Inc. and the UC Davis Karen C. Drayer Wildlife Health Center, Gorilla Doctors treats wild human-habituated gorillas suffering from life-threatening injury and illness, aids in the rescue and treatment of orphaned gorillas, conducts gorilla and wildlife disease research and surveillance, and facilitates preventive health care for the people who work in the national parks and come into close contact with the gorillas.
The Rwanda Development Board's vision is to transform Rwanda into a dynamic global hub for business, investment, and innovation. Our mission is to fast-track economic development in Rwanda by enabling private sector growth. The scope of our work includes all aspects related to the development of the private sector. This involves working with and addressing the needs of companies of all sizes (large, SMEs) and both local and foreign investors.
The Howard Hughes Medical Institute (HHMI) is a science philanthropy whose mission is to advance biomedical research and science education for the benefit of humanity. We empower exceptional scientists and students to pursue fundamental questions about living systems. Headquartered in Chevy Chase, MD, HHMI employs more than 3,000 individuals across the United States. In fiscal year 2013, HHMI invested $727 million in US research and provided $80 million in grants and other support for science education.
The Wellcome Trust Sanger Institute is one of the world's leading genome centres. Through its ability to conduct research at scale, it is able to engage in bold and long-term exploratory projects that are designed to influence and empower medical science globally. Institute research findings, generated through its own research programmes and through its leading role in international consortia, are being used to develop new diagnostics and treatments for human disease.
The Wellcome Trust is a global charitable foundation dedicated to achieving extraordinary improvements in human and animal health. We support the brightest minds in biomedical research and the medical humanities. Our breadth of support includes public engagement, education and the application of research to improve health. We are independent of both political and commercial interests.
Contact details
Don Powell
Media Manager
Wellcome Trust Sanger Institute
Hinxton, Cambridge, CB10 1SA, UK
Tel +44 (0)1223 496 928
Mobile +44 (0)7753 7753 97
Email press.office@sanger.ac.uk
---