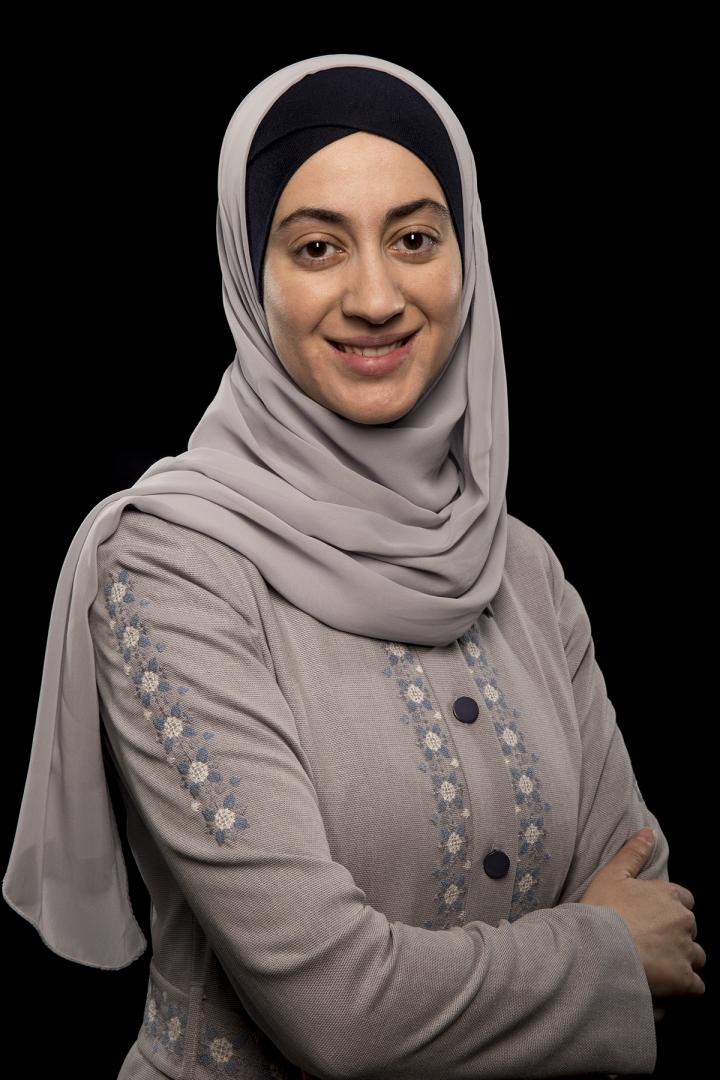 Joman Y. Natsheh, MD, PhD, postdoctoral fellow in Pediatric Neuroscience and Neuropsychology Research at Kessler Foundation, has received a $13,500 pilot award from Texas Woman's University, Woodcock Institute for the Advancement of Neurocognitive Research and Applied Practice. The grant funds a study exploring behavioral patterns in children with attention-deficit/hyperactivity disorder (ADHD), a highly prevalent psychiatric disorder characterized by age-inappropriate symptoms of inattention, impulsivity, and hyperactivity.
Behavior in children with ADHD is often impulsive rather than intentional or directed by internal motivation. For example, children with ADHD tend to overestimate their physical abilities and engage in risky behaviors. Children with ADHD show abnormalities in the signaling of the neurotransmitter, dopamine, within circuits of the basal ganglia, a brain region that plays a critical role in reward learning and action control. The inability to maintain goals may be the cause of cognitive deficits in children with ADHD. This study will determine the relationship between imbalanced dopamine signaling within the basal ganglia and impaired goal-directed action control in children with ADHD.
"Research on ADHD has largely focused on its main three symptoms of inattention, hyperactivity and impulsivity," remarked Dr. Natsheh. "This award allows us to study action control as a new dimension of ADHD," she noted. "In this study, we will investigate if children with ADHD have an impaired action control that is reflected by more reliance on habits. We hope that data from this research will advance our understanding of the cognitive impairments as well as the neural underpinnings of ADHD. This will advance developing novel treatment options to improve ADHD patients' quality of life."
The study involves a computer-based cognitive task assessment. Investigators plan to enroll 20 children with ADHD and 20 healthy controls. If these data show that habits play a role in ADHD, behavioral interventions aimed at re-establishing goal-directed control may be useful in overcoming unhealthy habits and in treating related symptoms of this disorder, such as impulsive choice.
###
To learn more about this study, and other research opportunities at Kessler Foundation, contact researchstudies@KesslerFoundation.org
About the Woodcock Institute
The Woodcock Institute for the Advancement of Neurocognitive Research and Applied Practice at Texas Woman's University is committed to the interdisciplinary advancement of contemporary cognitive assessment and applying evidence-based research to clinical practice. The institute supports interdisciplinary research into the cognitive profiles of individuals with diagnosed learning disabilities, neuropsychological conditions, behavioral and psychiatric disorders, and giftedness; and supports advancing effective clinical assessment practices and the dissemination of research findings through direct professional development opportunities and publications and through applied evidence-based assessment.
About Kessler Foundation
Kessler Foundation, a major nonprofit organization in the field of disability, is a global leader in rehabilitation research that seeks to improve cognition, mobility and long-term outcomes, including employment, for people with neurological disabilities caused by diseases and injuries of the brain and spinal cord. Kessler Foundation leads the nation in funding innovative programs that expand opportunities for employment for people with disabilities. Learn more by visiting http://www.KesslerFoundation.org.
Stay Connected
Twitter | http://www.twitter.com/KesslerFdn
Facebook | http://www.facebook.com/KesslerFoundation
YouTube | http://www.youtube.com/user/KesslerFoundation
Instagram | http://www.instagram.com/kesslerfdn
iTunes & SoundCloud | http://www.soundcloud.com/kesslerfoundation
---