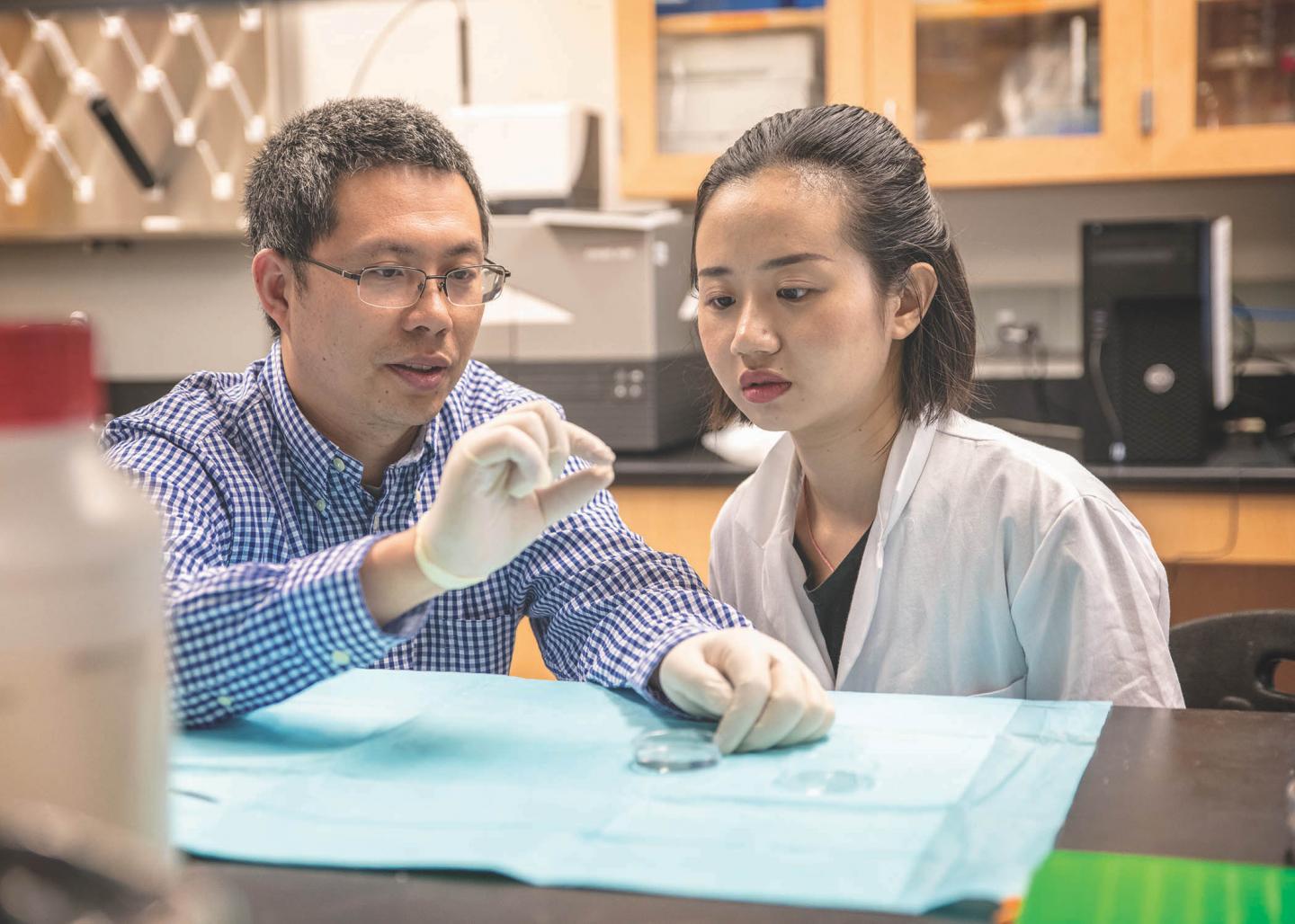 A team of bioengineers at The University of Texas at Arlington is working to develop a method that will allow physicians to repair vaginal prolapses while they are in their early stages, potentially avoiding surgery and other complications.
Hong, an associate professor in UTA's Bioengineering Department, is leading an interdisciplinary team that will use a five-year, $1.6 million grant from the National Institutes of Health to develop a new method of treating a vaginal prolapse before the vagina completely detaches, which could prevent complications and improve the quality of life of thousands of women.
Hong's UTA colleagues Kytai Nguyen, Liping Tang and Jun Liao, along with UT Southwestern urologist Phillippe Zimmern are co-investigators on the project. Vaginal prolapse is a condition affecting almost 3 percent of U.S. women, according to the Office on Women's Health. In a prolapse, the pelvic floor muscles weaken and tear, allowing the vagina to stretch or expand and protrude on surrounding organs and structures. Treatment usually involves surgical implantation of mesh to repair the muscles, but the mesh often leads to severe complications that require extended recovery time and cause discomfort.
Hong and his team are developing a strong, bioactive bioadhesive that is strong and bioactive to reattach the pelvic floor muscles early, before they detach completely, and stop further tearing while the body repairs the affected muscles.
"A lot of women suffer from vaginal prolapse and it really affects their quality of life. Hopefully, our research will help women and ease their discomfort," Hong said. "It is difficult to repair a full muscle tear, but if a prolapse is detected early, we can glue the two edges together while they are still partially attached and prevent further damage. Because it is bioactive, the adhesive will allow the body to rejuvenate naturally, and there will be far less discomfort for the patient." Hong's research is an example of health and the human condition, one of four themes of UTA's Strategic Plan 2020, and of the ways that the University is making an impact on the community, said Michael Cho, chair of the Bioengineering Department.
"This is a condition that affects women of all ages, and Dr. Hong and his team have a chance to make its treatment easier and less intrusive for those women. His ability to apply knowledge and techniques from previous research, as well as the strengths from the interdisciplinary team of investigators, will lead to success," Cho said.
###
The Bioengineering Department has served North Texas for more than 40 years, with research strengths in bioinstrumentation, biomaterials and tissue engineering, biomechanics, medical imaging and nanomedicine/nanotechnology. The program was ranked No. 96 in the 2019 U.S. News & World Report graduate rankings. UTA offers a joint program with UT Southwestern, one of the top medical schools in the country, and students can take courses and conduct research at either campus. UTA researchers have labs in UTSW's Bill and Rita Clements Advanced Medical Imaging Building for work on medical imaging projects. An undergraduate program was added in 2012. In 2017, the department won a National Institutes of Health T-32 grant to subsidize and train doctoral students in healthcare applications for nanotechnology, specifically to develop tools to battle cardiovascular and pulmonary ailments.
---