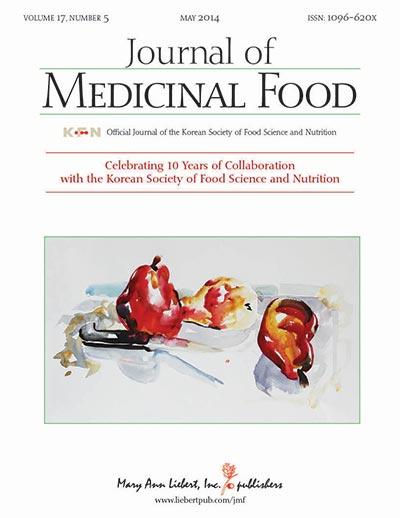 New Rochelle, NY, May 27, 2014—The commonly used food additive monosodium glutamate (MSG) has been linked to obesity and disorders associated with the metabolic syndrome including progressive liver disease. A new study that identifies MSG as a critical factor in the initiation of obesity and shows that a restrictive diet cannot counteract this effect but can slow the progression of related liver disease is published in Journal of Medicinal Food, a peer-reviewed journal from Mary Ann Liebert, Inc.. The paper is available on the Journal of Medicinal Food website.
Makoto Fujimoto and a team of international researchers from Japan, the U.S., and Italy monitored the weight gain and development of nonalcoholic fatty liver disease and its progression to nonalcoholic steatohepatitis in MSG-treated mice fed either a calorie-restricted or regular diet. They report their findings in the article "A Dietary Restriction Influences the Progression But Not the Initiation of MSG-Induced Nonalcoholic Steatohepatitis".
"Although MSG has been deemed a safe food additive, its dosage, interaction with other drugs, effects on vulnerable populations, and effects on chronic inflammatory diseases and neurological diseases are unknown," says Co-Editor-in-Chief Sampath Parthasarathy, MBA, PhD, Florida Hospital Chair in Cardiovascular Sciences, University of Central Florida, Orlando, in the Editorial "How Safe is Monosodium Glutamate? Exploring the Link to Obesity, Metabolic Disorders, and Inflammatory Disease" . The findings by Fujimoto et al. "may have far reaching implications, as childhood obesity is a major problem across the globe."
###
About the Journal
Journal of Medicinal Food is an authoritative, peer-reviewed, multidisciplinary journal published monthly in print and online. Led by Editors-in-Chief Sampath Parthasarathy, MBA, PhD, and Young-Eun Lee, PhD, Wonkwang University, Jeonbuk, Korea, this scientific journal for leaders of the nutraceutical and functional foods revolution publishes original scientific research on the bioactive substances of functional and medicinal foods, nutraceuticals, herbal substances, and other natural products. The Journal explores the chemistry and biochemistry of these substances, as well as the methods for their extraction and analysis, the use of biomarkers and other methods to assay their biological roles, and the development of bioactive substances for commercial use. Tables of content and a free sample issue may be viewed on the Journal of Medicinal Food website.
About the Publisher
Mary Ann Liebert, Inc., publishers is a privately held, fully integrated media company known for establishing authoritative peer-reviewed journals in many promising areas of science and biomedical research, including The Journal of Alternative and Complementary Medicine. Its biotechnology trade magazine, Genetic Engineering & Biotechnology News (GEN), was the first in its field and is today the industry's most widely read publication worldwide. A complete list of the firm's 80 journals, books, and newsmagazines is available on the Mary Ann Liebert, Inc., publishers Mary Ann Liebert, Inc..
Mary Ann Liebert, Inc.
140 Huguenot St., New Rochelle, NY 10801-5215
http://www.liebertpub.com
Phone: (914) 740-2100 (800) M-LIEBERT
Fax: (914) 740-2101
---
Journal
Journal of Medicinal Food