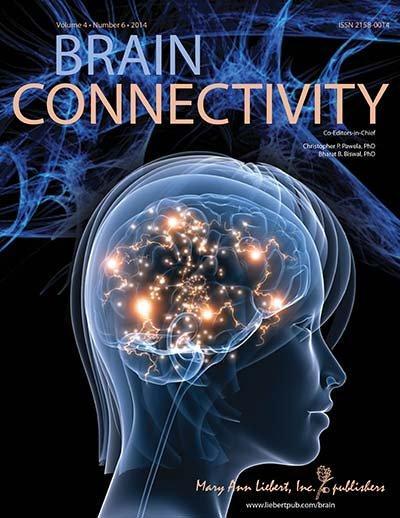 New Rochelle, NY, October 1, 2014—The cause of fibromyalgia, a chronic pain syndrome is not known. However, the results of a new study that compares brain activity in individuals with and without fibromyalgia indicate that decreased connectivity between pain-related and sensorimotor brain areas could contribute to deficient pain regulation in fibromyalgia, according to an article published in Brain Connectivity, a peer-reviewed journal from Mary Ann Liebert, Inc., publishers. The article is available free on the Brain Connectivity website at http://online.liebertpub.com/doi/full/10.1089/brain.2014.0274 until November 1, 2014.
The new study by Pär Flodin and coauthors from Karolinska Institutet (Stockholm, Sweden) builds on previous findings in fibromyalgia that showed abnormal neuronal activity in the brain associated with poor pain inhibition. In the current study, "Fibromyalgia is Associated with Decreased Connectivity between Pain- and Sensorimotor Brain Areas", the researchers report a pattern of "functional decoupling" between pain-related areas of the brain that process pain signals and other areas of the brain, such as those that control sensorimotor activity in fibromyalgia patients compared to healthy patients, in the absence of any external pain stimulus. As a result, normal pain perception may be impaired.
"Fibromyalgia is an understudied condition with an unknown cause that can only be diagnosed by its symptoms," says Christopher Pawela, PhD, Co-Editor-in-Chief of Brain Connectivity and Assistant Professor, Medical College of Wisconsin. "This study by Flodin et al is an important first step in the understanding of how the brain is involved in the widespread pain perception that is characteristic of the disorder."
###
About the Journal
Brain Connectivity is the essential peer-reviewed journal covering groundbreaking findings in the rapidly advancing field of connectivity research at the systems and network levels. Published 10 times per year in print and online, the Journal is under the leadership of Founding and Co-Editors-in-Chief Christopher Pawela, PhD, Assistant Professor, Medical College of Wisconsin, and Bharat Biswal, PhD, Chair of Biomedical Engineering, New Jersey Institute of Technology. It includes original peer-reviewed papers, review articles, point-counterpoint discussions on controversies in the field, and a product/technology review section. To ensure that scientific findings are rapidly disseminated, articles are published Instant Online within 72 hours of acceptance, with fully typeset, fast-track publication within 4 weeks. Tables of content and a sample issue may be viewed on the Brain Connectivity website at http://www.liebertpub.com/brain.
About the Publisher
Mary Ann Liebert, Inc., publishers is a privately held, fully integrated media company known for establishing authoritative medical and biomedical peer-reviewed journals, including Journal of Neurotrauma and Therapeutic Hypothermia and Temperature Management. Its biotechnology trade magazine, Genetic Engineering & Biotechnology News (GEN), was the first in its field and is today the industry's most widely read publication worldwide. A complete list of the firm's 80 journals, newsmagazines, and books is available on the Mary Ann Liebert, Inc., publishers website at http://www.liebertpub.com.
---
Journal
Brain Connectivity