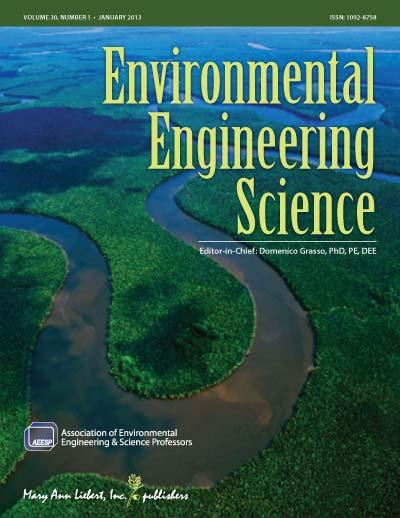 New Rochelle, NY, August 15, 2013—Existing urban water systems are at the end of their design lifetimes. New, innovative solutions are needed, and these must combine technology and engineering with an understanding of social systems and institutions. The current issue of Environmental Engineering Science, the Official Journal of the Association of Environmental Engineering and Science Professors, focuses on Re-inventing Urban Water Systems. Of particular note is an insightful article that presents the challenges and opportunities facing urban water system innovation, available free on the Environmental Engineering Science website.
The article, entitled "The Innovation Deficit in Urban Water: The Need for an Integrated Perspective on Institutions, Organizations, and Technology," contends that for new innovations to be implemented successfully, engineers must understand the social, economic, institutional, and political mechanisms that underlie the human-technology interface. Coauthors Michael Kiparsky, David Sedlak, Barton Thompson, and Bernhard Truffer (University of California at Berkeley School of Law; University of California at Berkeley School of Engineering; Stanford Law School and Woods Institute for the Environment, Stanford, CA; and Swiss Federal Institute of Aquatic Science and Technology, Dübendorf, Switzerland, respectively) are all members of a U.S. National Science Foundation Engineering Research Center focused on developing new approaches to urban water infrastructure - ReNUWIt (Reinventing the Nation's Urban Water Infrastructure).
"The Kiparsky paper and the EES special issue are timely and are destined to be among the most influential and important contributions to the field of environmental engineering in recent times," says Domenico Grasso, PhD, Editor-in-Chief and Provost, University of Delaware. "The holistic approaches outlined are not only well suited for addressing the complex problems of the urban infrastructure but may serve as a template for addressing many other sociotechnological challenges of the 21st century."
Guest Editors of this special issue of Environmental Engineering Science on Re-inventing Urban Water Systems, David Sedlak, Jörg Drewes, Colorado School of Mines, Golden, and Richard Luthy, Stanford University, compiled a series of articles that focus on topics including innovation in complex systems; active management of natural systems to enhance the performance of urban water infrastructure; and management of concentrates from water treatment processes.
"Our modern urban water infrastructure is one of the greatest engineering achievements of the 20th century," says Jennifer Becker, President of the Association of Environmental Engineering and Science Professors. "This important issue of EES highlights a paradigm shift in our urban water systems and that technological innovations are urgently needed if the growing demands for water and other resources are to be sustainably met."
###
About the Journal
Environmental Engineering Science is an authoritative monthly, online peer-reviewed journal from Mary Ann Liebert, Inc., publishers. Publishing state-of-the-art studies of innovative solutions to problems in air, water, and land contamination and waste disposal, the Journal features applications of environmental engineering and scientific discoveries, policy issues, environmental economics, and sustainable development including climate change, complex and adaptive systems, contaminant fate and transport, environmental risk assessment and management, green technologies, industrial ecology, environmental policy, and energy and the environment.
About the Association
The Association of Environmental Engineering and Science Professors is made up of professors in academic programs throughout the world who provide education in the sciences and technologies of environmental protection. The mission of AEESP is to assist its members in the development and dissemination of knowledge in environmental engineering and science. AEESP seeks to strengthen and advance the discipline of environmental science and engineering by providing leadership, promoting cooperation amongst academics and others within and outside the discipline, and serving as a liaison between its membership and other professional societies, governmental agencies, industry and nonprofit organizations. The Association has over 850 members as it approaches its 50th anniversary, and is driving for 1000 members before its golden anniversary in December 2013.
About the Publisher
Mary Ann Liebert, Inc., publishers is a privately held, fully integrated media company known for establishing authoritative medical and biomedical peer-reviewed journals, including Industrial Biotechnology, Sustainability: The Journal of Record, and Environmental Justice. Its biotechnology trade magazine, Genetic Engineering & Biotechnology News (GEN), was the first in its field and is today the industry's most widely read publication worldwide. A complete list of the firm's 80 journals, newsmagazines, and books is available on the Mary Ann Liebert, Inc., publishers website (http://www.liebertpub.com).
journals, books, and newsmagazines is available on the Mary Ann Liebert, Inc., publishers.
Mary Ann Liebert, Inc. 140 Huguenot St., New Rochelle, NY 10801-5215 Phone: (914) 740-2100 (800) M-LIEBERT Fax: (914) 740-2101 http://www.liebertpub.com
---
Journal
Environmental Engineering Science