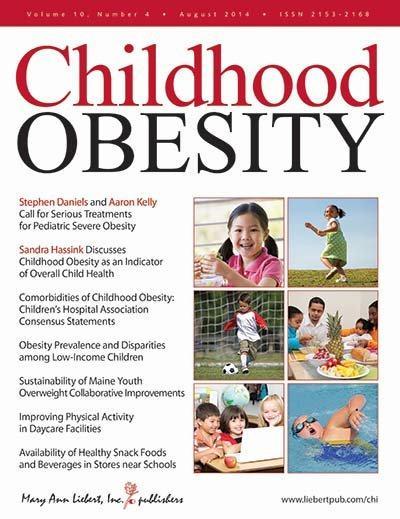 New Rochelle, NY, August 11, 2014 -- Nearly 6% of all children and teens in the U.S. are severely obese, and the prevalence of severe obesity is increasing faster than that of moderate obesity or overweight. This is an alarming trend as about 90% of these youths will grow up to be obese adults. The serious health problems associated with severe obesity and the poor long-term prognosis and quality of life projected for these children and teens demand more serious consideration of safe and effective treatment options that go beyond diet and lifestyle modifications, as proposed in an Editorial published in Childhood Obesity, a peer-reviewed journal from Mary Ann Liebert, Inc., publishers. The article is available free on the Childhood Obesity website at http://online.liebertpub.com/doi/full/10.1089/chi.2014.1041 until September 12, 2014.
In "Pediatric Severe Obesity: Time to Establish Serious Treatments for a Serious Disease," Stephen R. Daniels, MD, PhD, University of Colorado School of Medicine and Children's Hospital Colorado (Aurora), and Aaron S. Kelly, PhD, University of Minnesota Medical School and Children's Hospital (Minneapolis), note that while healthy lifestyle changes made during childhood may be quite helpful in weight reduction, these less intensive types of approaches tend to be less effective in treating severely obese teenagers. According to the authors, better access to specialty medical weight management programs, pharmacotherapy, and weight loss surgery are all important components of a more comprehensive strategy to combat severe obesity among teens.
"Drs. Daniels and Kelly are performing a vital service by directing our attention to this serious and increasingly prevalent problem," says David L. Katz, MD, MPH, Editor-in-Chief of Childhood Obesity and Director, Yale University Prevention Research Center. "We need commensurately serious solutions which I believe can include lifestyle interventions, but only of adequate scope and intensity. Just as lifestyle has been proven a worthy alternative to coronary bypass surgery, our sons and daughters deserve alternatives to bariatric surgery in combating this problem that our culture has handed them."
###
About the Journal
Childhood Obesity is a bimonthly journal, published in print and online, and the journal of record for all aspects of communication on the broad spectrum of issues and strategies related to weight management and obesity prevention in children and adolescents. The Journal includes peer-reviewed articles documenting cutting-edge research and clinical studies, opinion pieces and roundtable discussions, profiles of successful programs and interventions, and updates on task force recommendations, global initiatives, and policy platforms. It reports on news and developments in science and medicine, features programs and initiatives developed in the public and private sector, and includes a Literature Watch. Tables of content and a sample issue may be viewed on the Childhood Obesity website at http://www.liebertpub.com/chi.
About the Publisher
Mary Ann Liebert, Inc., publishers is a privately held, fully integrated media company known for establishing authoritative medical and biomedical peer-reviewed journals, including Metabolic Syndrome and Related Disorders, Population Health Management, Diabetes Technology & Therapeutics (DTT), and Journal of Women's Health. Its biotechnology trade magazine, Genetic Engineering & Biotechnology News (GEN), was the first in its field and is today the industry's most widely read publication worldwide. A complete list of the firm's 80 journals, newsmagazines, and books is available on the Mary Ann Liebert, Inc., publishers website at http://www.liebertpub.com.
Mary Ann Liebert, Inc.
140 Huguenot Street
New Rochelle, NY 10801-5215
http://www.liebertpub.com
Phone:(914) 740-2100
(800) M-LIEBERT
Fax: (914) 740-2101
---
Journal
Childhood Obesity