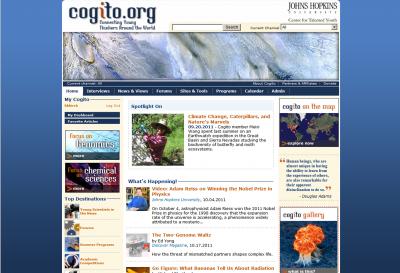 Patricia Wallace, one of the people behind a Web site that connects, informs, and helps mentor gifted math and science students, sees the online resource as a way to nurture this country's next generation of innovators.
"We'd like to see the talent of exceptional students channeled toward the kind of scientific breakthroughs that help the nation and the world," says Wallace, principal investigator of Cogito, which was created at the Johns Hopkins Center for Talented Youth with eight partner organizations serving gifted pre-college students. The site is geared to students aged 13 to 18.
Because of its effectiveness at reaching students and providing them with avenues toward greater involvement in science and engineering, Cogito has been chosen by the journal Science to receive the prestigious SPORE award.
Science developed the Science Prize for Online Resources in Education (SPORE) to promote the best online materials in science education. The acronym SPORE suggests a reproductive element adapted to develop, often in adverse conditions, into something new. In the same way, these winning projects may be the seeds of significant progress in science education, despite considerable challenges to educational innovation. Science publishes an article by each recipient of the award, which explains the winning project. The article about Cogito will be published on October 28.
"Improving science education is an important goal for all of us at Science," says editor-in-chief Bruce Alberts. "We hope to help those innovators who have developed outstanding online resources reach a wider audience. Each winning Web site will be featured in an article in Science that is aimed at guiding science educators from around the world to valuable free online resources."
One of the most popular features of the Cogito Web site is its directory of international competitions, internships, summer programs, and online classes for students with strong inclinations toward science, technology, engineering, and math. This bulletin board function provides practical assistance to students who wish to further their interests outside of what is available in most classrooms, and tips gleaned from Cogito about such programs have often helped students to find excellent opportunities to present their own research—and to gain recognition for it.
Less concrete but crucial help comes in the form of the opportunity offered by the Web site for the students to find and to cultivate a community. Discussion forums, for instance, which are open only to students who have been nominated to be members of Cogito, have looked at such topics as what it's like to be gifted.
"It can be lonely being smart," says Kristi Birch, Cogito managing editor. "It can be lonely having a fascination for science. It's not always cool."
Student Philip Streich, whom Discover magazine named one of the top five young scientists under age 20 in 2008, says Cogito was crucial to his early science development. "Living on a farm in rural Wisconsin, I'd had no opportunity to hear about and communicate with other kids my age who were as passionate as I was about science. Cogito brought me into a scientific community that I would otherwise never have had a chance to be part of … it motivated me to start doing research myself … and helped me picture myself doing research alongside them someday."
Birch points out that Streich, isolated because of where he grew up, was "the kind of kid that the Web can do a great job of reaching."
In addition to connecting with their peers, Cogito members have remarkable opportunities to communicate with professional scientists, who are profiled and interviewed on the site, offer webinars, and are available to discuss topics within their expertise. In the site's online forums, students can engage in back-and-forth dialogue with scientists who volunteer to participate on particular topics. The forums typically run for a couple of weeks at a time, with one or more scientists logging in every day or so to field questions or offer insights. Birch says the scientists she has approached to do this over the years have been very receptive; more than 90 percent of those she asks agree to take on the responsibility.
"This is a really fun way to do outreach," she says. "I think these scientists think of these kids as younger versions of themselves."
Wallace says she hope the essay about Cogito that will be published in Science will encourage other career scientists and engineers to get involved.
"It would be great if other scientists would say, for example, 'I'd love to do a Webinar on cloud computing or drought-resistant agriculture,'" Wallace says. Both she and Birch say that students can often get a first glimpse of a science career or specialty, such as being an environmental chemist, through the site.
Echoing the idea that Cogito welcomes students into the world of science, Melissa McCartney, an editorial fellow at Science, says, "While Cogito has no lack of success stories and praise from users, there is a common theme in all their feedback: student participation in Cogito resulted in a demystification of scientists and what they do, as well as increased ability for students to picture themselves doing research alongside them someday."
Wallace, who completed a PhD in biological psychology and then earned a Master of Science degree in computer systems management, was a natural for Cogito. The author of nine books, including The Psychology of the Internet, she says her primary interest has long been the interaction between human behavior and technology.
"I got into this field because I saw so much potential for online learning and community-building," she says.
Wallace says Cogito recognizes its members' sophistication and advanced critical thinking. It keeps them informed about the frontiers of science, such as reports from the European Organization for Nuclear Research (CERN) discoveries about the potential of matter traveling faster than light. The site keeps them up-to-date on some of the ways in which science unfolds in the news, such as when the H1N1 flu broke out and plans had to be developed to combat it, and when a huge oil spill occurred in the Gulf of Mexico after an explosion at the Deepwater Horizon drilling platform.
"They like cutting-edge," Wallace says. "It makes them feel that there's real science going on that they understand."
As schools in many areas struggle to meet the varied needs of their students and the need for scientists and engineers remains acute, Cogito can provide a valuable service by channeling the intellectual ambitions of some of our brightest young people.
"The passion they have needs to be nurtured," says Wallace, "so they can become the science, technology, engineering, and mathematics leaders of tomorrow."
###
To visit the Cogito Web site, go to www.cogito.org.
The American Association for the Advancement of Science (AAAS) is the world's largest general scientific society, and publisher of the journal,
Science
(
www.sciencemag.org
) as well as
Science Translational Medicine
(
www.sciencetranslationalmedicine.org
) and
Science Signaling
(
www.sciencesignaling.org
). AAAS was founded in 1848, and includes some 262 affiliated societies and academies of science, serving 10 million individuals.
Science
has the largest paid circulation of any peer-reviewed general science journal in the world, with an estimated total readership of 1 million. The non-profit AAAS (
www.aaas.org
) is open to all and fulfills its mission to "advance science and serve society" through initiatives in science policy; international programs; science education; and more. For the latest research news, log onto EurekAlert!,
www.eurekalert.org
, the premier science-news Web site, a service of AAAS.
---