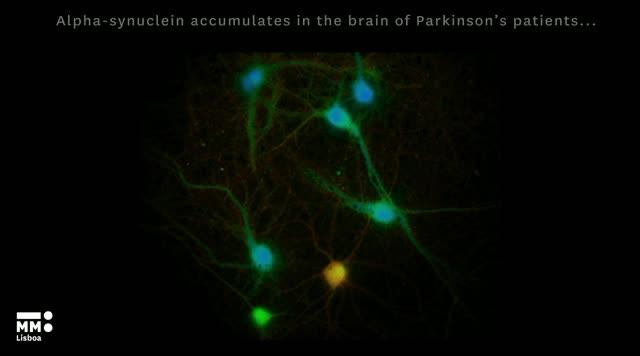 A study published in the journal Nature Neuroscience, from Nature publishing group, describes the identification of a novel molecular pathway that can constitute a therapeutic target for cognitive defects in Parkinson's disease.
The study coordinated by Portuguese researchers from the Instituto de Medicina Molecular (iMM Lisboa), the University Medical Center Goettingen, Germany and CEDOC - Nova Medical School Lisbon, along with other colleagues from Germany, showed that abnormal forms of Parkinson's disease (PD)-associated protein alpha-synuclein interact with the prion protein (PrP), triggering a cascade of events that culminates in neuronal dysfunction, causing cognitive defects that are reminiscent of those in PD.
"This is the follow up of a previous study initiated in my laboratory, where we found that particular forms of the protein alpha-synuclein cause dysfunction of neuronal circuits involved in memory formation. We did not know how this was happening, and in this new study we have detailed the molecular mechanisms involved, which suggests we now have new targets for therapeutic intervention" - explains Tiago Outeiro, a former Group leader of iMM now in Germany and at CEDOC, who coordinated the study together with Luísa Lopes, a Group Leader at iMM.
Using pharmacology and genetics, the team has now defined a series of molecular events that explains the memory defects observed in animals that model some important aspects of PD.
Luísa Lopes adds: "We used a mouse model of PD in which human alpha-synuclein is produced and found that by blocking this interaction with PrP using a caffeine analogue, reverted the abnormal neuronal activity and memory deficits. This study links nicely with our previous work on Alzheimer's disease, further suggesting that molecules like caffeine may indeed have potential benefits against memory deficits upon neurodegeneration".
Parkinson's disease is a devastating disorder affecting millions of people worldwide. Current therapies are only symptomatic, and treat only some of the motor symptoms of the disease. "We now know that PD is much more than just a motor disease, and there is a great demand for novel therapies, especially those capable of modulating disease progression or, ideally, capable of preventing the onset of the disease" - explains Tiago Outeiro.
"We are very excited with the findings of our collaboration, and this study demonstrates that when we pull together our complementary expertise we can make important discoveries that can impact the lives of the millions of people (patients and families) affected by these terrible disorders" - concludes Luísa Lopes.
###
Original Publication: Diana G. Ferreira, Mariana Temido-Ferreira, Hugo Vicente Miranda, Vânia L. Batalha, Joana E. Coelho, Éva M. Szegö, Inês Marques-Morgado, Sandra H. Vaz, Jeong Seop Rhee, Matthias Schmitz, Inga Zerr, Luísa V. Lopes* and Tiago F. Outeiro* (2017) α-Synuclein interacts with PrPC to induce cognitive impairment through mGluR5 and NMDAR2B. Nature Neuroscience doi: 10.1038/nn.4648
About Tiago Fleming Outeiro
Tiago Fleming Outeiro is full Professor and Director of the Department of Experimental Neurodegeneration at the University Medical Center Goettingen. Tiago graduated in Biochemistry at the University of Porto in 1998. He did his PhD thesis at the Whitehead Institute for Biomedical research - MIT, in the USA, and then was a Postdoctoral Research Fellow in the Department of Neurology of the Massachusetts General Hospital - Harvard Medical School where he focused on the study of Neurodegenerative disorders such as Parkinson's and Alzheimer's disease. Tiago directed the Cell and Molecular Neuroscience Unit at IMM, Lisbon, from 2007 to 2014, and has been Full Professor and the Director of the Department of Experimental Neurodegeneration at the University Medical Center Goettingen, in Germany since October 2010. He is also currently leading the Cell and Molecular Neuroscience Group at CEDOC, Nova Medical School, in Lisbon. Tiago is a world leader in the field of Parkinson's and Alzheimer's disease, and has authored >160 research articles in the field of Parkinson's and Alzheimer's disease. He participates in various international collaborative projects with the aim of identifying the molecular basis of neurodegenerative disorders such as Alzheimer's and Parkinson's disease. He has received multiple awards and grants in Germany, from the European Union, and from other leading international funding agencies.
About Luísa Lopes
Luísa V. Lopes is a Group leader@iMM Lisboa, Portugal since 2013 https://imm.medicina.ulisboa.pt/en/investigacao/labs/lopes-lab/. Luísa graduated in Lisbon in 1998 in Biochemistry and then pursued a PhD in Neurosciences being trained in the University of Cambridge, UK and at the Karolinska Institute, Sweden, followed by a postdoc at Nestlé Research Center in Lausanne, Switzerland. Her work focuses on understanding the mechanisms inducing the "early-aging" of the cognitive function. The team has provided evidence for an important contribution of adenosine receptors in pathophysiological context, and their impact in noxious brain conditions such as stress, aging and neurodegeneration. Her team provided crucial evidence of a possible glucocorticoid-adenosine link in Alzheimer's disease (with D. Blum) following previous groundwork suggesting circadian disorders as a trigger for accelerated cognitive loss.
About iMM Lisboa
Instituto de Medicina Molecular (iMM Lisboa) is a reference biomedical research centre in Portugal, having acquired the special status of Associate Laboratory of the Portuguese Ministry of Science and Technology. iMM's mission is to promote basic, translational and clinical biomedical research, with the aim of understanding the mechanisms of disease and developing new therapeutic approaches. For more information please visit the iMM Lisboa's website: http://www.imm.medicina.ulisboa.pt
About CEDOC
CEDOC - CHRONIC DISEASES RESEARCH CENTER - is an established institute which aims at excellence in medical research on chronic diseases. The general objectives of CEDOC are to form an internationally-recognized Center of excellence in Biomedical, Translational and Clinical Research on chronic diseases; to stimulate collaborative research between groups within the CEDOC; to strengthen research quality and innovation and to promote multidisciplinary projects within and beyond the Center; to provide an exciting research environment for the training of Postdoctoral Fellows, PhD and Master funding at national and international levels; and to simulate the organization of outreach activities at local and national levels. For more information please visit: http://cedoc.unl.pt/
---
Journal
Nature Neuroscience
DOI