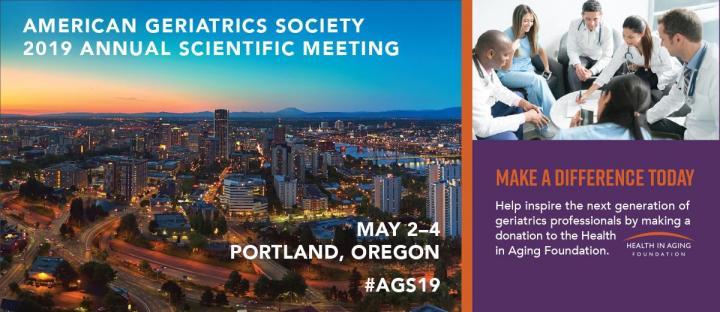 The American Geriatrics Society (AGS) today named Kellie Flood, MD, one of Alabama's premier geriatrics health professionals, its 2019 Clinician of the Year. An Associate Professor at the University of Alabama at Birmingham (UAB), as well as Associate Chief Medical and Quality Officer for Geriatrics and Care Transitions at UAB Hospital, Dr. Flood will be honored at the AGS 2019 Annual Scientific Meeting (#AGS19) May 2-4 in Portland, Ore.
"Dr. Flood represents everything we've come to expect from a geriatrics health professional," noted Laurie G. Jacobs. MD, AGSF, AGS President. "She's a skilled researcher, educator, and health system leader--all this because she remains so connected to the older people under her care."
A board-certified physician in internal medicine, geriatrics, and palliative care, Dr. Flood wears dual caps as a leading clinician and an influential educator in a state where both are in high demand. Dr. Flood launched and continues to serve on the inpatient geriatric consult service that currently performs more than 1,400 consultations annually. And while coordinating that volume of care is impressive in its own right, Dr. Flood is perhaps best known for "going above and beyond" for each of her patients as individuals.
"A frequent comment from the patients and families Dr. Flood sees is: 'I've never had someone care like that before,'" notes Katina Booth, MD, Assistant Professor and a colleague of Dr. Flood at UAB. "Dr. Flood has been recognized locally as a 'Hospital Hero' by the Birmingham Regional Hospital Council, and it's certainly no surprise to see that same recognition nationally from a community of Dr. Flood's colleagues."
In addition to providing direct care to older adults at two UAB Hospital campuses, Dr. Flood also has worked tirelessly to expand the impact of geriatrics expertise and geriatrics leadership for thousands of older adults in Alabama and beyond. She launched and continues to co-lead with colleagues from nursing the UAB Geriatric Scholar Program, for example, which has trained more than 250 nurses, pharmacists, physician assistants, social workers, and other health professionals in core geriatrics principles. Projects orchestrated by these scholars helped UAB Hospital standardize assessments of cognition and function for older patients throughout the hospital. And as health systems across the country move toward using electronic health records more effectively, Dr. Flood and the entire geriatric interprofessional leadership team ensured UAB Hospital would be at the front of the pack with the incorporation of the ACE Tracker tool developed by one of her mentors and fellow AGS member, Michael Malone, MD.
An AGS member since 2000, Dr. Flood graduated from the University of Texas, Southwestern Medical School and completed her residency and geriatric fellowship at Washington University School of Medicine, where she rose to the role of Assistant Professor in the Division of Gerontology, Geriatrics, and Palliative Care before transitioning to UAB.
The AGS Clinician of the Year Award recognizes exceptional health professionals who deliver outstanding care to older adults and who model the importance of geriatrics for our country. It is one of several honors conferred by the AGS at its Annual Scientific Meeting. The 2019 award recipients include more than 20 health leaders representing the depth and breadth of disciplines championing care for older adults. For more information, visit Meeting.AmericanGeriatrics.org.
###
About the American Geriatrics Society
Founded in 1942, the American Geriatrics Society (AGS) is a nationwide, not-for-profit society of geriatrics healthcare professionals that has--for more than 75 years--worked to improve the health, independence, and quality of life of older people. Its nearly 6,000 members include geriatricians, geriatric nurses, social workers, family practitioners, physician assistants, pharmacists, and internists. The Society provides leadership to healthcare professionals, policymakers, and the public by implementing and advocating for programs in patient care, research, professional and public education, and public policy. For more information, visit AmericanGeriatrics.org.
About the AGS Clinician of the Year Award
The AGS Clinician of the Year Award was established to recognize the contributions of practitioners to quality health care for older people and the importance of the geriatrics clinician in our healthcare delivery system. Through awardees' efforts, scientific advances are integrated into the practice of geriatrics, resulting in improved well-being and quality of life for older adults.
About the AGS Annual Scientific Meeting
The AGS Annual Scientific Meeting is the premier educational event in geriatrics, providing the latest information on clinical care, research on aging, and innovative models of care delivery. More than 2,500 nurses, pharmacists, physicians, physician assistants, social workers, long-term care and managed care providers, healthcare administrators, and others will convene May 2-4, 2019 (pre-conference program on May 1), at the Oregon Convention Center in Portland, Ore., to advance geriatrics knowledge and skills through state-of-the-art educational sessions and research presentations. For more information, visit Meeting.AmericanGeriatrics.org.
---