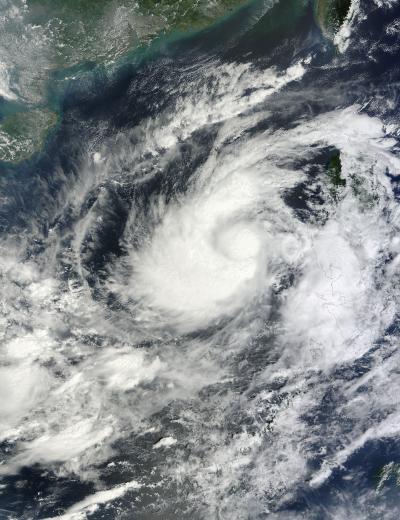 Tropical Storm Gaemi is packing a lot of power around its middle and on one side of the storm, and that was apparent in NASA satellite imagery.
NASA's Terra satellite passed over Tropical Storm Gaemi on Oct. 3 at 0300 UTC (11:00 p.m. EDT, Oct. 2) and the Moderate Resolution Imaging Spectroradiometer (MODIS) instrument captured a true-color image of the storm. The image showed a bright white, rounded area around the center that indicated higher, stronger thunderstorms. Higher, stronger thunderstorms also wrapped around the center in a wide band that stretches from north to west, and southwest of the center.
On Oct. 3, 2012 at 1500 UTC (11 a.m. EDT) Tropical Storm Gaemi had maximum sustained winds near 55 knots (63.2 mph/102 kph). Gaemi's center was located about 575 nautical miles (661.7 miles/1,065 km) east of Hue, Vietnam, near 15.3 North latitude and 117.5 East longitude. Gaemi is moving to the west-southwest at 4knots (4.6 mph/7.4 kph).
Gaemi is now turning west and is forecast to head for a landfall on Oct. 6 on the Vietnamese coastline, south of Hue.
###
---