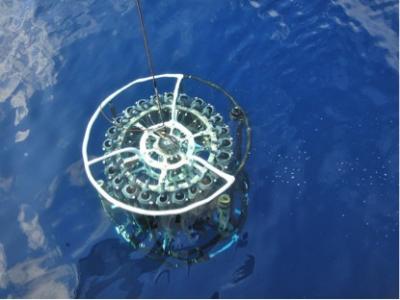 Variations in nutrient availability in the world's oceans could be a vital component of future environmental change, according to a multi-author review paper involving the National Oceanography Centre, Southampton (NOCS).
The paper, published this month in Nature Geoscience, reviews what we know about ocean nutrient patterns and interactions, and how they might be influenced by future climate change and other man-made factors. The authors also highlight how nutrient cycles influence climate by fuelling biological production, hence keeping carbon dioxide (CO2) locked down in the ocean away from the atmosphere.
Dr Mark Moore from University of Southampton Ocean and Earth Science, which is based at NOCS, led the review. He said: "We aimed to get a group of international experts together in an attempt to define the current state of knowledge in this rapidly developing field."
Marine algae, which support most marine ecosystems, need certain resources to grow and reproduce – including nutrients. If there are not enough nutrients available, the growth or abundance of these microscopic plants can become restricted. This is known as 'nutrient limitation'.
"All organisms, from the smallest microbes, up to complex multi-cellular animals like us, require a variety of chemical elements to survive," explained Dr Moore. "Somehow we all have to get these elements from our external environment."
Nutrients are therefore a key driver of microbial activity in the oceans. But at the same time, microorganisms play a major role in cycling nutrients and carbon throughout the vast ocean system – including drawing down CO2 from the atmosphere. Therefore understanding ocean nutrient cycling is important for predicting future environmental change.
Dr Moore said: "Despite many decades of research, we still don't understand some of the complex interactions between marine microorganisms and nutrient cycles.
"Human activity has the potential to profoundly impact oceanic nutrient cycles. A solid understanding of complex feedbacks in the system will be required if we are going to be able to predict the consequences of these changes."
The authors – from 22 different institutes – call for an interdisciplinary approach merging new analytical techniques, observations and models going forward to address current gaps in our understanding.
###
The review resulted from a workshop, hosted at NOCS, as part of the International Geosphere–Biosphere Programme/Scientific Committee on Oceanic Research (IGBP-SCOR) funded Fast Track Initiative on Upper Ocean Nutrient Limitation.
Notes for editors
1. Reference: C. M. Moore, M. M. Mills, K. R. Arrigo, I. Berman-Frank, L. Bopp, P. W. Boyd, E. D. Galbraith, R. J. Geider, C. Guieu, S. L. Jaccard, T. D. Jickells, J. La Roche, T. M. Lenton, N. M. Mahowald, E. Marañón, I. Marinov, J. K. Moore, T. Nakatsuka, A. Oschlies, M. A. Saito, T. F. Thingstad, A. Tsuda and O. Ulloa (2013) Processes and patterns of oceanic nutrient limitation. Nature Geoscience, published online 31 March 2013. DOI: 10.1038/NGEO1765
2. The image shows oceanographic sampling equipment being lowered into clear blue open ocean water. The clarity of the water is a consequence of low nutrient availability restricting the amount of planktonic microbes. Credit: Elizabeth Sargent, NOCS
3. University of Southampton Ocean and Earth Science is based at the National oceanography Centre, Southampton.
4. The National Oceanography Centre (NOC) is the UK's leading institution for integrated coastal and deep ocean research. NOC operates the Royal Research Ships James Cook and Discovery and develops technology for coastal and deep ocean research. Working with its partners NOC provides long-term marine science capability including: sustained ocean observing, mapping and surveying, data management and scientific advice.
5. NOC operates at two sites, Southampton and Liverpool, with the headquarters based in Southampton.
6. Among the resources that NOC provides on behalf of the UK are the British Oceanographic Data Centre (BODC), the Marine Autonomous and Robotic Systems (MARS) facility, the National Tide and Sea Level Facility (NTSLF), the Permanent Service for Mean Sea Level (PSMSL) and British Ocean Sediment Core Research Facility (BOSCORF).
7. The National Oceanography Centre is wholly owned by the Natural Environment Research Council (NERC).
Contact details:
Catherine Beswick
Media and Communications Officer
National Oceanography Centre
---
Journal
Nature Geoscience