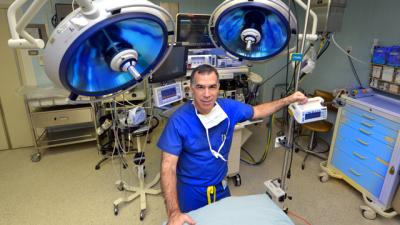 Augusta, Ga. – How robots enable no-neck-scar thyroid surgery and advanced imaging helps surgeons track down often elusive, tiny parathyroid glands are timely topics for a new comprehensive textbook for endocrine surgeons.
"There has been a lot published in the peer-reviewed literature in recent years but there's no comprehensive source for it, so we were pleased to bring together a number of thought leaders in these various cutting-edge topics to put it all together," said Dr. David Terris, Chairman of the Department of Otolaryngology-Head and Neck Surgery at the Medical College of Georgia at Georgia Regents University.
Terris and Dr. Michael C. Singer, otolaryngologist specializing in endocrine surgery at Henry Ford Health System in Detroit, are co-editors of "Minimally Invasive and Robotic Thyroid and Parathyroid Surgery."
The textbook, available in print and e-book at http://www.springer.com/medicine/surgery/book/978-1-4614-9010-4, is published by Springer Science + Business Media.
Terris has pioneered minimally invasive approaches that have helped reduce the classic 2-3 inch scar at the base of the neck to about three-quarters of an inch, with the assistance of endoscopic techniques that use cameras and ultrasonic scalpels to enhance access to the kiwi-sized thyroids. Robotics enabled his development of a facelift incision approach that eliminates any neck scar.
Terris reiterates that, at least with current technology, these more cosmetically appealing approaches aren't for every patient. As examples, large, benign growths, called goiters, still require the more standard neck incision and he is not yet ready to use the facelift approach on patients with thyroid cancer. And, while post-surgery recovery is often reduced with these approaches, they also are more challenging for the surgeon and increase surgery time, he said.
Smaller, more nimble robots would advance these techniques, Terris said. As an example, currently, robotic arms are too large to accommodate operating within the small confines of the neck. And, a more dexterous, petite version could also enable both lobes of thyroid to be removed through the facelift incision when needed and open the door for cancer as well, Terris said.
Also on the horizon are non-surgical approaches that use heat or high-intensity ultrasound to shrink diseased, oversized thyroids, Terris said.
Surgery of the pea-sized parathyroid glands can offer still another unique set of surgical challenges, Terris said. These much smaller glands, which regulate calcium levels in the blood, are supposed to be right behind the thyroid glands, which are just above collar bone. For reasons that likely include gravity and possibly developmental problems, they may reside closer to the jaw or down near the heart. "You may have to search for them," said Terris, and current imaging can't always pinpoint the wandering glands.
"When it's easy, it's very, very easy. When it's hard, it's really hard," Terris said. Large, overactive glands are the most common cause for surgery. Hyperactivity means too much calcium gets pulled out of the bones, leaving them fragile, and winds up in the blood, where it can wreak havoc on organs such as the kidneys. In fact, the special challenges have Terris working on another book devoted to parathyroid surgery.
The two-lobed thyroid gland helps the body regulate brain chemistry and metabolism. Problems with the thyroid gland tend to occur in women from their 30s to their 50s. Goiters can result in a hyperactive thyroid gland and jittery, sweaty patients who can't gain weight. Typically if there is a single growth, the surgeons take out that half of the gland, rule out cancer, and that is the end of the problem. If it is cancer, the good news is the thyroid can be completely removed, cure rates are high and the gland's function can be replaced by a single, daily pill, Terris said. Known causes of thyroid cancer include radiation exposure. Parathyroid disease also is more common in women and overactive glands, which can grow as big as lima beans, are the most common reason for surgery.
###
---