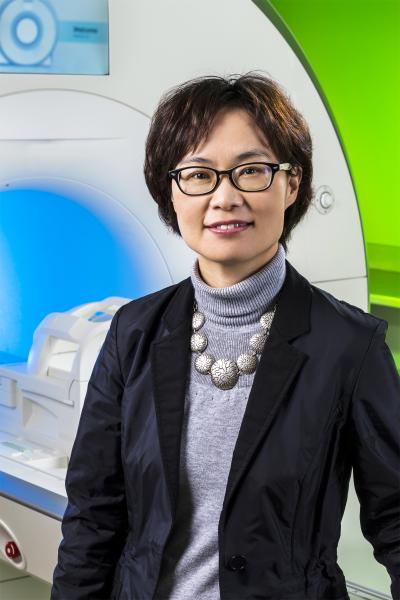 West Orange, NJ. January 27, 2014. Stroke rehabilitation researchers at Kessler Foundation report an association between acute, severe spatial neglect post stroke and long-term recovery of mobility. This new study indicates that severity of spatial neglect during the acute inpatient rehabilitation for right brain stroke may predict functional mobility in the community after discharge. The article, "Severity of spatial neglect during acute inpatient rehabilitation predicts community mobility post stroke," was epublished ahead of print in Physical Medicine & Rehabilitation on January 9, 2014 (DOI: 10.1016/j.pmrj.2014.01.002)
The authors are Mooyeon Oh-Park, MD, and Peii Chen, PhD, of Kessler Foundation, Cynthia Hung, MD, of Rutgers New Jersey Medical School, and A.M. Barrett, MD, director of Stroke Rehabilitation Research at Kessler Foundation, and chief of Neurorehabilitation Program Innovation at Kessler Institute for Rehabilitation. Drs. Barrett, Chen and Oh-Park have faculty appointments at Rutgers New Jersey Medical School.
Spatial neglect is a disabling disorder of functional vision that often complicates recovery after right brain stroke," observed Dr. Oh-Park. "This study shows that there may be implications for physical, as well as cognitive, rehabilitation in patients who exhibit severe spatial neglect during acute inpatient rehabilitation." The research team looked at whether stroke survivors with more severe spatial neglect during their acute inpatient rehabilitation had poorer mobility after returning to their communities.
The study involved 31 patients with right brain stroke who demonstrated spatial neglect within 2 months post stroke. Participants were assessed with the Behavioral Inattention Test and Catherine Bergego Scale (CBS) tests of neglect recovery, and the University of Alabama at Birmingham Study of Aging Life-Space Assessment for community mobility. Results showed that community mobility, defined by the extent and frequency of traveling in home and the community, was poorest among patients who had severe spatial neglect post stroke.
"These findings suggest another reason to support early detection and intervention of spatial neglect, said Dr. Barrett. "Even when neglect improved, there was an impact on community mobility six months later. Treatment may be necessary to achieve better return of mobility later on."
###
Study supported by R01NS055808 [PI A.M. Barrett] from National Institute of Neurological Disorders and Stroke and H133G120203 [PI A.M. Barrett] from the National Institute for Disability and Rehabilitation Research.
About Stroke Rehabilitation Research at Kessler Foundation
Research studies span all domains of post-stroke cognitive dysfunction, but emphasize hidden disabilities after stroke, including hidden disabilities of functional vision (spatial bias and spatial neglect). Students, resident physicians, and post-doctoral trainees are mentored in translational neuroscience of rehabilitation. Dr. Barrett and her colleagues work closely with the clinical staff at Kessler Institute for Rehabilitation. Among their collaborative efforts are the founding of the Network for Spatial Neglect and development of the Kessler Foundation Neglect Assessment Process (KF-NAPTM). Stroke Research receives funding from the Department of Education/NIDRR; the National Institutes of Health/NICHD/NCMRR; Kessler Foundation; the Healthcare Foundation of New Jersey; and the Wallerstein Foundation for Geriatric Improvement. Scientists have faculty appointments at Rutgers New Jersey Medical School.
About A.M. Barrett, MD
A.M. Barrett, MD, a cognitive neurologist and clinical researcher, studies brain-behavior relationships from the perspectives of cognitive neurology, cognitive neuroscience, and cognitive neurorehabilitation. Dr. Barrett is an expert in hidden cognitive disabilities after stroke, which contribute to safety problems & rehospitalization, increased caregiver burden, & poor hospital-to-home transition. She is a founder of the Network for Spatial Neglect, which promotes multidisciplinary research for this underdiagnosed hidden disability. Dr. Barrett is also professor of physical medicine & rehabilitation at Rutgers New Jersey Medical School and adjunct professor of neurology at Columbia University School of Medicine. She is a former president of the American Society for Neurorehabilitation.
Dr. Barrett is author of the reference article Spatial Neglect on emedicine.com.
Recent publications by Stroke Rehabilitation Research:
Barrett AM. Picturing the body in spatial neglect: descending a staircase. Neurology. 2013 Oct 8;81(15):1280-1.
Goedert KM, Chen P, Boston RC, Foundas AL, Barrett AM. Presence of motor-intentional aiming deficit predicts functional improvement of spatial neglect with prism adaptation. Neurorehabilitation and Neural Repair epub Dec 27 2013. DOI: 10.1177/1545968313516872
Barrett AM, Oh-Park M, Chen P, Ifejika NL. Five new things in neurorehabilitation. Neurology Clinical Practice. Epub Nov 13 2014. doi: 10.1212/01.CPJ.0000437088.98407.fa.
About Kessler Foundation
Kessler Foundation, a major nonprofit organization in the field of disability, is a global leader in rehabilitation research that seeks to improve cognition, mobility and long-term outcomes, including employment, for people with neurological disabilities caused by diseases and injuries of the brain and spinal cord. Kessler Foundation leads the nation in funding innovative programs that expand opportunities for employment for people with disabilities. For more information, visit KesslerFoundation.org.
facebook.com/KesslerFoundation
http://twitter.com/@KesslerFdn
Carolann Murphy, PA; 973.324.8382; CMurphy@KesslerFoundation.org
Lauren Scrivo, 973.324.8384/973.768.6583 (cell); LScrivo@KesslerFoundation.org
---
Journal
Physical Medicine and Rehabilitation