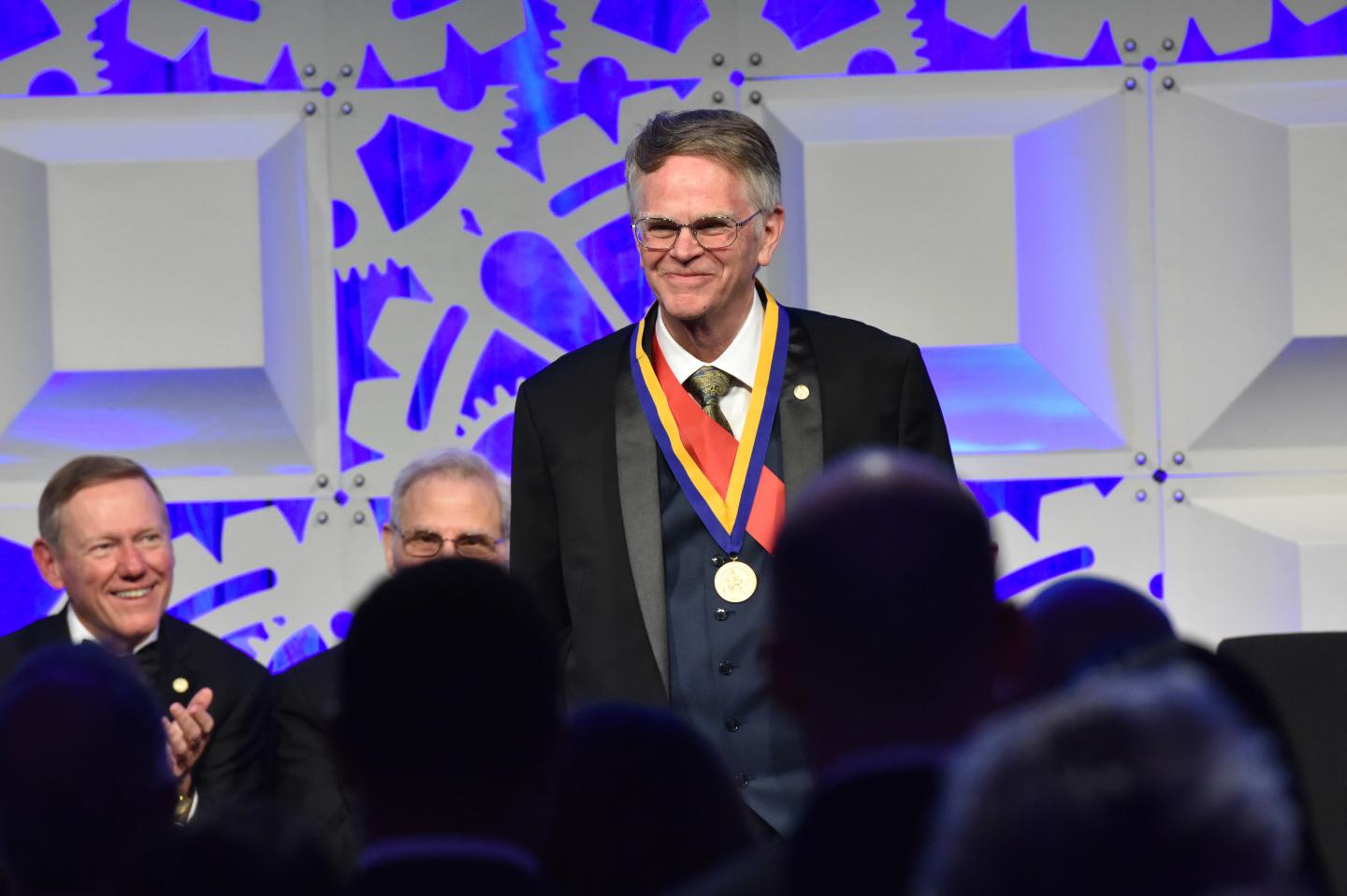 Douglas C. Wallace, PhD, a world-renowned pioneer in mitochondrial biology at Children's Hospital of Philadelphia (CHOP), received the 2017 Benjamin Franklin Medal in Life Science on May 4 at the Franklin Institute in Philadelphia.
A highly esteemed international award established by the Institute in 1824, the Franklin Medal has celebrated such luminaries as Albert Einstein, Thomas Edison, Marie Curie, Stephen Hawking, Nikola Tesla and Bill Gates. Over 100 of the Franklin Medal laureates have also received Nobel Prizes in scientific fields.
Dr. Wallace has achieved international prominence as the founder of mitochondrial genetics. Mitochondria are tiny structures within cells that produce 90 percent of our energy, playing essential roles in health and disease.
Dr. Wallace's groundbreaking research in the 1970s defined the genetics of DNA within the mitochondria, as distinct from DNA in a cell's nucleus. His studies have reconstructed patterns of human evolution and worldwide migrations over hundreds of millennia. His investigations into the role of mitochondrial DNA mutations in human disease are an important component of CHOP's recently launched Roberts Collaborative for Genetics and Individualized Medicine.
"We are extremely proud that the Franklin Institute has honored Dr. Wallace's extraordinary contributions to biology and medicine, and are delighted to see him ranked in such distinguished scientific company," said Bryan Wolf, MD, PhD, executive Vice President and Chief Scientific Officer of the Children's Hospital of Philadelphia Research Institute.
The award citation accompanying the Medal acknowledged Dr. Wallace's achievements in showing the profound role of mutated mitochondrial DNA in complex diseases, "thereby leading the way to therapies for those diseases and aging." The Franklin Institute produced a brief video of Dr. Wallace highlighting his work.
An Awards Ceremony and dinner last Thursday featured presentation of Franklin Medals to Dr. Wallace and other laureates, honored for accomplishments in chemistry, physics, electrical engineering, computer and cognitive science, and materials science. Another scientist recognized at the ceremony was French glaciologist and climate change pioneer Dr. Claude Lorius, winner of the Bower Award for Achievement in Science.
At a weeklong series of programs in conjunction with the Awards, Dr. Wallace taught hands-on science activities to local students in the Laureates' Laboratory at the Franklin Institute, participated in a public panel discussion of scientific breakthroughs with fellow laureates, and delivered a lecture on "Human Origins and Complex Diseases" at a Life Science Symposium on mitochondrial medicine at the College of Physicians of Philadelphia.
###
About Children's Hospital of Philadelphia: Children's Hospital of Philadelphia was founded in 1855 as the nation's first pediatric hospital. Through its long-standing commitment to providing exceptional patient care, training new generations of pediatric healthcare professionals, and pioneering major research initiatives, Children's Hospital has fostered many discoveries that have benefited children worldwide. Its pediatric research program is among the largest in the country. In addition, its unique family-centered care and public service programs have brought the 546-bed hospital recognition as a leading advocate for children and adolescents. For more information, visit http://www.chop.edu
---