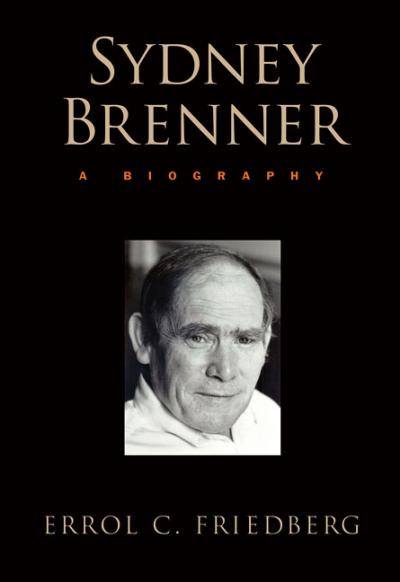 COLD SPRING HARBOR, N.Y. (Sept. 22, 2010) -- From helping to decipher the genetic code to establishing the worm C. elegans as a model organism, and from directing the Laboratory of Molecular Biology in Cambridge to advising research institutes around the world, Nobel Prize winner Sydney Brenner has had a long and impressive career. Few scientists have achieved as much as Brenner in both research and administration of science, and he has done so while enjoying a well-deserved reputation for iconoclasm and irreverent wit. The new book Sydney Brenner: A Biography, written by Errol C. Friedberg and published by Cold Spring Harbor Laboratory Press, documents Brenner's game-changing discoveries in the field of molecular biology, all brightened by his entertaining personality.
"Sydney Brenner is among the very few key individuals to foster the early development of the discipline of molecular biology," writes Friedberg in the book's preface. "But aside from his scientific contributions, which remain undiminished, Brenner possesses a broad intellect that embraces more than a superficial knowledge of the arts and history, and his talent as a raconteur is widely celebrated . . . He is, in fact, the proverbial enfant terrible."
This biography traces Brenner's life from his early years as the child of immigrant parents in the small town of Germiston, South Africa, to his current role at the age of 83, as an energetic advocate of new ideas and avenues in biological research throughout the world. The book is based on his personal recollections and papers, with contributions and correspondence from his close friends and colleagues; much of this material is housed in the Sydney Brenner Collection at the Cold Spring Harbor Laboratory Library and Archives.
At twenty-two, Brenner left Johannesburg for graduate studies at Oxford University. There he established important connections, notably with Francis Crick and James Watson, who were about to unveil their structure of DNA at Cambridge University. With Crick, Brenner subsequently embarked upon an unusually close and successful collaboration at Cambridge that would last over the next twenty years, as they deciphered the nature of the genetic code as well as the essential elements of gene function. Brenner eventually redirected his efforts to C. elegans, a microscopic worm that became the model for understanding the complexities of multicellular organisms. In 2002, Brenner, with colleagues Robert Horvitz and John Sulston, was awarded the Nobel Prize in Medicine or Physiology for their discoveries with this organism.
Brenner's reach has extended well beyond his own research to inspire new generations of young scientists and to promote the development of science and biotechnology around the world. In the 1970s, he entered the passionate debates over the use of recombinant DNA technology, and, in the early 1990s, he encouraged Britain's involvement in the Human Genome Project. He was Director of the renowned Laboratory of Molecular Biology in Cambridge during the 1980s. Later, he advised HHMI's Janelia Farm Research Campus, and helped to develop research and biotechnology in Singapore and restructure molecular biology in Japan.
This book tells the lively story, not only of Brenner himself, but of what came to be known as the "golden age" of biology. It will be of interest to scientists, students, and professionals in the life sciences, as well as science historians and the general public interested in science.
###
About the book:
Sydney Brenner: A Biography (ISBN 978-0-879699-47-5; © 2010 Cold Spring Harbor Laboratory Press) was written by Errol C. Friedberg (University of Texas Southwestern Medical Center at Dallas). It is hardcover and is 334 pp. in length (6" × 9"; illus., index). For more information, see http://www.cshlpress.com/link/sbrenner.htm.

About the author:
Errol C. Friedberg, M.D., is the Senator Betty and Dr. Andy Andujar Distinguished Professor and Chair at the Department of Pathology, University of Texas Southwestern Medical Center at Dallas. A Fellow of the Royal College of Pathologists and recipient of the Rous Whipple Award from the American Society for Investigative Pathology, Friedberg also serves as Editor-in-Chief of the journal DNA Repair. Friedberg is the author of Cancer Answers, Correcting the Blueprint of Life: An Historical Account of the Discovery of DNA Repair Mechanisms, The Writing Life of James D. Watson, and From Rags to Riches: The Phenomenal Rise of The University of Texas Southwestern Medical Center at Dallas. He is also senior author of the textbook DNA Repair & Mutagenesis, and has edited and annotated a series of interviews published as Sydney Brenner: My Life in Science.

About Cold Spring Harbor Laboratory Press:
Cold Spring Harbor Laboratory Press is an internationally renowned publisher of books, journals, and electronic media, located on Long Island, New York. Since 1933, it has furthered the advance and spread of scientific knowledge in all areas of genetics and molecular biology, including cancer biology, plant science, bioinformatics, and neurobiology. It is a division of Cold Spring Harbor Laboratory, an innovator in life science research and the education of scientists, students, and the public. For more information, visit www.cshlpress.com.

---