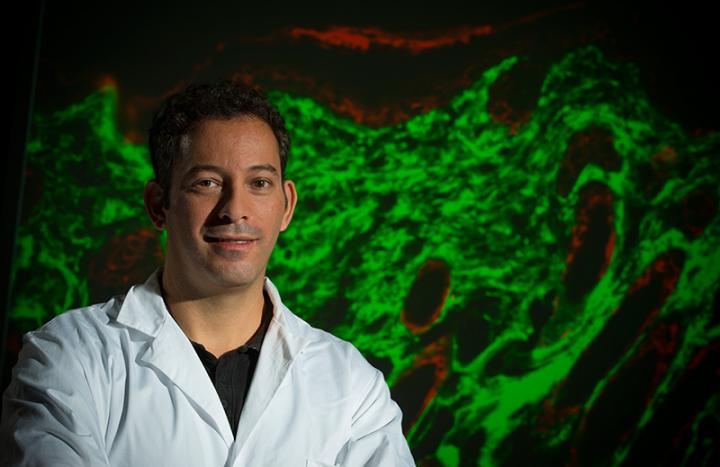 Can skin wounds heal without leaving scars? That's the question being explored in a project entitled ScarLessWorld headed by Dr. Yuval Rinkevich, research group leader at Helmholtz Zentrum München. His work will now be supported by a Consolidator grant from the European Research Council (ERC) providing around two million euros of research funding over the next five years.
People have been fascinated by tissue and organ regeneration for thousands of years. "So it's all the more surprising that this process is still relatively poorly understood," notes Yuval Rinkevich. He heads the Cellular Therapeutics in Chronic Lung Disease research group at the Institute of Lung Biology and Disease at Helmholtz Zentrum München.
He and his team have recently made a major contribution to this field. "We were able to show that fibroblasts - the connective tissue cells of the skin which are responsible for wound healing - are not a uniform population," explains Rinkevich. "Our findings show that there are four different types and that it is the composition of these four types which determines how much scarring occurs."
Rinkevich gives an example, "If the skin of a developing embryo gets injured, it simply regenerates. In later life stages, however, the wound scars." The researchers recently succeeded in demonstrating that this phenomenon is due to differences in the population of fibroblasts in the skin. The proportion of regenerative cells decreases as development progresses, whilst the number of scar-forming cells increases. When the researchers transplanted fibroblasts from mouse embryos into wounds in adult animals, scarring was significantly reduced.
Building on these results, Yuval Rinkevich knows what he wants to achieve next, "We want to use new experimental approaches to understand how this scarless wound healing works and, in the long-term, to reproduce it clinically." As part of his ScarLessWorld project, he and his team are now planning
to fully catalogue the repertoires of dermal fibroblast lineages,
to use imaging techniques to determine fibroblast dynamics during wound healing,
to identify the genes responsible for regeneration vs. scarring,
and finally, to translate these findings to human skin.
"Using the technologies we have developed, we can achieve this breakthrough. That would be a huge leap forward for regenerative medicine," says Rinkevich. Options for preventing scar formation in large wounds, burns and similar injuries are currently extremely limited. If the approach proves to be successful, it could possibly also be adapted to other conditions, such as lung fibrosis, in which the lung tissue is scarred.
###
Further Information
Background:
The ERC Consolidator Grant offers funding for excellent, advanced research talent. Applicants must already have proven their scientific potential by such means as first authorships of outstanding publications and further scientific successes and awards. The long-term, highly endowed funding particularly supports innovative research projects and allows the targeted development of the project's own scientific team.
Yuval Rinkevich and his team are Partners in the German Center for Lung Research (DZL). You can find more information in our research portrait "Unlocking the Secrets of Regeneration": https://www.helmholtz-muenchen.de/en/aktuelles/latest-news/press-information-news/article/45425/index.html
The Helmholtz Zentrum München, the German Research Center for Environmental Health, pursues the goal of developing personalized medical approaches for the prevention and therapy of major common diseases such as diabetes, allergies and lung diseases. To achieve this, it investigates the interaction of genetics, environmental factors and lifestyle. The Helmholtz Zentrum München is headquartered in Neuherberg in the north of Munich and has about 2,300 staff members. It is a member of the Helmholtz Association, a community of 18 scientific-technical and medical-biological research centers with a total of about 37,000 staff members. http://www.helmholtz-muenchen.de/en
The Comprehensive Pneumology Center (CPC) is a joint research project of the Helmholtz Zentrum München, the Ludwig-Maximilians-Universität Clinic Complex and the Asklepios Fachkliniken München-Gauting. The CPC's objective is to conduct research on chronic lung diseases in order to develop new diagnosis and therapy strategies. The CPC maintains a focus on experimental pneumology with the investigation of cellular, molecular and immunological mechanisms involved in lung diseases. The CPC is a site of the Deutsches Zentrum für Lungenforschung (DZL). http://www.helmholtz-muenchen.de/ilbd
Contact for the media:
Department of Communication, Helmholtz Zentrum München - German Research Center for Environmental Health, Ingolstädter Landstr. 1, 85764 Neuherberg - Tel. +49 89 3187 2238 - E-mail: presse@helmholtz-muenchen.de
Scientific Contact:
Dr. Yuval Rinkevich, Helmholtz Zentrum München - German Research Center for Environmental Health, Institute of Lung Biology and Disease, Max-Lebsche-Platz 31, 81377 München - Tel. +49 89 3187 4685 - E-mail: yuval.rinkevich@helmholtz-muenchen.de
---