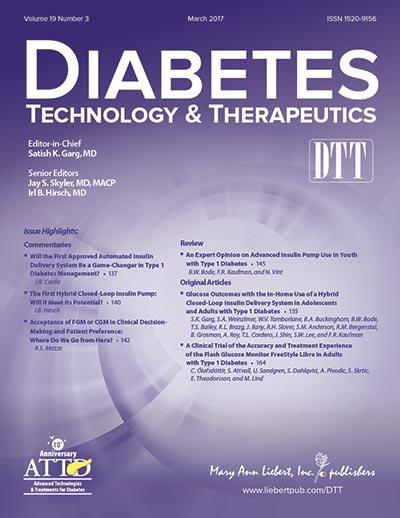 New Rochelle, NY, August 9, 2017--A study comparing the safety and efficacy of SAR342434, a biosimilar (follow-on form) of insulin lispro-Humalog®, found it to be comparable to that of the brand name drug in patients also using insulin glargine. The phase 3, randomized SORELLA 1 trial evaluated changes in HbA1c, fasting plasma glucose, and self-monitored plasma glucose levels, as well as hypoglycemic events, and the results are published in Diabetes Technology & Therapeutics (DTT), a peer-reviewed journal from Mary Ann Liebert, Inc., publishers. The article is available free on the DTT website until September 9, 2017.
Coauthors Satish Garg, University of Colorado Denver (Aurora), Karin Wernicke-Panten and Yvonne Kirchhein, Sanofi-Aventis Duetschland (Frankfurt, Germany), Maria Rojeski, Sanofi (Bridgewater, NJ), Suzanne Pierre, Sanofi (Paris, France), and Krystyna Jedynasty, Centrum Diabetologiczne (Warsaw, Poland) collaborated on the article entitled "Efficacy and Safety of Biosimilar (SAR342434 Insulin Lispro) in Adults with Type 1 Diabetes also Using Insulin Glargine--SORELLA 1 Study."
Throughout the 6-month main study and additional 6-month safety extension period, the incidence and prevalence of hypoglycemia, treatment-emergent adverse events, and anti-insulin antibodies did not differ significantly between the two treatment groups.
"This is the first long-term study of biosimilar (follow-on) rapid-acting insulin (insulin lispro), evaluated for 1 year, which clearly shows the safety and efficacy of the biosimilar insulin being similar to the original insulin," says DTT Editor-in-Chief Satish Garg, MD, Professor of Medicine and Pediatrics at the University of Colorado Denver (Aurora). "The costs of insulin products have skyrocketed, especially in the U.S. The availability of biosimilars will reduce the cost of insulin and make it possible for more patients with diabetes to reach target HbA1c values."
###
About the Journal
Diabetes Technology & Therapeutics (DTT) is a monthly peer-reviewed journal that covers new technology and new products for the treatment, monitoring, diagnosis, and prevention of diabetes and its complications. Led by Editor-in-Chief Satish Garg, MD, the Journal covers topics that include noninvasive glucose monitoring, implantable continuous glucose sensors, novel routes of insulin administration, genetic engineering, the artificial pancreas, measures of long-term control, computer applications for case management, telemedicine, the Internet, and new medications. Tables of contents and a free sample issue may be viewed on the Diabetes Technology & Therapeutics (DTT) website. DTT is the official journal of the Advanced Technologies & Treatments for Diabetes (ATTD) Conference.
About ATTD
The International Conference on Advanced Technologies & Treatments for Diabetes (ATTD) presents top caliber scientific programs that have provided participants with cutting-edge research and analysis into the latest developments in diabetes-related technology. A unique and innovative conference, ATTD brings the world's leading researchers and clinicians together for a lively exchange of ideas and information related to the technology, treatment, and prevention of diabetes and related illnesses.
About the Publisher
Mary Ann Liebert, Inc., publishers is a privately held, fully integrated media company known for establishing authoritative peer-reviewed journals in many promising areas of science and biomedical research, including Thyroid, Metabolic Syndrome and Related Disorders, Journal of Aerosol Medicine and Pulmonary Drug Delivery, Childhood Obesity, and Population Health Management. Its biotechnology trade magazine, GEN (Genetic Engineering & Biotechnology News), was the first in its field and is today the industry's most widely read publication worldwide. A complete list of the firm's 80 journals, books, and newsmagazines is available on the Mary Ann Liebert, Inc., publishers website./a>
---
Journal
Diabetes Technology & Therapeutics