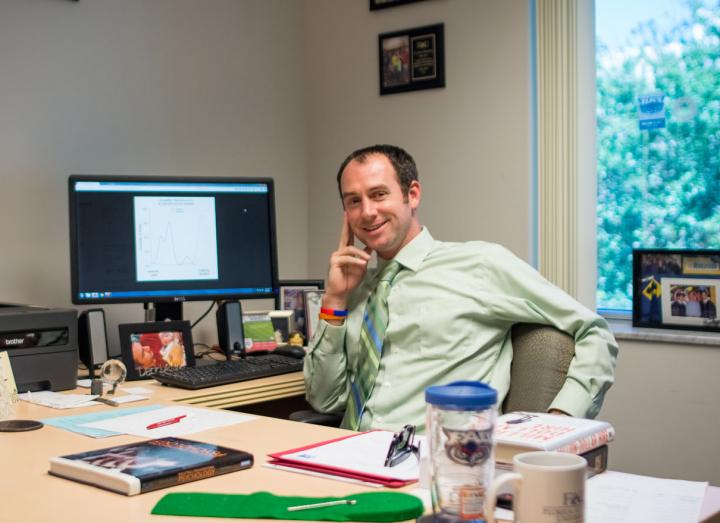 Young American adults aren't doing it as often as you'd think. Although Americans are now strikingly more accepting of premarital sex, a new study reveals that more Millennials, born in the 1990s in particular, are nevertheless forgoing sex during young adulthood. The new sexual revolution has apparently left behind a larger segment of this generation than first thought.
"This study really contradicts the widespread notion that Millennials are the 'hookup' generation, which is popularized by dating apps like 'Tinder' and others, suggesting that they are just looking for quick relationships and frequent casual sex," said Ryne Sherman, Ph.D., co-author of the study and associate professor of psychology in the Charles E. Schmidt College of Science at Florida Atlantic University. "Our data show that this doesn't seem to be the case at all and that Millennials are not more promiscuous than their predecessors."
A key finding from the study conducted by Sherman and co-authors Jean Twenge, Ph.D., San Diego State University, and Brooke E. Wells, Ph.D., Widener University, is that the changes in sexual inactivity in Millennials was not related to the time period or decade, but rather to the generation.
"This is really about this generation of young American adults and not the time period in which they are living," said Sherman. "This has very little to do with changing norms about sexual behavior; the generations are just different and it has everything to do with them."
To determine if this shift was due to differences in age or generation, the researchers used a two-pronged approach to compare sexual inactivity rates by birth decade among 20 to 24 year olds. They conducted a unique age-period-cohort analysis using the entire sample of adults ages 18 to 96 in the General Social Survey (GSS), a nationally representative sample of American adults since 1989.
They also examined gender, race, education, region, and religiosity as moderators to determine whether any changes in sexual inactivity differed from one group to another.
Among Americans aged 20 to 24, Millennials born in the early 1990s were significantly more likely to report no sexual partners after age 18 than GenX'ers born in the late 1960s. Fifteen percent of the 20- to 24-year-old Americans born in the 1990s had no sexual partners since turning 18, compared to 6 percent of those born in the 1960s. The only other generation that showed a higher rate of sexual inactivity were those born in the 1920s.
The increase in adult sexual inactivity between the 1960s and the 1990s generations was larger and significant among women (from 2.3 percent to 5.4 percent), but not among men (from 1.7 percent to 1.9 percent). It was non-existent among Black Americans (2.6 percent to 2.6 percent, compared to a significant jump from 1.6 percent to 3.9 percent among Whites).
"Many of the differences between the groups in the recent generations were also significant," said Sherman. "For example, women were more likely to be sexually inactive compared to men, Whites more than Blacks, those who did not attend college more than those who did, and in the East more than the West."
Americans born in the 1990s were the most likely to be sexually inactive in their early 20s, and showed a definite break with those born in the 1980s. Other findings from the study indicate that those born in the 1990s are growing up more slowly than those born in the 1980s. For example, fewer get a driver's license or work for pay, also showing a generational break at some point in the 1990s.
The researchers speculate that there may be a number of reasons for this major shift between Millennials and other generations including more sex education and awareness of sexually transmitted diseases such as HIV, easy access to pornography because of technology, or perhaps even differences in defining what sexual activity is and is not (e.g. oral sex vs. intercourse) since generations define sex differently.
"While attitudes about premarital sex have become more permissive over time, rise in individualism allows young American adults to have permissive attitudes without feeling the pressure to conform in their own behavior," said Sherman.
###
About Florida Atlantic University:
Florida Atlantic University, established in 1961, officially opened its doors in 1964 as the fifth public university in Florida. Today, the University, with an annual economic impact of $6.3 billion, serves more than 30,000 undergraduate and graduate students at sites throughout its six-county service region in southeast Florida. FAU's world-class teaching and research faculty serves students through 10 colleges: the Dorothy F. Schmidt College of Arts and Letters, the College of Business, the College for Design and Social Inquiry, the College of Education, the College of Engineering and Computer Science, the Graduate College, the Harriet L. Wilkes Honors College, the Charles E. Schmidt College of Medicine, the Christine E. Lynn College of Nursing and the Charles E. Schmidt College of Science. FAU is ranked as a High Research Activity institution by the Carnegie Foundation for the Advancement of Teaching. The University is placing special focus on the rapid development of critical areas that form the basis of its strategic plan: Healthy aging, biotech, coastal and marine issues, neuroscience, regenerative medicine, informatics, lifespan and the environment. These areas provide opportunities for faculty and students to build upon FAU's existing strengths in research and scholarship. For more information, visit http://www.fau.edu.
---
Journal
Archives of Sexual Behavior