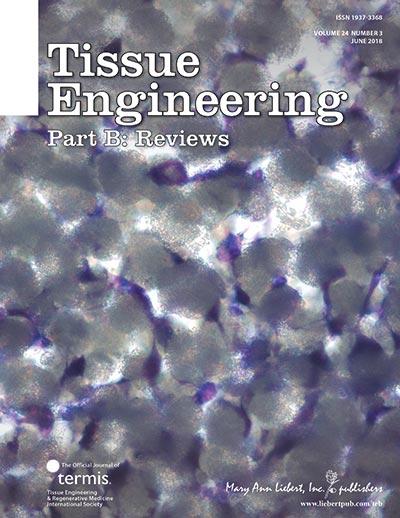 New Rochelle, NY, June 20, 2018--Tissue-engineered articular cartilage (AC) for repairing cartilage damaged by trauma or disease can be made to more closely mimic natural AC if mechanical stimulation of particular magnitude and duration is applied during the development process. A detailed review of the different stimulation techniques used and how to determine optimal loading parameters for improving the mechanical, structural, and cellular properties of AC is published in Tissue Engineering, Part B (Reviews), a peer-reviewed journal from Mary Ann Liebert, Inc., publishers . The article is available free on the Tissue Engineering website until July 20, 2018.
In "A Guide for Using Mechanical Stimulation to Enhance Tissue-Engineered Articular Cartilage Properties ," coauthors Evelia Salinas, Jerry Hu, PhD, and Kyriacos Athanasiou, PhD, University of California, Irvine, provide a comprehensive overview of the significant progress that has been made in the optimization of loading parameters in AC constructs. The researchers have developed a guide to the qualitative and quantitative effects that can be achieved when various loading parameters are used in tissue-engineered AC, including direct compression, hydrostatic pressure, shear, and tensile loading.
"The translation of tissue-engineered products into clinical reality is a main goal for the field. Improvement of existing protocols and SOP development with focus on achieving full implant functionality, as well as validation and GLP/GMP conformity, are key aspects," says Tissue Engineering Part B Editor Katja Schenke-Layland, MSc, PhD, Eberhard Karls University, Tübingen. "This review is an important guide for derivation of functional in vitro-engineered articular cartilage."
###
About the Journal
Tissue Engineering is an authoritative peer-reviewed journal published monthly online and in print in three parts: Part A, the flagship journal published 24 times per year; Part B: Reviews, published bimonthly, and Part C: Methods, published 12 times per year. Led by Co-Editors-in-Chief Antonios G. Mikos, PhD, Louis Calder Professor at Rice University, Houston, TX, and John P. Fisher, PhD, Fischell Family Distinguished Professor & Department Chair, and Director of the NIH Center for Engineering Complex Tissues at the University of Maryland, the Journal brings together scientific and medical experts in the fields of biomedical engineering, material science, molecular and cellular biology, and genetic engineering. Leadership of Tissue Engineering Parts B (Reviews) and Part C (Methods) is provided by Katja Schenke-Layland, PhD, Eberhard Karls University, Tübingen and John A. Jansen, DDS, PhD, Radboud University, respectively. Tissue Engineering is the official journal of the Tissue Engineering & Regenerative Medicine International Society (TERMIS). Complete tables of content and a sample issue may be viewed on the Tissue Engineering)website.
About the Publisher
Mary Ann Liebert, Inc., publishers is a privately held, fully integrated media company known for establishing authoritative peer-reviewed journals in many promising areas of science and biomedical research, including Stem Cells and Development, Human Gene Therapy, and Advances in Wound Care. Its biotechnology trade magazine, GEN (Genetic Engineering & Biotechnology News), was the first in its field and is today the industry's most widely read publication worldwide. A complete list of the firm's 80 journals, books, and newsmagazines is available on the Mary Ann Liebert, Inc., publishers website.
---
Journal
Tissue Engineering