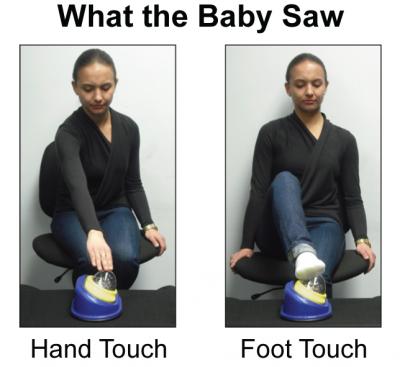 Infant brains are surprisingly sensitive to other people's movements, according to new research published October 30th in the open-access journal PLOS ONE, by Joni Saby and colleagues at Temple University and the University of Washington.
When adults see other humans making movements with specific body parts, the parts of their brains devoted to moving those body parts also become activated. While watching someone moving their hand, the part of your cortex devoted to moving your own hand also becomes active. There are various developmental and evolutionary theories as to why this might be the case, one of which being that it might be a neurobiological foundation of our ability to imitate others, which is necessary for cultural learning and language development. Until now, however, this phenomenon has only been observed in adults, and researchers chose to investigate whether the infant brain also shows this sensitivity.
In this study, the authors used non-invasive recordings over the scalp of infants to show that when they observed other people using their hands, activity in the hand areas of their cortex increased. Likewise, when infants observed other people moving their feet, activity in the foot areas of their cortex increased.
This provides evidence that infant brains are tuned to the mere observation of other people's actions, which offers new clues toward our understanding of imitation and cultural learning. Co-author Andrew Meltzoff expands, "The neural system of babies directly connects them to other people, which jumpstarts imitation and social-emotional connectedness and bonding. Babies look at you and see themselves."
###
Citation: Saby JN, Meltzoff AN, Marshall PJ (2013) Infants' Somatotopic Neural Responses to Seeing Human Actions: I've Got You under My Skin. PLoS ONE 8(10): e77905. doi:10.1371/journal.pone.0077905
Financial Disclosure: This work was funded by an NIH (HD-68734) award to PJM and NSF (SMA-0835854) award to ANM. The funders had no role in study design, data collection and analysis, decision to publish, or preparation of the manuscript.
Competing Interest Statement: The authors have declared that no competing interests exist.
PLEASE LINK TO THE SCIENTIFIC ARTICLE IN ONLINE VERSIONS OF YOUR REPORT (URL goes live after the embargo ends): http://dx.plos.org/10.1371/journal.pone.0077905
Disclaimer: This press release refers to upcoming articles in PLOS ONE. The releases have been provided by the article authors and/or journal staff. Any opinions expressed in these are the personal views of the contributors, and do not necessarily represent the views or policies of PLOS. PLOS expressly disclaims any and all warranties and liability in connection with the information found in the release and article and your use of such information.
About PLOS ONE: PLOS ONE is the first journal of primary research from all areas of science to employ a combination of peer review and post-publication rating and commenting, to maximize the impact of every report it publishes. PLOS ONE is published by the Public Library of Science (PLOS), the open-access publisher whose goal is to make the world's scientific and medical literature a public resource.
All works published in PLOS ONE are Open Access. Everything is immediately available—to read, download, redistribute, include in databases and otherwise use—without cost to anyone, anywhere, subject only to the condition that the original authors and source are properly attributed. For more information about PLOS ONE relevant to journalists, bloggers and press officers, including details of our press release process and our embargo policy, see the everyONE blog at http://everyone.plos.org/media.
---