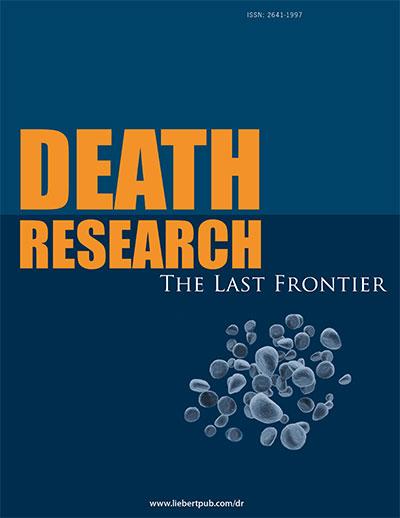 New Rochelle, NY, March 19, 2019 - Mary Ann Liebert, Inc., publishers announces the launch of Death Research: The Last Frontier, a bold new peer-reviewed journal dedicated to the science, technology, applications, and physical aspects of death and postmortem research. Spearheaded by Co-Editors-in-Chief Alexander Pozhitkov, PhD, City of Hope National Medical Center, Los Angeles, CA, and Peter A. Noble, PhD, University of Alabama Birmingham, Death Research will foster the exploration of applications of living cells after physical death and serve as the cornerstone of research associated with the physiology of dying and the last frontier of life. Death Research will be published quarterly online and in print. A preview issue of the Journal will debut in Fall 2019.
Interdisciplinary and provocative in scope, Death Research has a broad mandate and is dedicated to the science, technology, applications, and physical aspects of death and postmortem research. The Journal will consider original research, reviews, commentaries, point/counter-point debate, and more, dedicated to applications of new technologies that prevent or delay death, advanced understanding and possible alternations of physical aspects of death, and postmortem examination, cryopreservation, resuscitation, and autopsy research. Topics related to acceptance of loss, grieving, emotional recovery, or spirituality are not within our purview.
"Henrietta Lacks's cancer cells became the first immortal human cell line, and descendants of those original cells have saved lives and continue to live on in laboratories throughout the world long after her death. Genetic material, brain cells, heart valves, connective tissue, and even middle ear tissue are said to be salvageable after death. The subject of death is no longer relegated to science fiction, and hypothesis and study are important to understand and expand applications for the living," says Mary Ann Liebert, Founder, CEO, and President of the company that bears her name. "My hope is that research on the physical aspects related to death will make possible more transplantation of organs and cells and that additional information gleaned from postmortem research may ultimately have an impact on saving people's lives or curing them from diseases for which no effective treatment has yet been found."
Death Research will centralize critical information and analysis on all scientific topics related to postmortem research and will serve as a critical, ethical resource for molecular biologists, microbiologists, bacteriologists, forensic engineers, bioengineers, biochemists, transplantation specialists, and artificial intelligence experts.
Death Research coverage will include: Postmortem omics, including topics such as gene expression, proteomics, post-translational protein modification, and omics of the organs being transplanted; cell biology; bacteriology; forensic science; cell death; organ transplantation; biomedical aspects of euthanasia and assisted suicide; resuscitation research; anesthesiology; brain death; organ death and failure; cryopreservation; efforts to artificially to preserve memory / consciousness; reanimation; and all aspects of the expansion of life after death.
###
For complete information, to sign up for email alerts, or to submit your manuscript, please visit the Death Research website.
About the Publisher
Mary Ann Liebert, Inc., publishers is a privately held, fully integrated media company known for establishing authoritative medical and biomedical peer-reviewed journals, including Rejuvenation Research, Tissue Engineering, Human Gene Therapy, DNA and Cell Biology, Antioxidants & Redox Signaling, and Cellular Reprogramming. Its biotechnology trade magazine, GEN (Genetic Engineering & Biotechnology News), remains the industry's most respected and widely read publication worldwide. A complete list of the firm's more than 90 journals, newsmagazines, and books is available on the Mary Ann Liebert, Inc., publishers website.
---