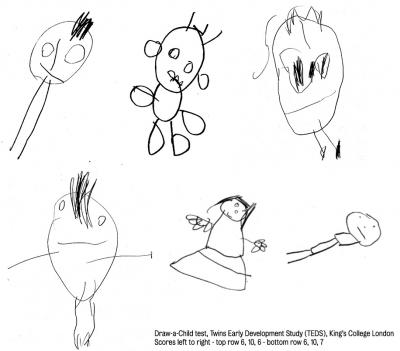 How 4-year old children draw pictures of a child is an indicator of intelligence at age 14, according to a study by King's College London, published today in Psychological Science.
The researchers studied 7,752 pairs of identical and non-identical twins (a total of 15,504 children) from the Medical Research Council (MRC) funded Twins Early Development Study (TEDS), and found that the link between drawing and later intelligence was influenced by genes.
At the age of 4, children were asked by their parents to complete a 'Draw-a-Child' test, i.e. draw a picture of a child. Each figure was scored between 0 and 12 depending on the presence and correct quantity of features such as head, eyes, nose, mouth, ears, hair, body, arms etc. For example, a drawing with two legs, two arms, a body and head, but no facial features, would score 4. The children were also given verbal and non-verbal intelligence tests at ages 4 and 14.
The researchers found that higher scores on the Draw-a-Child test were moderately associated with higher scores of intelligence at ages 4 and 14. The correlation between drawing and intelligence was moderate at ages 4 (0.33) and 14 (0.20).
Dr Rosalind Arden, lead author of the paper from the MRC Social, Genetic and Developmental Psychiatry (SGDP) Centre at the Institute of Psychiatry at King's College London, says: "The Draw-a-Child test was devised in the 1920's to assess children's intelligence, so the fact that the test correlated with intelligence at age 4 was expected. What surprised us was that it correlated with intelligence a decade later."
"The correlation is moderate, so our findings are interesting, but it does not mean that parents should worry if their child draws badly. Drawing ability does not determine intelligence, there are countless factors, both genetic and environmental, which affect intelligence in later life."
The researchers also measured the heritability of figure drawing. Identical twins share all their genes, whereas non-identical twins only share about 50 percent, but each pair will have a similar upbringing, family environment and access to the same materials.
Overall, at age 4, drawings from identical twins pairs were more similar to one another than drawings from non-identical twin pairs. Therefore, the researchers concluded that differences in children's drawings have an important genetic link. They also found that drawing at age 4 and intelligence at age 14 had a strong genetic link.
Dr Arden explains: "This does not mean that there is a drawing gene – a child's ability to draw stems from many other abilities, such as observing, holding a pencil etc. We are a long way off understanding how genes influence all these different types of behaviour."
Dr Arden adds: "Drawing is an ancient behaviour, dating back beyond 15,000 years ago. Through drawing, we are attempting to show someone else what's in our mind. This capacity to reproduce figures is a uniquely human ability and a sign of cognitive ability, in a similar way to writing, which transformed the human species' ability to store information, and build a civilisation."
###
For a copy of the paper, or interview with the author, please contact Seil Collins, Press Officer, Institute of Psychiatry, King's College London seil.collins@kcl.ac.uk / (+44) 0207 848 5377 / (+44) 07718 697 176
Paper reference: Arden, R. et al. 'Genes influence young children's human figure drawings, and their association with intelligence a decade later' published in Psychological Science
About TEDS
With the help of over 10,000 active families, the Twins Early Development Study is one of the world's premier studies of how genes and environments shape our development from birth to young adulthood. TEDS is funded by the Medical Research Council, with additional support from the US National Institutes of Health. The study is based at King's College London, under the leadership of Professor Robert Plomin, who has been ranked among the 100 most eminent psychologists in the history of science. The TEDS researchers use the latest discoveries in psychology and genetics to untangle the complex interplay between nature and nurture.
About King's College London
King's College London is one of the top 20 universities in the world (2013/14 QS World University Rankings) and the fourth oldest in England. It is The Sunday Times 'Best University for Graduate Employment 2012/13'. King's has nearly 26,000 students (of whom more than 10,600 are graduate students) from some 140 countries worldwide, and more than 7,000 staff. The College is in the second phase of a £1 billion redevelopment programme which is transforming its estate.
King's has an outstanding reputation for providing world-class teaching and cutting-edge research. In the 2008 Research Assessment Exercise for British universities, 23 departments were ranked in the top quartile of British universities; over half of our academic staff work in departments that are in the top 10 per cent in the UK in their field and can thus be classed as world leading. The College is in the top seven UK universities for research earnings and has an overall annual income of nearly £590 million.
King's has a particularly distinguished reputation in the humanities, law, the sciences (including a wide range of health areas such as psychiatry, medicine, nursing and dentistry) and social sciences including international affairs. It has played a major role in many of the advances that have shaped modern life, such as the discovery of the structure of DNA and research that led to the development of radio, television, mobile phones and radar.
King's College London and Guy's and St Thomas', King's College Hospital and South London and Maudsley NHS Foundation Trusts are part of King's Health Partners. King's Health Partners Academic Health Sciences Centre (AHSC) is a pioneering global collaboration between one of the world's leading research-led universities and three of London's most successful NHS Foundation Trusts, including leading teaching hospitals and comprehensive mental health services. For more information, visit: http://www.kingshealthpartners.org.
King's fundraising campaign – World questions|King's answers – created to address some of the most pressing challenges facing humanity has reached its £500 million target 18 months ahead of schedule. The College is now aiming to build on this success and raise a further £100 million by the end of 2015, to fund vital research, deliver innovative new treatments and to support scholarships. The campaign's five priority areas are neuroscience and mental health, leadership and society, cancer, global power and children's health. More information about the campaign is available at http://www.kcl.ac.uk/kingsanswers.
---
Journal
Psychological Science